If you're a professional mariner or aspiring to work in the maritime industry, you've probably heard of an STCW endorsement. The Standards of Training Certification and Watchkeeping is an internationally recognized set of rules that determines what mariners need to know to perform their jobs safely.
Throughout this article, we'll cover everything you'll want to know about the STCW:
How Did the STCW Start?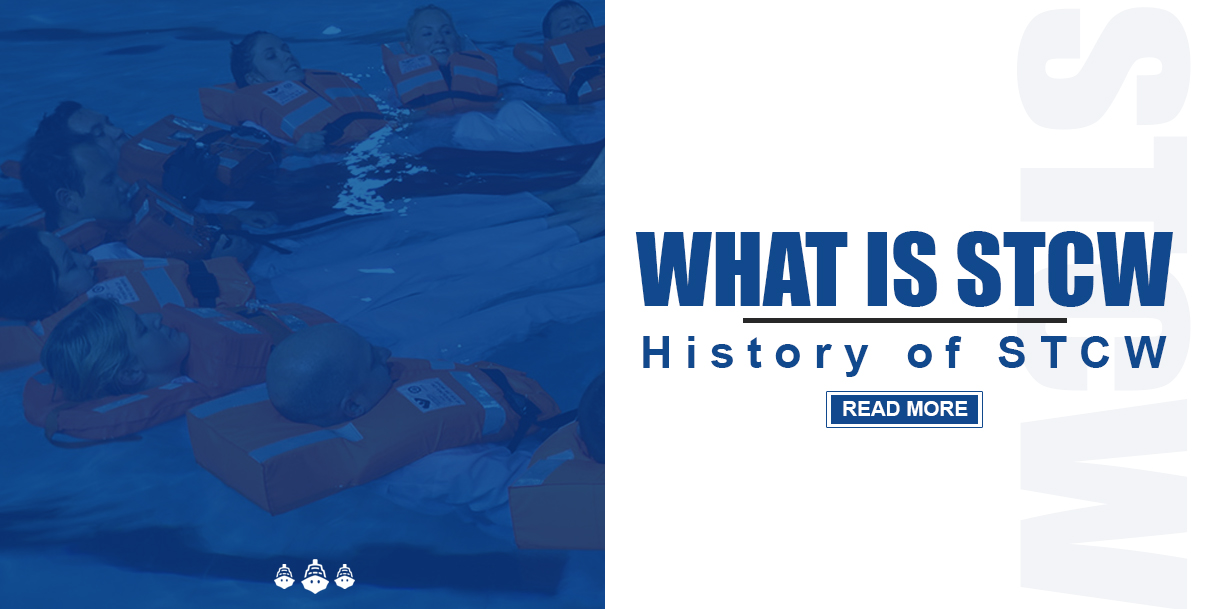 The first version of the STCW was formed at an international convention in 1978 and established a set of standards for mariners across the world. Before the International Mariners Organization created the global set of rules, it was left up to individual governments, which posed problems as mariners crossed international boundaries. As the shipping industry is international by nature, the STCW created the first set of basic safety and watchkeeping rules to, above all, reduce confusion.
After the international STCW Convention established the minimum safety requirements in 1978, the IMO formed a new and more comprehensive STCW code in 1995. This new amendment to the original STCW outlined more specific requirements for individual mariner positions, as well as detailed safety training. These amendments took effect in 1997, and new mariners entering the marine industry after August 1998 were required to meet the new standards of the 1995 revisions.
Some of the more notable amendments include:
More rigorous safety requirements for in-port operations
Monitoring and communication to International Maritime Organization for STCW enforcement
New training, standards, assessments and certification processes
In 2010, the International Marine Organization amended the STCW rules again in what's commonly known as the Manila Amendments. Due to the rapid advancement of technology and better shipping practices, the 1995 STCW began to become outdated.
Valid from January 2012 onward, seafarers entering the marine industry are now required by the IMO and United States Coast Guard to adhere to the new rules and regulations of the updated STCW 2010. We are still in a transition period, and until 2017, new requirements will be implemented by the IMO every year, which gives marine companies enough time to update equipment on board as well as allow their crew time to complete new training and certification courses.
The most notable amendments from the Manila convention include:
Increased mandatory rest hours for workers
Security training and awareness
New limits for breath and blood alcohol levels for workers
Additional and more specific certificates of competency for deck and engine crew
New medical standards and physical fitness for crew
While the specific requirements for the STCW will continue to change, the overall purpose remains the same: it promotes safety and protects property, human lives and the environment. The IMO is continually trying to come up with new regulations and best practices that will protect the lives of mariners. For example, over 20,000 casualties happen worldwide in the fishing industry every year — and in an attempt to reduce accidents, the IMO developed the STCW-F to educate fisherman about best practices and safety precautions. Find STCW Courses
Who Needs an STCW Endorsement?
Any mariner who works aboard a ship that operates outside the U.S. Territorial Boundary Line must hold an STCW endorsement. The Territorial Boundary Line is three miles away from the Coasts of the Atlantic and Pacific sides of the U.S. and 12 miles off the Gulf of Mexico — it separates Inland and Coastal Waters from Ocean Waters.
If you work aboard a vessel over 200 gross tons, you need an STCW endorsement. If you work on a boat less than 200 gross tons that operates a domestic voyage — a U.S. port to U.S. port without crossing international boundaries — then you don't need an STCW endorsement. However, if you're working aboard any vessel — even less than 200 gross tons — that crosses international borders, you must have your STCW endorsement.
STCW Certificates of Competence vs. Endorsements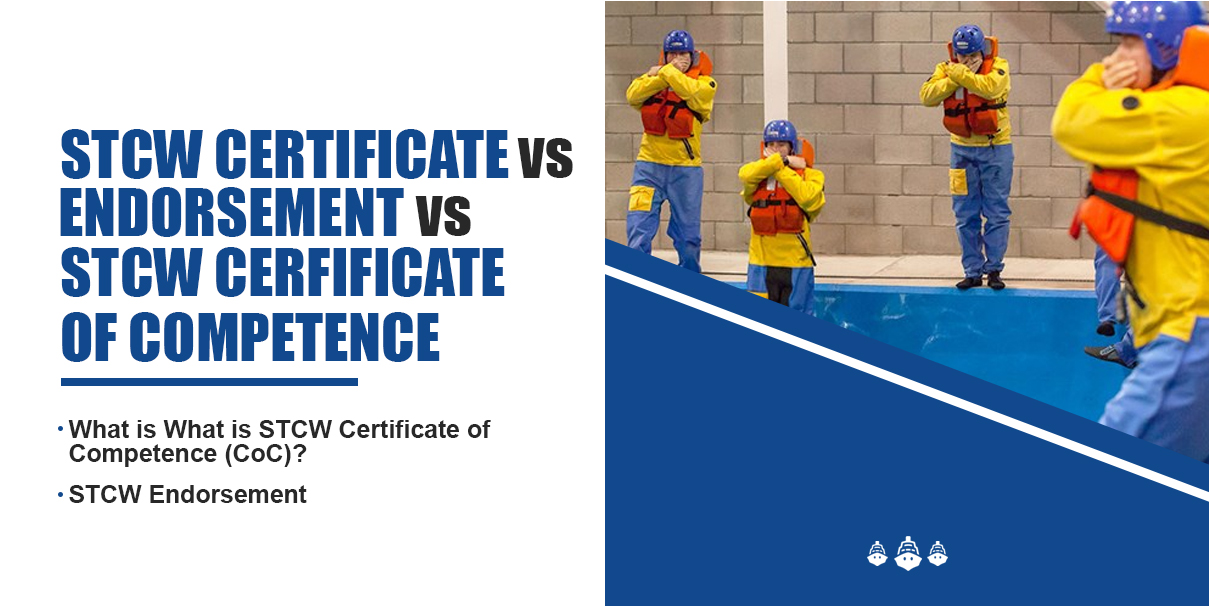 There are different types of STCW endorsements as well as specific certifications that you may need to qualify for specific marine jobs. Which STCW endorsement you'll need also depends on the type of boat you work aboard and your rank. To receive each of the STCW certificates, you'll need to meet the minimum requirements such as age, sea-service, physical fitness and competence.
To receive your STCW endorsement, you need to complete a U.S. Coast Guard-approved maritime training course that proves your competency.
Before you apply for any merchant marine position, make sure you have the proper endorsements that you need for the job. Find STCW Courses
What Is an STCW Endorsement?
An STCW endorsement is the document issued by the U.S. Coast Guard or approved institute that proves your completion of a basic training course. After you pass a physical and written demonstration of your STCW knowledge, you'll be asked to verify your other minimum requirements, such as age and sea-service, and then the institute will issue your endorsement.
When a marine employer asks for your STCW, they're asking for all official documents you've received that prove your STCW competency. Your STCW documents show your capabilities, merchant mariner endorsements and certificates of proficiency.
What Is an STCW Certificate of Competence?
An STCW certificate of competence is similar to an STCW endorsement, but it is specific to a particular function aboard a ship. For example, radio operators, masters, mates and those performing watch duties may have unique requirements for an STCW certification. These requirements also depend on the tonnage and range of the vessel you work aboard.
Similar to the certificate of competence, STCW certificates of proficiency certify that you are capable of performing specific duties, often related to security, safety or environmental protection. You may need to apply for a certificate of proficiency if you are working aboard a specialized vessel like an oil tanker or cruise ship.
What Is Documentary Evidence?
It is a good idea to document any training or experience that you may have received onboard — even if it's just a routine training exercise. If asked by a Coast Guard official or a future marine employer for proof of your proficiency, you'll have an official document signed by the master or an officer. Sometimes, this evidence may be required by employers or by marine institutes to prove you qualify for advancement courses. Find SCTW Courses
What are the Levels of STCW Endorsements?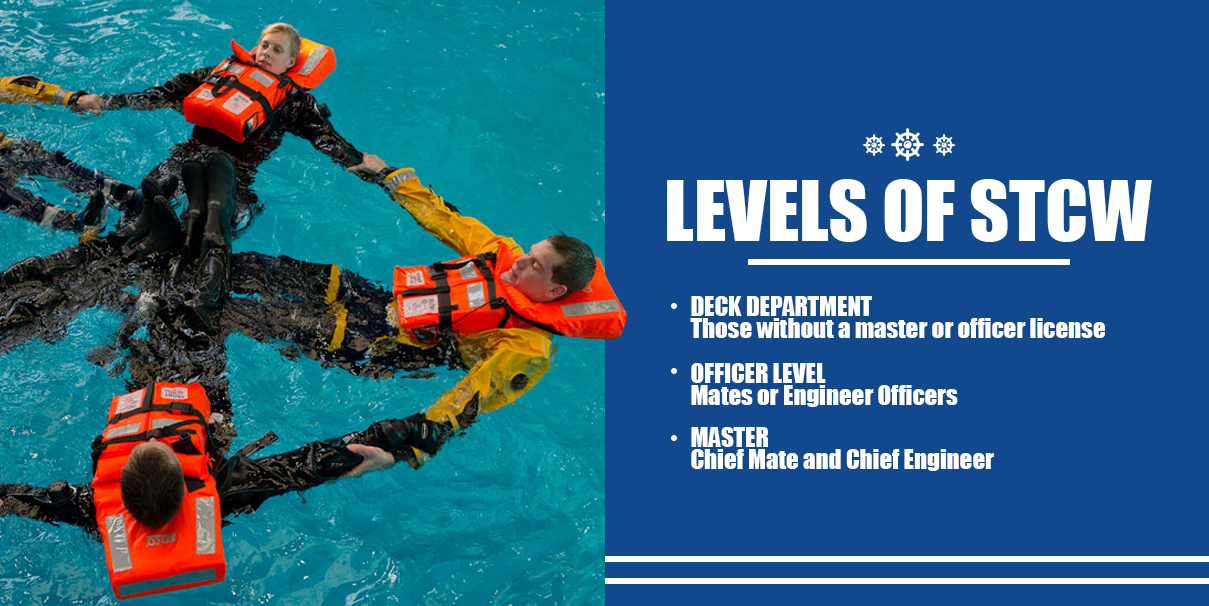 There are different levels of STCW certification. Which one you qualify for will depend on your experience, your position and the size and range of the vessel that you will work aboard.
As you advance in your maritime career, you may need to upgrade your STCW endorsement to match your rank and your vessel. Also, the STCW you hold may affect which Merchant Mariner Credential you will be able to receive if you are trying to upgrade your license. So, be sure to look at the requirements for STCW before enrolling in an MMC course.
Most master's licenses that are required to work aboard large vessels require an STCW. Depending on how much sea-service you have, you may qualify for different levels of STCW, so be sure to add up all of your experience and see which one you will be eligible for before applying. All of the courses to receive your MMC require enrollment or completion of STCW competency tests.
Different levels of STCW endorsements:
Deck Department — those without a master or officer license

Rating Forming Part of a Navigational Watch
Rating Forming Part of an Engineering Watch

Officer Level — Mates or Engineer Officers

An officer in Charge of the Navigational Watch
An officer in Charge of the Engineering Watch

Master, Chief Mate and Chief Engineer

Chief Mate/Master
Chief Engineer
How to Get Your Certification and STCW Courses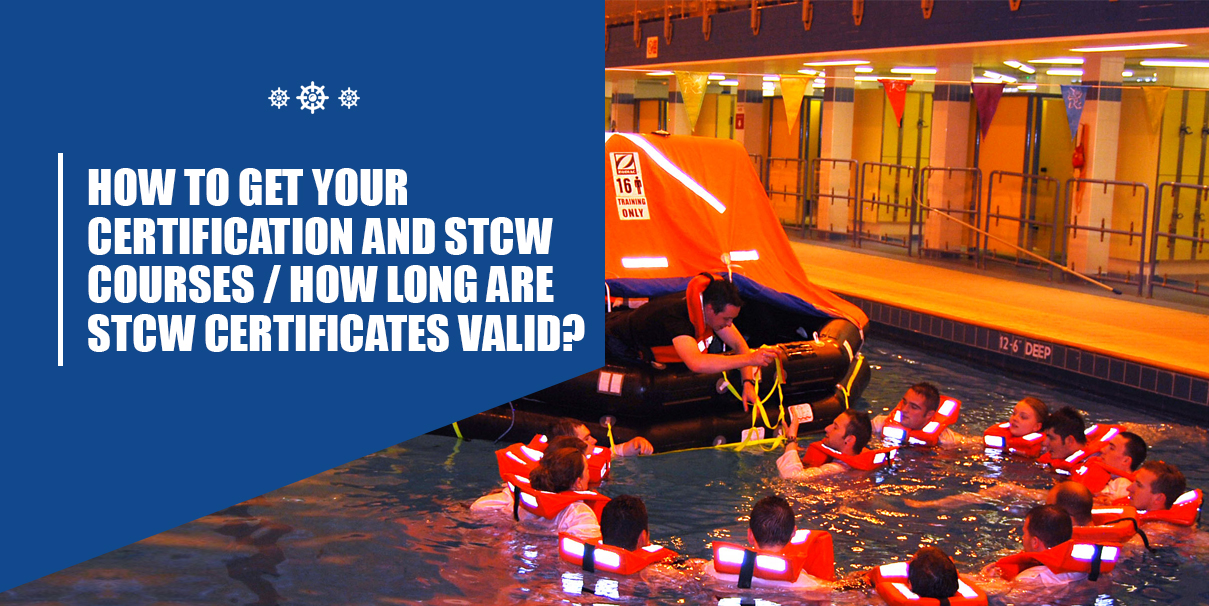 Different types of STCW endorsements allow you to do different jobs aboard a merchant vessel. The standards you must demonstrate are mostly the same, yet the type of STCW you choose to receive may determine how you can work and advance in your career.
The first type — the traditional STCW — qualifies you to work within one department of the ship, and seafarers will usually work within this department for their entire career. The second STCW type qualifies you to perform extra functions that may not necessarily be within the same department.
The certificate you receive will detail what functions you are allowed to perform, so choose wisely based on your current position and future career advancement.
It works like this: if you qualify to work within one department, you may add additional certifications that allow you to perform extra duties. This lets you gain valuable experience and accelerates your opportunity for career advancement. For example, if you work in the deck department, you may be able to qualify for other functions like working in the engine room or assisting with navigation and other duties.
This second type of qualification allows you to perform duties on your same level in other departments. The requirements for sea service, competency and age are the same for both types of STCW endorsement.
Why has the IMO created this alternative form of STCW? Because the responsibilities of crew members are not always limited to their official job description. Workers often end up carrying out other duties and may work within different departments based on current needs.
The alternative STCW allows you to accumulate experience in a versatile way that can lead to better career advancement or multiple opportunities for upward movement. Also, with the rapidly improving technology aboard ships, crew members can become certified in new navigational procedures and learn more quickly.
How Do You Get Your STCW Certification?
The best way is to attend a U.S. Coast Guard-approved maritime training school. Training courses aren't just the fastest way to get your certification — they're also the most thorough. You'll learn valuable information you can instantly apply in your career. Seasoned professionals will guide you through the process and help you make the best next step in your maritime career.
Once you pass the test to get your STCW, you'll send in the appropriate documents to the U.S. Coast Gaurd and receive a formal certificate. Use this U.S. Coast Guard checklist to make sure you satisfy all the requirements for your license.
When you enroll in a Coast Guard-approved maritime training course, you'll complete both hands-on and classroom portions to satisfy the requirements for STCW certification. Areas of instruction include firefighting, personal survival techniques, personal safety, first aid and social responsibilities. You qualify to take the course if you currently hold an entry-level merchant mariner credential or if you have the appropriate sea service and requirements to apply for an original license.
If you are applying for your master's license, or already hold one, and need to add an STCW certification, you may complete Basic Training and then apply for your STCW through the Coast Guard, so long as your license is less than 200GRT Near Coastal.
Here are a few more common questions:
What if I already have my STCW but it's about to expire?
To renew your STCW, you may need to take a refresher course if you have fewer than 360 days of sea-service within the last five years or you have BT and AFF certifications that are about to expire.
Do I have to get my STCW to get my master's or officer's license?
If you are applying for your merchant mariner credential, you are not required to get your STCW endorsement, but you will be limited to operating within the U.S. Territorial Boundary Line if you do not.
Are there any crew members who do not need an STCW?
No. Even if you are a steward or a cook, you need your STCW if you are operating on a vessel over 200GRT or in international waters. The U.S. Coast Guard wants to ensure that every member of a vessel's crew knows what to do in the event of an emergency.
How long are STCW certificates valid?
An STCW certification is valid for five years after issuance. You can renew them without further testing if you have at least one year of sea-service within those five years.
What are the STCW Courses
STCW-compliant courses include training for the following:
Basic Firefighting
Personal Survival Techniques
Personal Safety
Social Responsibilities
Elementary First Aid
Choose MITAGS for STCW Training
With over 40 years of maritime training experience, MITAGS can help you reach your career goals. We offer several STCW training courses from coast to coast — including Baltimore, Maryland, and Seattle, Washington — as well as other locations upon request. Our training programs include basic as well as advanced STCW courses:
Basic: Includes all Basic Training as well as additional information like Crowd Management, Search and Rescue and more.
Advanced: Includes a revalidation refresher for STCW and additional information like Hazardous Materials and more.
Our STCW courses are hands-on — and we take the success of each of our students personally. You'll learn from seasoned professionals who give practical, real-world information that will help you become a better mariner.
And we stay up-to-date with the latest technology, meaning you will leave our program with the most relevant experience for today's work environments.
Check out our STCW courses to find a location near you, or contact us for the answers to any additional questions you may have.
TL;DR: The Standards of Training Certification and Watchkeeping, also known as STCW is an internationally recognized set of rules that determines what mariners need to know to perform their jobs safely. Any mariner who works aboard a ship that operates outside the U.S. Territorial Boundary Line must hold an STCW endorsement. Different types of STCW endorsements allow you to do different jobs aboard a merchant vessel.