Meet Our Crew
MITAGS' staff and instructors are dedicated, dynamic, and passionate individuals who focus on getting the next generation of mariners
where they need to be through hands-on, comprehensive training and leadership development.
With extensive careers and backgrounds, we have experts in nearly all facets
of the maritime industry with no shortage of additional resources.
We're lifelong learners, and truly care about developing the skills of our students and accomplishing the goals of our clients.
For us, it's not just about checking the box and meeting the regulatory requirements, it's about making sure those who walk through our doors,
take back practical tools and skills to the real world, so that they are safe and successful at their jobs.
If you don't succeed, we don't succeed.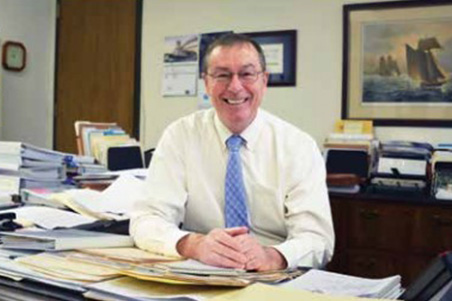 Glen Paine
Executive Director
Glen Paine is the Executive Director of the MM&P MATES Program that operates the Maritime Institute of Technology and Graduates Studies (MITAGS) / The Maritime Conference Center, co-located near the Baltimore / Washington International Airport, and MITAGS' satellite west coast campus, located in Seattle, Washington.
Glen holds a Master's Degree in General Administration from the University of Maryland, an undergraduate degree from the United States Merchant Marine Academy, and a USCG Merchant Marine Chief Mate, Unlimited Tonnage, Oceans, License.
Past Awards and Professional Associations
President of the Maritime Industries Academy Foundation (MIAF).
President of the Ship Operations Cooperative (SOCP).
Director of the USMMA Alumni Foundation – Chesapeake Chapter.
Member of the U.S. Coast Guard Merchant Marine Personnel Advisory Committee (MERPAC).
Advisor to the U.S. Delegation to the Standards of Training and Watchkeeping Subcommittee of the International Maritime Organization (IMO).
Member of the Nautical Institute, Propeller Club of Baltimore, and the Council of Master Mariners (CAMM).
Recognized by the Maritime Executive in 2002, 2007.
Received the USMMA Alumni "Outstanding Professional Achievement Award" in 2003
Member of the International Organization of Masters, Mates, and Pilots (IOMMP) since 1978.
Pasha Amigud
Simulation Engineer
Michele Barutha
Instructor
Dale Bateman
Assistant Director
Meet Dale!
Dale Bateman is MITAGS' Assistant Director and is located at our West Coast campus in Seattle, Washington. Dale came to MITAGS as a retired United States Coast Guard Commander and has recently celebrated his 5-year anniversary with MITAGS in 2019. In addition to his Assistant Director duties, you will often see Dale in the classroom teaching and assisting instructors in various courses.
Bob Becker
Director of Business Development
Meet Bob!
Captain Bob Becker is MITAGS' Director of Business Development who can be found primarily at our east campus, but also travels to our west coast campus too. Bob is an experienced master for MM&P contract vessels and alumnus of the United States Merchant Marine Academy. He is also a member of the Council of American Master Mariners and Boston Maritime Society.
Justin Bell
Academic Coordinator/Registrar
Christa Case
Naval Architect / Simulation Engineer
Meet Christa!
Christa is a graduate of SUNY Maritime College, and holds a Bachelor of Engineering Degree in Naval Architecture. Her maritime engineering studies included Naval Architecture. Christa also holds a USCG Third Mate's Unlimited Tonnage License.
Throughout her education, Christa geared herself towards engineering and found a niche in the maritime industry. Christa has interned in the industry where she created build plans for new classes of ships for the US Navy. She also did her share of deck cadet training on board and has an overall understanding of ship safety, navigational charts, routes, etc.
At MITAGS, Christa is responsible for programming high fidelity hydrodynamic ship models. She also provides technical support for the simulation systems, as well as project management services. 
Jim Clements
Chair of Marine Safety, Security, and Human Factors Department
Meet Jim!
James "Jim" Clements is the Chair of MITAGS' Marine Safety, Security, and Human Factors department, which oversees USCG, Military Sealift Command (MSC), and MARAD approved courses. Jim is also an active 30+ year Firefighter,-MD Licensed Paramedic, and Licensed Certified Clinical Social Worker- (LCSW-C) as well as holding degrees in Social Science and Secondary Education from Frostburg State University and a Master of Social Work from the University of Maryland School of Social Work and Community Planning. In his free time, Jim is also an active crewmember for the museum ship the SS John W. Brown, which operated as a merchant ship of the United States Merchant Marine during World War II. He enjoys, along with Sue, his wife, the company of his two sons, daughters-in-law and seven grandchildren.
Scott Conway
Chair of Shiphandling Department
Meet Scott!
Captain Conway is MITAGS' Department Head of Shiphandling, while overseeing Shiphandling courses, Captain Conway also actively instructs many MITAGS' courses both within his department and in the License Advancement department and Navigation systems department. Captain Conway has many industry achievements including:
Member of MARAD Liquefied gas mariner training standards technical working group
Lead delegate representing US maritime officer training Gas Tech 2006 LNG conference, Abu Dhabi UAE
Member of development team to receive the first national maritime center approval for operational and management level maritime distance learning courses
Contributor to Merchant Marine Personnel Advisory Committee training standards for LNG and electronic charting
Subject matter expert and advisor in Transport Safety Bureau-Transport Canada, Queen of the North investigation
Subject matter expert and instructor to Transport Safety Bureau-Transport Canada investigators in the loading, carriage and discharge of Liquefied Gases
Managed the creation, development and implementation of the deck officer license advancement program at Calhoon MEBA Engineering School
Captain Conway is an alumnus of Texas A&M University, at Galveston, holding a Bachelor Degree of Science Marine Transportation.
Rebecca Evans
Instructional Design Coordinator
Diane Ford
Administrative Assistant to the Executive Director
Meet Eric!
Eric is the Director of MITAGS and is primarily located at the east coast campus in Baltimore, Maryland, but you will often see him at our west coast campus in Seattle, Washington. Eric is an alumni of the United States Merchant Marine Academy where he earned his Bachelor of Science, marine Transportation. Eric later earned his Masters of Management with a concentration in Organizational Leadership through the American Military University. Prior to his position of Director, Eric was an instructor of Officer in Charge of A Navigational Watch and Maritime Safety courses utilizing his Masters License (1600 ton) ,  Second Mate license (any Gross Tons Upon Oceans), and Maintenance, Material, Management Department Head, US Navy, experiences.
In Eric's free time, he participates in the National Weather Service's Skywarn Program where he serves as a trained Spotter.  His skills are often employed to warn staff at the east coast campus of impending severe weather. 
Catie Gianelloni
NSAP® Manager, Lead Simulator Operator & Instructor
Meet Catie!
Catie Gianelloni is MITAGS' NSAP® Manager as well as Lead Simulator Operator (Baltimore) and instructor. You can often find Catie teaching a variety of MITAGS' USCG approved courses such as: Able Seaman, Basic Training, RADAR, and ARPA. Despite working full time at MITAGS, Catie is still actively sailing as a 2nd Mate of Unlimited Tonnage. Graduating from The United States Merchant Marine Academy, Catie holds a Bachelor of Science, Marine Transportation and recently received her MBA from SMARTLY. Catie has been featured in SMART Magazine, Wall Street Journal "Faces of Success", and Wheelhouse Weekly. She also holds awards in Sea Scout Service and from Boy and Girls Scouts for tours, and was the 2019 recipient of the Charles Pillsbury Award from the SOCP. When not working or sailing, Catie enjoys painting, quilting, yoga, swimming, and volunteering at "The Sharing Table" food pantry.
Mark Hokenson
Simulation Engineer & Lead Simulation Operator
Elisabeth Hoover
Admissions Representative
Emily Hopkins
Business Operations Manager
Bob Kimball
Chair of License Advancement Department
Meet Bob!
Captain Bob Kimball is the head of MITAGS' License Advancement department. Captain Kimball holds a USCG Master's License of Steam or Motor Vessels of any Gross Registered Tons with experience as Master and Chief Officer for conventional and container vessels. A graduate of SUNY Maritime College, Captain Kimball holds a Bachelor of Science in Marine Transportation as well as a Bachelor of Science in Meteorology and Oceanography. Captain Kimball also maintains membership in the Council of American Master Mariners.
Jon Kjaerulff
Assistant Director of Business Development
Meet Jon!
Jon is a graduate of the U.S. Merchant Marine Academy and has sailed in positions from deckhand to Master aboard ships and workboats all over the world. In 1989, after running a support ship during the Exxon Valdez cleanup effort, Jon came ashore and founded Fremont Maritime Services in Seattle. Over the next 27 years, Jon established a reputation as a pioneer in the field of maritime safety, survival and firefighting training. His company was one of the very first organizations in the U.S. to obtain Coast Guard approval for an STCW Basic Safety Training program, and from 2003 to 2015 Fremont Maritime was the only private company utilized by the U.S. Navy to provide marine firefighting training to its military sailors. Over the years Jon and his team worked with tens of thousands of inland and offshore mariners, providing training not only at Fremont's school in Seattle, but at customer locations in Alaska, Oregon, California, Florida, Europe, Australia and the Caribbean.
In 2017, Fremont Maritime was purchased by MITAGS, and Jon came aboard as a marine safety training and business development specialist. His focus has been on the tug and barge and cruise industries, as well as helping to create new programs required by the industry and regulations such as Subchapter M.
As Assistant Director of Business Development, Jon continues with his current responsibilities, but now also has a larger role within the senior management team at MITAGS. In addition, he is more involved with fiscal and strategic planning, and is working to expand his knowledge and expertise within MITAGS' simulation and operational research technology and services.
Christine Klimkowski
Instructor
Meet Christine!
Christine Klimkowski is a MITAGS instructor primarily based out of our west coast campus in Seattle. Christine is a Master Mariner and is currently a pilot trainee with the Southeast Alaska Pilots. Christine is a USCG approved instructor for courses from the Officer In Charge of Navigational Watch level through Management level Chief Mate/Master courses. In addition to being an USCG approved instructor, Christine is also a USCG Qualified Assessor. Christine is a graduate of SUNY Maritime College, holding a bachelors in Marine Environmental Science, emphasis on Meteorology and holds a Leadership Executive Masters of Business Administration from Seattle University. Outside of MITAGS, Christine has earned various awards such as: The Merchant Marine Expeditionary Medal (2003),Member of Toastmasters International (2013 – Present), District 2, Area 41 Director (2018-2019), Advanced Communicator and Leader Bronze Award, Toastmaster International (2018),Toastmasters District 2 Table Topics Contest, Second Place Winner (2014 & 2017), and is a Board Member of the Catholic Seafarers Center Seattle & Mission to Seafarers Seattle (2014 – Present).
Amanda Meadows
Admissions Coordinator
Lindsay Moran
Marketing Manager
Meet Lindsay!
Lindsay is an experienced Communications and Marketing professional and came to MITAGS with a B2B marketing background  and demonstrated history of working in the commercial real estate and construction industries, as well as the primary/secondary education industries.
Lindsay is currently laying the foundations for marketing and communications at both MITAGS and the Maritime Conference Center as the first-ever hired marketing professional within both organizations. Her primary responsibilities include developing and managing all marketing strategies with the overall responsibility of brand management and corporate identity, as well as creating a variety of marketing materials. This includes, but is not limited to, developing content and graphic design for ads, brochures and other collateral, creating video concepts and assisting 3rd party vendors with directing video shoots and story boarding efforts, and leveraging the knowledge of MITAGS' SMEs for social, email and web content.
She also led MITAGS & MCC's rebranding efforts and the redesign of the MITAGS website. In addition, Lindsay is responsible for all MITAGS & MCC social media channels, email campaigns and continues to manage both websites on a daily basis.
Jenny Pitzen
Student Services Manager & Maritime Apprenticeship Program Manager
Meet Jenny!
Jenny Pitzen is MITAGS Student Instructional Services Manager for both east and west coasts, but is primarily found at our west coast campus. Jenny counsels and confers with students and prospective students within a program of study or regarding a student service. She also provides program and departmental procedures, policies, and goals & objectives for the organization.  Additionally, Jenny is responsible for maintaining program approvals for state and government agencies and is the VA certifying official for both campuses. Jenny holds a Masters of Education in Student Development Administration and in her free time enjoys live music, reading, and outdoor activities with her family.
Colleen Schaffer, PE
Director of System Engineering & Coastal Engineer
Meet Colleen!
Colleen Schaffer, P.E. is the Director of Simulation Engineering and responsible for managing research projects and direct oversight of the Simulation Engineering Department. She also programs hydro-dynamically accurate databases including detailed visual scenes, underwater bathymetry, RADAR and ECDIS images. Colleen holds a Master of Science in Civil Engineering with a Coastal Engineering concentration from Oregon State University and a Bachelor of Science in Ocean Engineering from the University of Rhode Island. 
Colleen is also proficient in French, is a certified PADI advanced Scuba Driver, and a certified dog lover.
Gregg Trunnell
Senior Business Development Consultant
Meet Gregg!
After a tenured career as the Assistant Director of Business Development at MITAGS, Gregg has retired and is now a Senior Business Development Consultant for MITAGS. Gregg opened the West Coast Campus of the Maritime Institute of Technology & Graduate Studies (formerly Pacific Maritime Institute) in Seattle, Washington in 1997 after an eight-year shipping career working primarily on tankers for West Coast Shipping. Today, Gregg develops and executes strategies for lead generation, sales, pricing, and all other matters relating to revenue generation for MITAGS' Operational Research, NSAP® and Global Sales.
His visionary skills and ability to adapt programs that address the needs of the industry has helped propel MITAGS toward a long lasting partnership with industry and labor helping to (a) conceptualize new training methods, (b) redefine the relationship of the school to the workplace, and (c) continually create new and affordable venues for individuals to obtain the knowledge and skills necessary to work at sea and "prepare for the future".
In addition, to Business Development, Gregg is the founder of the Maritime Apprenticeship Program (MAP), formally known as Workboat Academy. MAP recruits, trains and delivers qualified and competent mariners to the maritime Industry. Gregg is a graduate of the California Maritime Academy (CMA), where he earned his degree in Business Administration and Marine Transportation. He also holds a Chief Mate, Unlimited Oceans, license and a 1,600 Gross Tons Master's license.
Ginger Veighey
Admissions Coordinator/Operations Coordinator – Fire Facility
Debbie Walton
Registrar & Faculty Assistant