Designated Person Ashore
The International Safety Management (ISM) Code requires all commercial ships to have a trained Designated Person Ashore (DPA) as a point of contact between the company and crew on the water. This individual monitors various areas of the operation of the vessel and follows the requirements of a Safety Management System (SMS) and all mandatory guidelines.
What Is a DPA?
The DPA is the cornerstone of maintaining proper safety on a maritime vessel. Companies must designate an individual who will ensure the safe operation of each vessel. The ISM Code outlines the following primary duties for a DPA:
Provide a link between company and vessel personnel.
Monitor pollution prevention and safety aspects of the operation of the vessel.
Ensure adequate resources are applied.

What Is the Role of the Designated Person Ashore?
The Designated Person Ashore ensures the crew operates in the best interest of safety and efficiency, including compliance with the Company's Safety Management System.
They are responsible for connecting those onboard the vessel and individuals at the management levels. A DPA should understand how to supervise safe vessel operation while staying up to date on any changes within the maritime industry.
Since the DPA is a direct line of communication to upper management within the company, this person needs to be available for contact 24 hours a day in case resources are needed to ensure the safety of the crew, vessel, cargo and environment. The details to reach the DPA are posted in an easily accessible location for the crew. They will also be responsible for tasks ranging from reporting deficiencies to organizing safety audits.
What Is the Salary of a Designated Person Ashore?
Compensation for a designated person ashore can vary. Several factors, ranging from experience and education to the location of where you'll be working can all have an impact on the salary. Achieving the right training and skills can make you a more qualified and competitive applicant when applying to this role.
How Do You Become a DPA?
Before a person can assume the role of a DPA, it is recommended by the International Maritime Organization (IMO) that the DPA meets certain qualifications, training and experience.  Most DPAs are experienced ships' officers, who are familiar with how their company's vessels operate and the safety concerns of the crew.
Upon being designated a DPA, personnel will need to meet training requirements are related to the ISM Code that reinforce the objectives and guidelines of safety management elements. They also must learn practical reporting techniques and approaches to applying new measures.
Designated Person Ashore Course
Designated Person Ashore and Internal Auditor
Maritime Institute of Technology and Graduate Studies (MITAGS), in conjunction with QSE Solutions, is offering a maritime training course that combines the instruction of DPA roles and responsibilities with the disciplinary functions of ISM Code internal auditing. Upon completion, individuals will have the knowledge and authority to implement and improve the company's Safety Management System.
Through the two-day Designated Person Ashore course, which is part of the QSE Solutions Continual Improvement Workshop Series®, individuals gain an overview of the role, ranging from the daily responsibilities to future responsibility within a Safety Management System. Individuals will learn how to achieve zero incidents through monitoring pollution prevention and safety measures.
MITAGS also offers a three-day Designated Person Ashore and Internal Auditor workshop. It also places a focus on achieving zero incidents while covering topics ranging from ensuring disciplined internal audits to management system effectiveness.
For students who have already completed either the Designated Person Ashore or Designated Person Ashore & Internal Auditor workshop, MITAGS offers a one-day refresher workshop. Through this online course, which is also a part of the QSE Solutions Continual Improvement Workshop Series, DPAs will get a refresher on key safety management system functions and processes.
Why Choose MITAGS?
For more than 50 years, MITAGS has been supporting mariners in their quest to advance and succeed in today's merchant marine industry. Today, we remain committed to carrying on our tradition of providing hands-on training that incorporates the newest technologies. Now, as the leading training facility for mariner license advancement and maritime simulation, we offer apprenticeships and continuing education programs to help professionals achieve their goals.
Whether you are a prospective or experienced mariner, our programs are comprehensive, theoretical and practical — and approved by the United States Coast Guard (USCG). With our focus on experience, expertise and excellence, individuals can trust that their chosen program will equip them with the knowledge and skills they need to stand out and be competitive. To ensure future success, we can help connect you with both regional and national maritime employers who are looking for qualified candidates like yourself.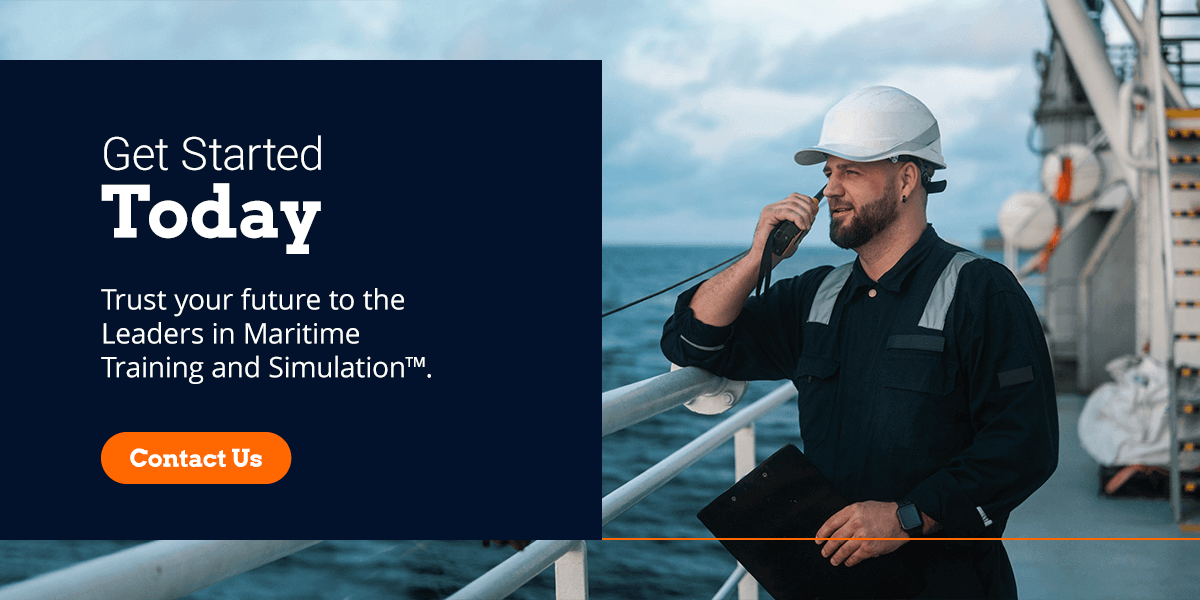 Get Started Today
With locations in Washington and Maryland and online programs available, MITAGS makes it easier than ever for individuals to access the hands-on designated person ashore programs you need to ensure the safe operation of a vessel.
Trust your future to the Leaders in Maritime Training and Simulation™. If you have any questions or you're ready to get started, we invite you to contact a school advisor today.