Maritime Apprenticeship Programs
Do you want to go to sea? Do you want to work on the bridge of ships, tugs, ferries, research vessels or mega-yachts?
The Maritime Apprenticeship Program (MAP) offers the fastest track in the industry to a credential as a licensed deck officer. Even with no prior maritime experience, in just over two years, you can obtain a U.S. Coast Guard-issued Mate's license.
The MITAGS MAP Deck program is approved by the United States Coast Guard (USCG), the State of Washington Workforce Training, Education and Coordinating Board (WTECB), and the State of Maryland Higher Education Commission (MHEC). This program is also approved by the United States Department of Veterans Affairs and honors the Post 9/11 GI Bill® for eligible veterans and their dependents.
This program is the proud recipient of the Department of Labor's Registered Apprenticeship Innovator and Trailblazer Award (2012) and the Lloyd's List Training Award for North America (2015).
Structure of the Maritime Apprenticeship
The MAP currently consists of three distinct license pathways: Limited Tonnage Workboat Mate, Unlimited Tonnage Third Mate, and Unlimited Tonnage Inland Mate.  Each pathway has its own unique advantages, and the choice comes down to the type of vessels you would like to work on.  Our advisors can help explain the pros and cons of each pathway.
No matter which path you choose, your training will alternate between sequences of classroom instruction and time sailing aboard working vessels. These onboard experiences are designed to reinforce the lessons learned ashore.  As a result, you will be able to quickly apply your new knowledge on the job, learning from seasoned professionals.
For the sea service training component, you must be selected by a partner company, with which you will remain throughout the entire program. MITAGS facilitates this process as part of the program application.
Upon successful program completion, you will be eligible to take the U.S. Coast Guard exam for a Mate's license appropriate to the size and route of the vessels you have obtained your sea time on.  The Workboat Mate and Unlimited Third Mate programs meet STCW requirements and assessments, so these graduates also receives their Able Seafarer-Deck and OICNW credentials and can sail internationally.
General Eligibility Requirements
If you are interested in applying for a Maritime Apprenticeship Program, you must meet specific requirements first. Apprentices must be:
At least 19 years old: You need to be at least 21 years old to receive an officer endorsement. Since the apprenticeship program takes two years, you need to be at least 19 when you apply. There is no upper age limit for the program, but apprentices must be in good physical health.
In possession of a high school diploma: The apprenticeship programs require a high school diploma or equivalent, such as a GED.
Eligible for a U.S. passport: After completing the apprenticeship program, you are eligible for the Officer in Charge of Navigational Watch endorsement, which is open to U.S. citizens only.
Physically fit: You must meet the required medical and physical standards in order to qualify for a U.S. Coast Guard-issued  Merchant Mariner Medical Certificate.
Able to pass a math test: Apprentices need to demonstrate basic math ability by passing a math entrance exam. You need a score of at least 85%.
In possession of a Merchant Mariner Credential (MMC): Every Merchant Mariner must have an MMC, which requires a physical exam and drug test.
In possession of a Transportation Worker Identification Credential (TWIC): To work in onboard vessels and in a shipyard, you need a TWIC.
We offer the ability of a person to come in, absolutely new to the industry without having any previous experience, and we can provide the training they would need in order to actually obtain their Coast Guard license.
Learn More In Our MAP Video!
Click below to view the MAP brochure.
Maritime Apprenticeship Programs Brochure
All 2024 program positions have been filled.
Check back for 2025 offerings.
WORKBOAT MATE PROGRAM
Primarily apprentice on:

Tugboats
Supply Vessels
Salvage vessels
Small cruise ships and research vessels up to 1600 GRT

Crew size between 4-8
Voyages approximately between one week to two months in length
Trips remain primarily 'near coastal'
Remain with same company
Traditionally solo watch stander on the bridge
Involved in cargo operations
UNLIMITED INLAND MATE
Grand River Navigation
Serve on bulk carriers operating on the Great Lakes operated by Grand River Navigation
Crew size between 12-22
Work with a helmsman/quartermaster
Involved in vessel loading operations
Washington State Ferries 
Crew size between 12-22
Trips limited to Puget Sound waters
Crewmembers go home every night
Work with a helmsman/quartermaster
Involved in vehicle loading operations
Full scholarships available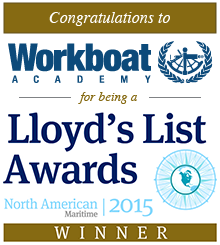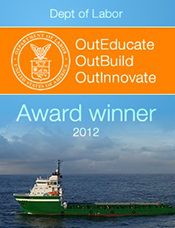 Benefits of a Maritime Apprenticeship Program
Participating in a Maritime Apprenticeship Program offers several benefits for individuals who want to build a maritime career:
College not required: You don't need a college degree to enroll in an apprenticeship program. The programs allow you to pursue a fulfilling career without the high cost of a college degree. You'll also be on your way to a career in less time, just two years, with an apprenticeship.
Assistance finding a partner company: The apprenticeship program has strong relationships with numerous partner companies. We help to match apprentices with the right company.
Ability to earn while learning skills: During the onboard training portion of the program, you'll spend 360 calendar days at sea and will receive a stipend for the days you work. The size of the stipend varies by company..
Job placement support: Many apprentices continue to work with the same companies they completed their at-sea training with.
Connection to a community: When you complete a Maritime Apprenticeship Program, you become part of the seafaring community. You'll work closely with others who have similar goals and values to you.
Access to a rewarding career: An apprenticeship program can be the first step to take to a well-paying, fulfilling career. Maritime positions often pay higher wages than shore-based careers and offer greater stability than land-based jobs.
After careful review, this Program is based on sound pedagogy and a careful consideration of the standards that must be met by the graduates. It is an intense, demanding program. Good! We want competent people on the bridge.
MAP Frequently Asked Questions
HOW MUCH IS THE TUITION?
Please contact a school advisor for the latest MAP tuition rates. Tuition is paid in pre-scheduled increments over the duration of the program at the start of each academic phase. Tuition includes books and simulation fees.
IS FINANCIAL AID AVAILABLE?
MAP is approved to accept VA educational benefits such as the Post 9/11 GI Bill® . However, at this time, federal financial aid is not available.
HOW MUCH IS THE STIPEND?
During your time with the MAP, the stipend while on a vessel will depend on several factors, but generally is at the partner company's discretion. Some companies abide by the Maritime Administration's (MARAD) stipulated stipend of $30 a day, whereas other companies may offer a higher stipend or pay an hourly rate.
DO I HAVE TO FIND A COMPANY TO TAKE ME ON AS AN APPRENTICE?
MITAGS' MAP has built strong partnerships with various partner companies. Knowing the needs and requirements of each company, we strive to match the right apprentices with the right company.
DO I HAVE ANY SAY IN WHAT COMPANY I MAY APPRENTICE WITH?
As much as is practicable, applicants preferences are taken into consideration.
WHAT WILL MY SALARY BE ONCE I HAVE SUCCESSFULLY COMPLETED THE PROGRAM?
Salaries are determined by many factors, but the median rate for a Deck Officer working on tugs is $400 per day. Other sectors of the industry can vary greatly in their compensation.
HOW LONG DOES IT TAKE TO GET MY TWIC AND MMC?
The Transportation Worker Identification Credential (TWIC) is administered by the TSA, and the Merchant Mariner Credential (MMC) is administered by the U.S. Coast Guard. While the timelines for obtaining these credentials can vary greatly due to agency demands, applicants should plan for at least three months from the time they apply for their TWIC to receive both credentials.
HOW LONG ARE THE SEA PHASES?
The length of each trip depends on what part of the maritime industry you will be working in, as well as the needs of each individual company. A voyage can be anywhere from a week to a few months in duration. Apprentices are given an ample amount of time to complete their required days at sea.
IS HOUSING INCLUDED IN THE TUITION?
No, housing is not included in the tuition.
CAN I WORK ON THE SIDE WHILE IN THE PROGRAM?
Working while enrolled in the Maritime Apprenticeship Program is extremely challenging. Apprentices spend 360 calendar days at sea and approximately 26 weeks in the classroom during the program. Due to the seasonal and unpredictable nature of the maritime industry, it is difficult to forecast days off.
HOW LONG IS THE PROGRAM?
The duration of the program is approximately 28 months; however, some participants have finished in as few as 24 months. Completion of the program includes finishing all the required coursework, completing the training record book, and accumulating 360 days of sea service.
WHAT CLASS HOURS WILL I HAVE?
Classroom hours are 8:00am to 4:00pm, Monday through Friday. Some classes meet on Saturdays. Homework is regularly assigned throughout the week, and for classes longer than one week in duration, homework is assigned over the weekend.
DOES THE SCHOOL ASSIST WITH JOB PLACEMENT ONCE I COMPLETE THE PROGRAM?
Sailing and working 360 days within the program allows the partner company to extensively observe and evaluate apprentices. Over 90% of our alumni stay on with the company with whom they apprenticed.
WHEN DOES THE PROGRAM START?
CAN I USE COURSES I TOOK PREVIOUSLY FOR THIS PROGRAM?
MITAGS' Maritime Apprenticeship Programs are United States Coast Guard approved training programs. As such, the USCG accepts the training students receive in the classroom as well as time on board vessels, and apprentices receive credit for a portion of the necessary sea time required for a Mate's license. This arrangement with the USCG does not allow for courses taken elsewhere, and all courses are required in order to complete the program.
CAN I USE PREVIOUSLY ACQUIRED SEA TIME FOR THIS PROGRAM?
As mentioned above, the program approval requires 360 days of sea service within the program. For questions regarding your specific situation, please call the Program Manager toll-free, at 1-(866) 656-5568.
ARE ALL THE PROGRAMS THE SAME?
The MAP Deck Program offers a 'Third Mate Unlimited' track and a '500-1600 GRT Limited' track, also known as the Workboat Mate Program or Workboat Academy. 
DO I HAVE TO MOVE TO THE CITY MY CAMPUS IS LOCATED IN?
Students are required to be on campus during the classroom phases of the program but are not required to relocate to the city in which the campus is located. Many apprentices find temporary lodging for the classroom phases.
AM I TOO OLD FOR THIS PROGRAM?
MAP is open to anyone that is qualified for the position. The program is physically demanding with long arduous hours. If you are in good health, and able to meet the job description, you will certainly be given the exact same consideration as anyone else. It should be noted, however, that one of the primary reasons for the establishment of the MAP was due to an aging workforce.
HOW MANY WOMEN ARE ENROLLED IN THE PROGRAM?
While the maritime industry is traditionally male-dominated, more and more women are successfully entering the field. MAP has several female instructors who are accomplished Chief Officers, Captains and Mates. Women interested in a career at sea are strongly encouraged to apply.
HOW DO I GET THE ENROLLMENT PROCESS STARTED?
Complete and submit the inquiry form on the 'Contact Us' page of this website or email us at [email protected], and a MAP representative will be in touch with more information.