Ships must carry various certificates and documents on board to operate legally and to trade freely both nationally and internationally. The maritime industry commonly uses the terms "certificates" and "documents" interchangeably. Technically, however, certificates validate a fact, and documents provide evidence or proof of meeting a standard. This text will treat the two words as synonyms.
Jump to a section:
Do Merchant Ships Need to Bring Regulation Documents With Them?
Regulations govern procedure, behavior and standards within an industry, and are designed to meet the statutory or legal requirements of the state. A vessel's flag state or country of registry determines the standard of law governing how their vessels operate in international waters and in their country's water, territories and possessions. Ships traveling and conducting trade in a foreign country or flag state must also meet the international and national regulations of the country they are entering.
Regulatory documents such as certificates for merchant ships are often "mandatory" in that it is a requirement to carry them on board, but the laws of the vessel's flag state do not directly require them. The word "mandate" can also denote a legal requirement. People often use "statutory certificates" and "mandatory certificates" interchangeably, but the term "mandatory" can be confusing, and we will avoid it in this introductory text.
What Documents Are Needed?


Ships conducting international trade may need to carry more than 50 documents on board. The specific documents a ship should carry must meet the requirements of the vessel's flag state, as well as all international regulations and treaties per the International Maritime Organization (IMO) and the documents necessary to meet the operational and safety requirements of the local port authorities and its flag state.
The IMO has standardized documents some countries may accept, per the Facilitation of Maritime Traffic Convention, but it is also common for countries to require a crew list and other forms for port entry. The specific documents required to operate and enter port are also a function of the ship's classification, construction, tonnage and cargo.
How Are Laws and Regulations Different?
Legal or statutory requirements legally mandate the standards of construction, safe operation and management of ships. A country's maritime laws set the legal requirements for operation within their jurisdiction, and the specific regulations establish the standards needed to meet the expectations of the law.
A vessel that does not meet the standards is non-compliant with the regulation, and might be breaking the law, depending on the structure of the regulations. A ship's non-compliance with a regulation or standard may require any of several solutions or defaults. A ship which is non-compliant with a regulation:
may not be allowed to operate until they fix the problem;
may require further inspections to determine the extent of the problem;
the solution may get deferred until a later date, such as in cases where the infraction is minor or when a port or shipyard facilities must resolve the non-conformity;
may resolve the issue by sending corrected documentation to authorities; or
the violation may be severe enough to warrant civil or criminal action, such as in cases of fraud, collusion or falsification of documents and records.
Flag states enforce their standards and regulations upon ships operating within or visiting their countries, but they may not choose to adopt a specific IMO regulation, or the regulation may yet to become codified into the laws of the flag state. In such cases, it is common for the flag state to advise its ships that the IMO regulation requires compliance for all vessels in international trade.
What Are Classification Societies?
Maritime classification societies are non-governmental organizations that establish and maintain technical standards for the construction and safe operation of ships and offshore structures. Worldwide, there are more than 70 such organizations. Approximately 90 percent of cargo ships in the world have received certification from the 12 classification societies that are members of the International Association of Classification Societies.
What Do Classification Societies Do?


Classification societies inspect and survey vessels during ship construction and commissioning to verify its design and structures are in compliance. This inspection includes examining the ship engine, pumps and other onboard machinery. Classification societies also inspect and class submarines, oil platforms and other offshore structures. After construction of a ship or other marine structure concludes, the classification society will perform periodic inspections to confirm the ship is meeting maintenance and safety standards.
Flag state regulations, local laws and international conventions require initial and periodic inspections for ships. The vessel must make its survey and inspection records available to charterers and insurance companies, and they may be necessary for port entry and when transiting certain canals and waterways.
Although classification certificates themselves are not statutory, some classification societies have the authority to perform statutory vessel inspections and surveys for the flag state. These flag states can empower recognized classification societies to conduct regulatory inspections and certify compliance with regulatory standards. These delegated duties require the authorized classification societies to maintain high standards of inspection and compliance with flag states and international regulations.
What Primary Regulatory or Statutory Certificates Should Seafarers Be Familiar With?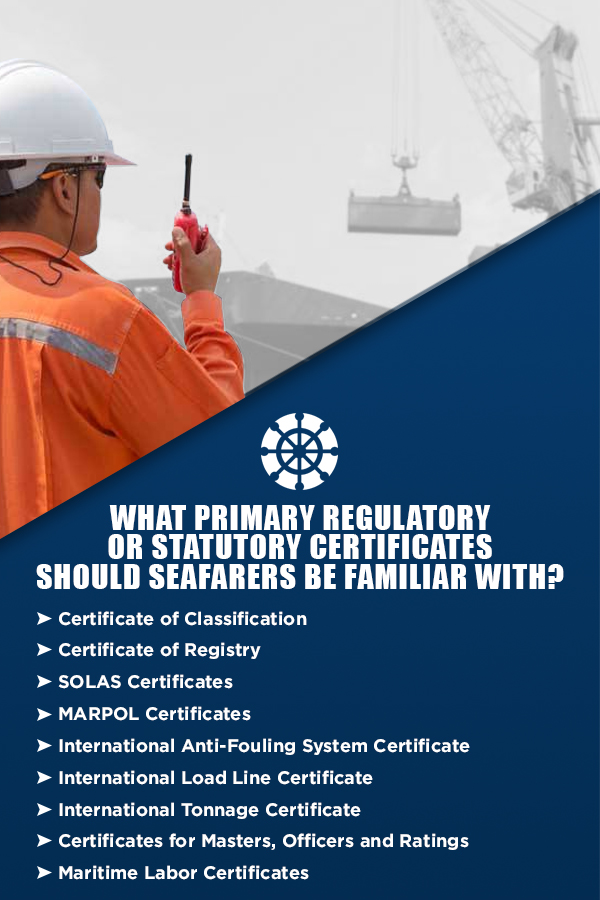 All flag states generally require merchant ship regulatory certificates and documents, as do IMO conventions and other international treaties. The IMO is a United Nations agency that sets standards for the international shipping community. The IMO has more than 171 member or flag states, and it represents governments, companies and labor interests in these states.
The following certificates and documents constitute a partial list of international regulatory or statutory certificates and documents seafarers should be familiar with.
1. Certificate of Classification
A Certificate of Classification from a qualified classification society certifies a vessel is structurally sound, and verifies the reliability and function of the propulsion and steering systems, power generation and auxiliary systems.
The certificate states that the vessel is complying with the rules of the classification society, but the document does not act as a warranty of safety, fitness of purpose or seaworthiness of the vessel. The registration of the vessel by its flag state requires this certificate.
2. Certificate of Registry
A Certificate of Registry is a statutory certificate required by local law and the United Nations Convention on the Law of the Sea. Merchant ships must be registered in a flag state and carry a Certificate of Registry detailing and verifying this registration. This trading certificate contains essential information about the vessel and the owner of the vessel, including the following.
Ship owner particulars: Details about the ship owner or owners, including their name, address, percent of ownership and other information
Ship particulars: Details about the vessel, including its length, breadth, depth, gross tonnage and where the ship was built
Ship engine particulars: Details about the ship's engine, including the make and model and a description of the engine
Ship owners must meet specific requirements set by the flag state to qualify for a Certificate of Registry. These requirements may vary by country, but can include holding a classification certificate, a builder's certificate with details of the vessel and a certificate of sale to the current owner or owners. Ships can receive a Certificate of Registry from government or private agencies called registries.
3. SOLAS Certificates
One of the most impactful international treaties governing merchant ships is the International Convention for the Safety of Life at Sea (SOLAS). The IMO first adopted the SOLAS Convention in 1914 after the sinking of the Titanic, and it has undergone several revisions since, with the most recent version adopted in 1974. The SOLAS Convention establishes safety standards for the equipment, construction and operation of merchant ships. Ships of party nations must carry various SOLAS certificates on board, including the following.
International Ship Safety Equipment Certificate: This certificate verifies the operational readiness of all ship safety equipment under SOLAS Chapter III. Form E, detailing all safety equipment required to be on board, must also accompany the certificate.
Minimum Safe Manning Certificate: This certificate lists the minimum number of onboard crew required to safely operate a vessel, as established under SOLAS Chapter V.
International Ship Construction Certificate: As required by SOLAS Chapter II-1, this certificate verifies safe and secure ship construction. Various documents must also accompany this certificate, including construction drawings, damage control plans and a coating technical file, among others.
International Ship Safety Radio Certificate: SOLAS Chapter IV requires cargo ships and passenger ships to carry appropriate radio equipment on international voyages. This certificate verifies a vessel has the necessary equipment and that it is in good working condition.
Safety Management Certificate (SMC): This certificate verifies that a ship complies with the International Safety Management Code, which outlines standards for safe operation and management of vessels while at sea. The SMC lasts for five years, with verification of compliance performed between the second and third year.
International Ship Security Certificate (ISSC): The ISSC verifies that a ship complies with maritime security regulations outlined in SOLAS Chapter XI-2 and Part A of the International Ship and Port Facility Security Code.
As of October 2018, the 1974 SOLAS Convention had 165 contracting states, which accounted for over 99 percent of the global gross tonnage of merchant ships. Therefore, SOLAS certificates are statutory for the vast majority of cargo ships and other seafaring vessels.
4. MARPOL Certificates
The International Convention for the Prevention of Pollution from Ships, called the MARPOL Convention, is one of the most significant international maritime treaties addressing environmental protection. Also called MARPOL 73/78, this treaty first got introduced in 1973, and then modified in 1978. MARPOL is short for "maritime pollution," and the convention aims to minimize pollution from dumping, oil, air pollution and other harmful substances. The MARPOL Convention requires ships of party nations to carry multiple statutory certificates, including the following.
International Oil Pollution Prevention (IOPP) Certificate: This certificate, required under MARPOL Annex I, includes standards for oily water separation, filtering equipment and oil discharge monitoring equipment. The IOPP Certificate is a necessity for oil tankers, ships carrying oil as cargo and ships carrying bunker oil as fuel.
International Pollution Prevention Certificate for the Carriage of Noxious Liquid Substances in Bulk: Also called the NLS Certificate, this document verifies that ships carrying noxious liquid substances in bulk comply with standards for discharge of residues that contain pollutants.
International Sewage Pollution Prevention Certificate: MARPOL Annex IV requires ships to control marine pollution from sewage. This certificate details a vessel's sewage holding tank and its capacity or a vessel's sewage treatment plant, depending on which equipment the vessel has, and lists how many people the sewage system is certified for.
International Air Pollution Prevention Certificate: This certificate verifies compliance with MARPOL Annex VI requirements for air pollution, including limits on the emission of volatile organic compounds, nitrogen oxides, sulfur oxides and other pollutants, as well as regulations regarding incinerators, fuel quality and exhaust gas cleaning systems.
International Energy Efficiency Certificate (IEEC): The IEEC, added to the MARPOL Convention in 2011, verifies that a ship meets requirements for energy efficiency. This certificate is specific to each vessel and is subject to inspections and audits.
MARPOL certificates are statutory for ships registered in one of the 158 contracting states and are mandatory for ships seeking to trade with MARPOL party nations. As of 2019, ships from MARPOL contracting states accounted for over 99 percent of world tonnage.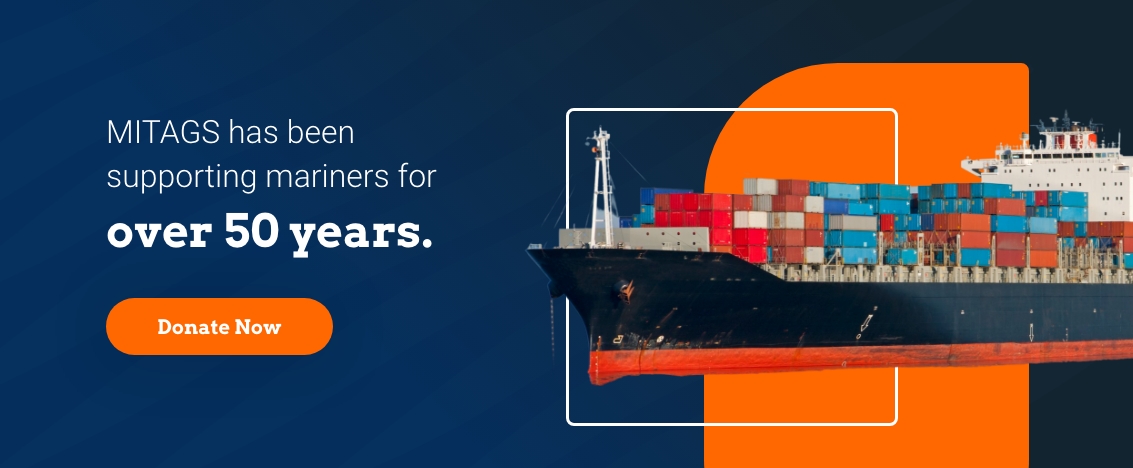 5. International Anti-Fouling System Certificate
Another maritime certificate aimed toward environmental protection is the International Anti-Fouling System Certificate. It is a mandate of the International Convention on the Control of Harmful Anti-Fouling Systems on Ships, and got adopted in 2001. This certificate verifies a ship's anti-fouling system does not contain harmful organotin compounds. It also confirms that a protective coating is in place to prevent organotin compounds from leaching from anti-fouling paint on the ship's hull or another external surface.
6. International Load Line Certificate
The International Convention on Load Lines establishes regulations for determining ship load lines, accounting for seasons and zones as well as factors of the ship construction, such as the quality of watertight doors and drain plugs of watertight compartments. The convention establishes six load lines that must be marked on all vessels:
Summer
Tropical
Winter
Winter North Atlantic
Fresh Water
Tropical Fresh Water
Cargo ships carrying timber must have a second set of load line markings that correspond with each season.
The load lines this convention requires represent the maximum cargo load a ship can hold while maintaining the minimum freeboard limit. Compliance with load line requirements ensures ship stability and prevents too much stress on the hull of the ship. Ships registered in flag states that have ratified this convention must carry an International Load Line Certificate, which is up for renewal annually, or an International Load Line Exemption Certificate if the vessel has received an exemption.
7. International Tonnage Certificate
Adopted in 1969 and entered into force in 1982, the International Convention on Tonnage Measurement of Ships established a universal system for tonnage measurement of ships. Ships registered in, or trading with, party nations must carry a statutory International Tonnage Certificate that lists the gross tonnage (GT) and net tonnage (NT) of the vessel.
A ship's GT allows for the calculation of safety rules, regulations for safe manning and registration fees. Both GT and NT play a role in calculating dues at ports, making an International Tonnage Certificate crucial for international trading.
8. Certificates for Masters, Officers and Ratings
The International Convention on Standards of Training, Certification and Watchkeeping for Seafarers (STCW) requires all seafarers serving on merchant vessels and yachts to maintain and carry proper certificates. All crew, including officers, masters and watch personnel, must meet qualification standards for training, certification and watchkeeping, as outlined in the STCW.
Certificates required by the STCW are statutory for ships registered to party nations of the convention and mandatory for ships visiting ports of party nations. In 2019, there were 165 parties of the STCW Convention, accounting for over 99 percent of global tonnage.
9. Maritime Labor Certificates
All commercial ships in international trade must carry a Maritime Labour Certificate issued by the International Labour Organization (ILO) and the IMO. By requiring this certificate, the ILO Convention addresses a wide variety of labor and social issues, including employment policies, wages, employee contracts and industrial relations.
In 2006, the Maritime Labour Convention set standards for employment conditions and accommodations on ships, as well as minimum employment requirements, medical care and more. After passing an inspection, a ship will receive a Maritime Labour Certificate verifying its compliance with the standards of this convention. Flag states that have not yet ratified this convention may establish a voluntary compliance inspection program for their vessels until their body of law accepts and codifies it.
Maritime Career Training From MITAGS


Cargo ships must carry the necessary mandatory and statutory certificates to stay compliant with laws and regulations and participate freely in trading with foreign nations. Standards governing ship construction and operation keep seafarers and vessels safe while promoting fair international trade.
If you are just entering the maritime profession, navigating these various certificates may be complicated. The Maritime Institute of Technology and Graduate Studies (MITAGS) can provide all of the training you need to start your maritime career with ample knowledge and competent skills. The practical and theoretical training we offer at MITAGS provides a comprehensive maritime education.
Learn more about jump-starting your maritime career with MITAGS or contact us to get started.