The maritime industry includes anything connected to the sea or other waterways around the world. Many Americans may not realize that the maritime industry plays a significant role in much of everyday life. Many of the products we use or consume on a daily basis are shipped to local stores from overseas. Maritime workers make this possible. The maritime industry employs over 400,000 U.S. workers with jobs in fields ranging from fishing and seafood processing to shipyards and marine engineering.
Maritime academies, colleges and training institutions prepare you for a variety of careers within the maritime industry. Learn how each pathway into the maritime industry differs and how to choose the best program for you.
Throughout this article, we'll cover everything you'll want to know about the Maritime College:
Educational Pathways Into the Maritime Industry
Because the maritime industry has so many fields and requires proper education and training, there are multiple educational paths into the industry. This allows a variety of people to enter the industry and receive job placement in their desired field. Consider these three most common educational pathways into the industry.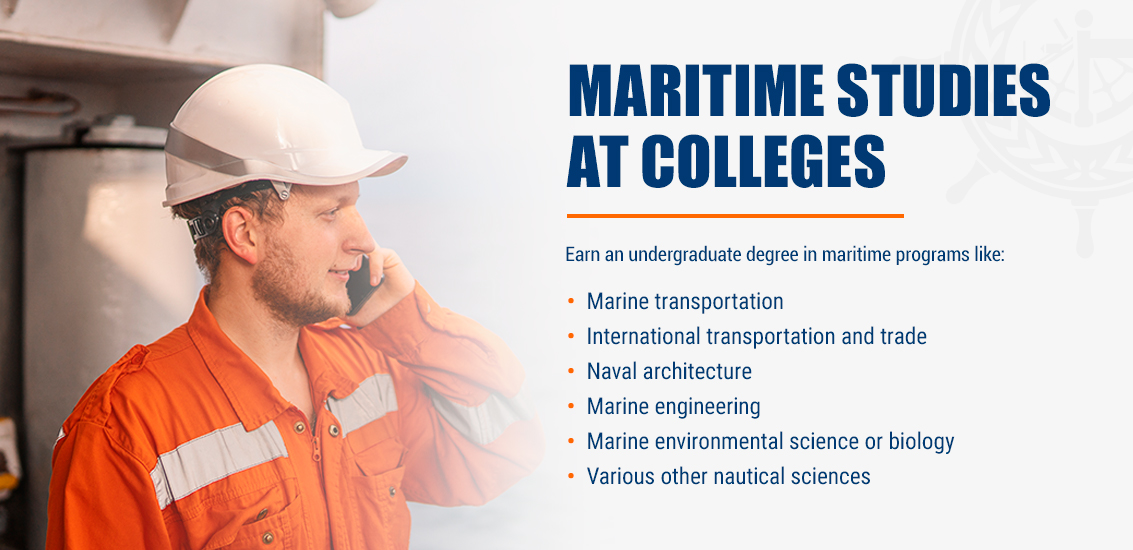 Maritime Studies at Colleges
Collegiate maritime studies offer students a chance to earn an undergraduate degree in maritime programs like:
Marine transportation
International transportation and trade
Naval architecture
Marine engineering
Marine environmental science or biology
Various other nautical sciences
These two- or four-year programs often offer students internships, grad school opportunities or post-graduation job placement, much like other collegiate programs and majors. With a variety of technical skills, students can have many employment options after graduating from maritime colleges.
Maritime Academies
Maritime academies differ from maritime studies at traditional colleges in that they focus specifically on merchant marine operations. Maritime academies prepare individuals to become Merchant Marine, Armed Forces intermodal transportation officers. The United States Maritime Administration (MARAD) is responsible for funding and operating the United States Merchant Marine Academy (USMMA). Similar to the other military service academies, the USMMA is designed to prepare mariners for a role in national defense in three years of study.
In addition to USMMA, MARAD assists six State Maritime Academies that operate as four-year collegiate undergrad programs at state universities. The additional academies in New York, California, Michigan, Maine, Massachusetts and Texas offer all the instruction and training required to become a commissioned officer with a Coast Guard license.
Training Institutions
While colleges and academies offer at-sea training and experiences, vocational training institutions like the Maritime Institute of Technology and Graduate Studies (MITAGS) offer hands-on training for mariners beginning or continuing their careers in the industry. MITAGS offers several programs that are designed to immerse mariners in the industry with real on-the-job training. Both classroom and at-sea experiences allow mariners to receive all necessary credentials to become certified and immediately apply their training in the workplace.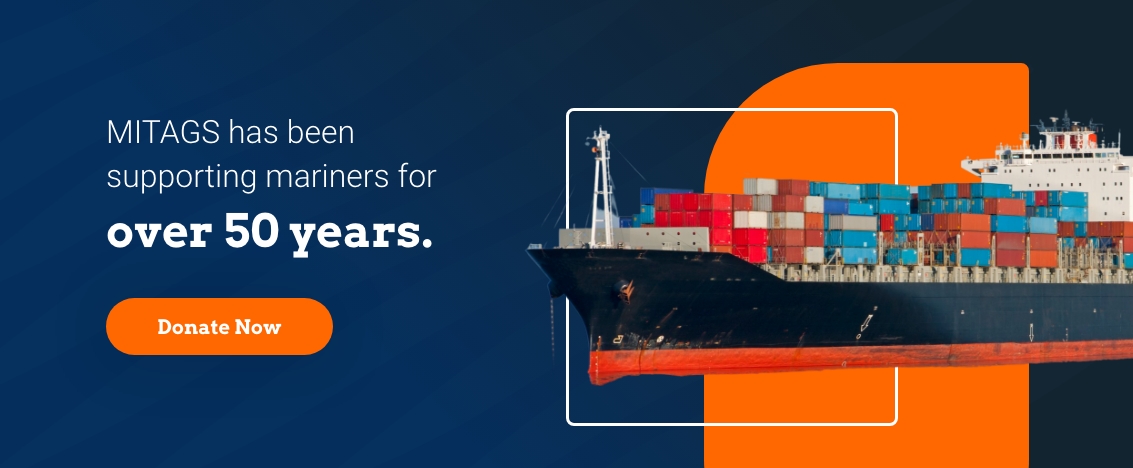 Who Should Enroll
Maritime colleges, academies and training institutions offer places for people from all walks of life to study the industry. Like most educational programs, almost anyone can enroll, though it's best that you have an interest in the industry and a desire to understand the relationship humans have with the ocean and other waterways.
While requirements will vary depending on the program, common enrollment requirements include being 18 or 19 years old and a high school diploma or approved equivalent. Because the maritime industry and its training are physically demanding and require long hours, it's best for applicants to be in good health. Some programs, especially at training institutions, may require entry exams to ensure applicants are prepared. When enrolling in any maritime program, it's best to understand what the requirements are to ensure you're eligible.
Choosing the Best Program for You
When looking for a program or deciding between educational pathways, it's paramount to consider what option will be best for you. Each mariner has different needs, and some programs will seem like better fits than others. Consider your learning style, goals and what each pathway can offer you. Here are some additional considerations and qualities to look for in a maritime program to help find the best option for you:
Cost: A program's cost is typically a significant deciding factor for many students in all industries. The same applies to maritime programs. If you want something affordable, look for cost-effective options that still provide top-class training and education.
Timeframe: Some programs take longer than others, and this may be something you want to consider in your decision. If you're looking to get into the field as soon as possible, a program with a strong focus that jumps right in, like MITAGS Maritime Apprenticeship Programs, might be the best fit for you. On the other hand, maritime colleges tend to ease students into the industry, which is more suitable for others.
College degree: Some maritime programs allow mariners to earn an associate or bachelor's degree while working toward their mariner credentials. A degree isn't required for entry-level commercial maritime positions, though if you want to be an officer, you'll want to consider programs that allow you to earn a degree.
On-the-job experience: One of the most important parts of studying the maritime industry is hands-on experience. This is one of the best ways to learn the ins and outs of the maritime industry, and in many cases, the only way to learn. You should look for programs that will provide training opportunities that give you on-the-job experiences. MITAGS Maritime Apprenticeship Programs also provides this with alternating classroom and hands-on sea time.
Room for growth: In an ever-changing and growing industry, continued learning is important, even after you've entered the workforce. If growing your career is important to you, look for a program that offers options for experienced mariners to continue their education. This allows you to continue growing and can open new doors to new areas within the maritime industry.
Each education pathway in the maritime industry offers a valuable way to begin a maritime career. Be sure to consider factors like these to choose a program that's best for you and your situation.

Become a Mariner with MITAGS
Whether you're fresh out of high school or looking to grow your career in the maritime industry, MITAGS has what you need to get started. At MITAGS, mariners can complete all necessary training from start to finish or from anywhere in between. With a variety of hands-on training programs and courses, you'll get the chance to apply your knowledge through real-world simulations, practical assessments and research.
In addition, MITAGS offers an immersive experience with onsite accommodations at our East Coast Campus. Learn more about both our East and West Coast campus facilities, and discover more reasons to stay and make your downtime enjoyable. To learn more about our courses, programs, and lodging, contact our East or West Coast Campus to chat with an admissions advisor.