As in any industry, the recruitment and retention of excellent employees are critical to the success of your business — no matter what the size. Motivated, well-prepared employees are invaluable to your company and critical to long-term success.
Throughout this article, we'll cover everything you'll want to know about:
However, it isn't always easy to find qualified candidates. And especially within the maritime industry, there are plenty of options available to those looking to enter the field, which makes competition between employers fierce. Only by positioning your company to attract ideal candidates and developing a plan to keep them happy will you be able to retain them.
With the maritime industry growing and the number of applicants not meeting the demand, it's never been a more important issue for maritime companies to focus on hiring and keeping qualified seafarers on staff. The future and long-term sustainability of the shipping industry depends on employers finding new methods of recruitment.
In this article, we'll discuss some of the techniques you can use to both recruit and retain valuable seafarers to your maritime company.
How to Recruit Maritime Employees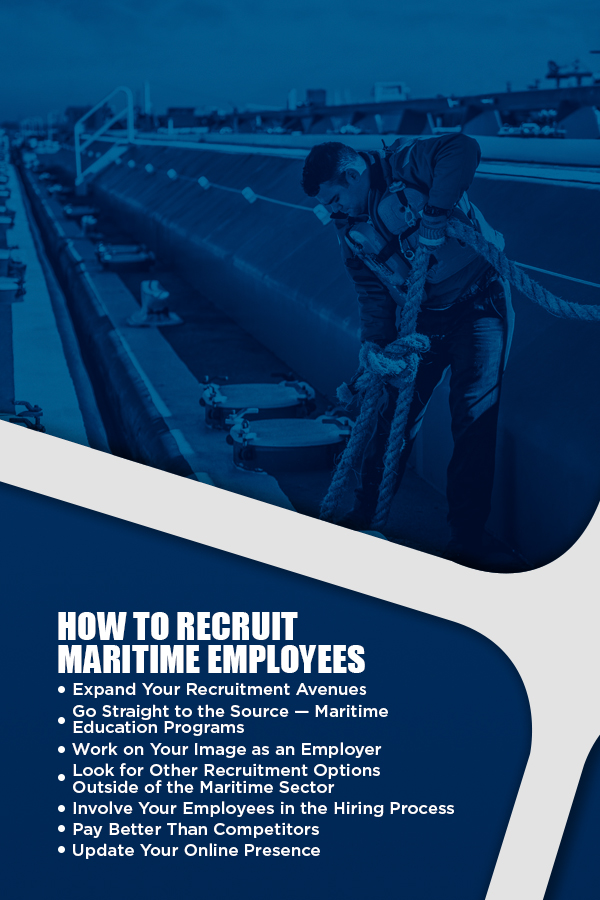 The first step to a better team of employees is to hire quality workers in the first place. Like we said before, the competition between companies is high, so you need to do everything you can to make your business a more attractive option.
Once you're attracting more qualified candidates, there are selection strategies you can use to be sure to pick the cream of the crop and build a better team. Let's get into effective recruitment strategies and practices.
1. Expand Your Recruitment Avenues
The more potential candidates you have to choose from, the better talent you'll find.
Too often, companies only rely on traditional, easy methods of finding new employees, like waiting for them to approach you or posting ads on job boards and typical internet websites. By examining your current tactics and thinking about how you can improve and expand your reach, you will start to see an increase in the number of applicants that meet your needs.
2. Go Straight to the Source — Maritime Education Programs
Especially within the maritime industry, companies are always looking for workers with formal maritime education. One way to find candidates who are committed to the field and driven to work hard and further their career is to recruit them as they come out of training.
While there's no way to find these candidates directly, you can contact maritime training academies and other organizations that may be willing to recommend promising students who will soon be looking for employment.
Another way is to look for candidates who might not currently be looking for employment but could be in the future, especially for higher-ranking jobs like officers and captains. You can contact them and let them know what your company has to offer and why working with you could be a good option should they ever want to switch.
A few more tips for recruiting students and others who may already be in the industry include:
Enable your current employees to attend conferences and other industry meetings in which they can meet potential employees. Networking always helps make new contacts and potential future partners.
Post jobs on industry-specific locations, not just general job boards. There are several websites available that are specific to the maritime industry to find new crew members. Also, consider looking through popular maritime discussion boards.
Look to non-traditional sources like social media. You never know where social media may lead you. Besides finding people who are already working on the water, you may be able to post targeted ads that inform the kind of people who may be interested in working with your company.
The key to creating and maintaining a high-quality employee pool is to be proactive. Build your resources and connections before you need them, and you'll be better prepared if you want to expand or if you lose employees.
3. Work on Your Image as an Employer
It's not enough to just be a great employer. You have to advertise that you're a great employer so that quality candidates know you're an attractive option. If your company has an excellent public image, more high-quality candidates will seek you out, and you'll have more choices for quality employees.
Where do you begin when upping your image as an employer?
Luckily, with the shift toward work-life balance and focus on excellent working environments, many companies are explicitly advertising their many benefits to employees on their website. Use these websites and company models to inform how to make your company more attractive to potential candidates. Think about what kind of benefits you can offer that would set you apart from your competitors and traditional industry benefits.
It's always good to talk to your employees to get ideas for benefits, too. Sometimes, a benefit you can offer at a small cost to the company can have an enormous effect on employee morale and respect. Everybody loves little perks here and there, even if that just means more snacks and coffee.
Another strategy to promote your company's image is to interview your employees and learn why they enjoy working there. This type of testimonial gives people looking for a position at your company insight into what it's like to work there, and it feels more credible coming from an employee than from the company.
4. Look for Other Recruitment Options Outside of the Maritime Sector
With the maritime industry only growing, marine companies will be looking for more entry-level employees to help fill the gaps that are predicted for upcoming years.
Because a lot of people aren't aware that the maritime sector is an excellent career path, there's a massive opportunity for companies to recruit new talent. By attending job fairs and informing people about the benefits the maritime industry offers, like an alternative lifestyle, competitive pay and the chance to skip going to a four-year college, there are several untapped areas from which to draw new employees.
5. Involve Your Employees in the Hiring Process
Employees can be an excellent source for finding new, reliable workers. Employee recommendations are often reliable and can lead to a strengthening of employee community and work culture.
6. Pay Better Than Competitors
Nothing helps attract more people like the opportunity for better pay. It's true that you often get what you pay for, and there's no exception in the maritime industry. The higher-paying positions will attract top-level talent, which is invaluable to your company.
If you pay on the lower end of the spectrum, you may attract entry-level talent with more limited options, but it will be challenging to keep them as they gain experience and can find a company that offers better benefits and salaries.
7. Update Your Online Presence
When they're researching an employer, candidates will often visit the company's website and gather any information they can. For this reason — among others — it's essential to maintain a professional site with up-to-date material.
Take an honest evaluation of your company's online presence, and look for areas that might dissuade potential employees from applying to your company. Look for things like:
Friendly tone: You want to be sure your company sounds professional, but there's a fine line between sounding like an authority and sounding cold and unfriendly. Look through your online material and update it to make it inviting and helpful for those looking for information.
Descriptions of job openings and benefits: Instead of just posting the title of the job that's available, it helps to give people more insight into what they can expect when they work for you. Explain their responsibilities, but don't forget to highlight the benefits of the positions and the unique benefits your company offers.
Tips on Retaining Maritime Employees

Finding good employees is only half the battle. You have to make sure that once you find suitable employees, you keep them, too.
Better employee retention raises the experience level of your company as a whole and reduces the number of resources you have to put toward employee training and recruitment. It's important to remember that a company is only as good as its employees.
Let's look at a few strategies you can use to help ensure your employees are happy and want to continue to work with your company.
1. Be Transparent in Your Hiring Process
It's important to note that you should give applicants all of the information they require so that there are no surprises when they start their job. Sometimes, companies will try to paint negative aspects of a job in a positive light or not be completely honest about the duties or schedule they expect. This leads to unpleasant surprises and low retention rates.
It's best to be honest and include all risks, schedules and responsibilities that could affect people's willingness to apply for a position.
2. Make Sure You Offer Competitive Salaries
While a good company culture and other factors will help your employees feel like they're valued, nothing helps people feel more satisfied with their position than good pay. If there are other options available to your employees where they can make significantly more money, then you'll deal with a high turnover rate and the loss of valuable employees and resources.
A company should raise an employee's salary as they gain experience and become more valuable. It's important to stay on top of employee raises, too, because if employees have to keep asking and don't feel valued, they may start to look for other options.
A way to provide encouragement and retain employees is to offer career milestones that correspond with the advancement in their position or salary. When employees feel like staying with your company is a career, not just a job, they're much more likely to feel like their time is well spent.
3. Be Selective in Your Hiring Process
One major factor for employee retention is hiring the right people in the first place. Be sure to be selective in your hiring process and check references to make sure you're hiring someone with a good background — past behavior is often a good indication of future behavior.
To help with the hiring process and find suitable candidates, it's a good idea to bring other employees in to help review applications and sit in on interviews to see if the person will be a good fit. Not only does this help with the selection process once a recruit is hired, but those who helped bring them onboard will also have a stronger desire to help them succeed.
4. Promote Internally If Possible

Your best resource for finding suitable candidates for top positions is within your company. Not only do you get to avoid the hiring process for new and untested candidates, but it's also excellent for company morale and feelings of appreciation.
Especially within the maritime industry, advancement depends much on experience gained and USCG tests and requirements that employees have to pass. Helping your employees with the cost of promotion will help inspire loyalty, and they'll be thankful that you helped them advance their career. Promoting in this way will give you a more loyal employee team, as opposed to filling in gaps with outsiders.
If an employee isn't ready to fill an open position, it's best to help them set a path toward career advancement instead of simply turning them down.
5. Promote a Comfortable Workplace Environment
Fostering a welcoming work environment isn't always easy, especially within the maritime industry where people work together as well as live together, sometimes for months at a time. As an employer, it not only benefits you to help your employees feel comfortable with their working environment. It helps you retain valuable employees and increase retention, too. A few tips to help you do this include:
Understand the challenges of a multicultural team: Cultural differences and ignorances can sometimes lead to workplace tension and employees getting preferentially or negatively treated. By promoting multicultural awareness and acceptance, you help ensure employees feel well-respected within their workplace.
Communication is everything: Within any business, fostering transparency and open communication is vital to success and happy employees. When employees can voice their opinions about what is working well and what is not, it helps your company improve working conditions and helps employees feel valued and respected.
Often, there are small adjustments a company can make to their working environment that make a big difference to their employees — you just have to ask.
MITAGS for Maritime Training
If your company is looking for a marine training academy to help train and advance your team, we here at MITAGS know how to help. Our experienced instructors have been helping students and professionals of all levels advance their career. We offer targeted and personalized training programs built to prepare mariners for real-world applications.
With both in-class and hands-on training, we offer everything to help mariners take that next step. With state-of-the-art simulation technology and industry partners, our students graduate with much more than theoretical learning — they gain real skills and valuable knowledge.
If you have any other questions about our programs or would like to speak to one of our advisors, please contact us today for more information.