Colleen Schaffer, P.E., Department Chair of Simulation Engineering at MITAGS, spoke at the International Offshore Wind Partnering Forum, which was held this year in Atlantic City, NJ, on April 26-28. Colleen spoke as a representative of MITAGS during the conference's Workforce Summit on April 26. The focus of the presentation was to describe how MITAGS has been able to contribute its technical expertise towards the advancement of the offshore wind industry.
A contribution in which MITAGS takes pride is our partnership with Ørsted, a world leader in offshore wind. Colleen discussed how MITAGS has been able to engage Ørsted's stakeholders by providing them with a unique simulator experience that allows them to visualize the scale and layout of Ørsted's offshore wind farms and better assess all the factors involved in navigating through them.
Colleen provided in-depth insight into our current simulation capabilities, which include ability to accurately replicate Ørsted's wind farms virtually (scale, turbine size, and location) and ability to accurately model their visitors' "home vessels" to give the correct perspective to each user. Colleen also informed that MITAGS intends to continue in its support of the offshore wind industry.
Colleen formerly participated in IPF's 2021 conference as a member of the panel titled Full Mission Navigation Simulator for Stakeholder Engagement & Industry Training.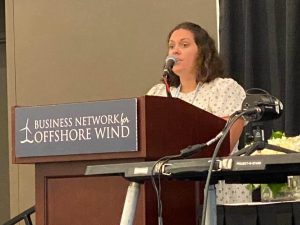 To learn more about how MITAGS has partnered with Ørsted through unique simulation experiences, please see this offshore wind simulation case study: https://www.mitags.org/case-study-offshore-wind-simulations-with-orsted/