Executive Summary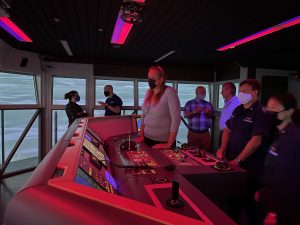 MITAGS has programmed georeferenced, highly accurate visual wind turbine models of Ørsted's proposed "Ocean Wind," and "Revolution Wind" Offshore Wind Farms into their advanced full-mission ship simulators. This provided a platform in order to engage stakeholders.
The value in the simulator is the ability to engage stakeholders from the bridge of multiple simulated vessels while navigating through a utility-scale wind farm on various size vessels; in differing sea states, weather conditions, and visibility. This unique engagement allowed Ørsted to facilitate important discussions about navigation safety with the United States Coast Guard, professional mariners, and the commercial fishing industry. The stakeholders experience, firsthand, the environmental conditions and amount of available sea room while operating vessels within and around the wind farm. The users are now able to conceptualize the magnitude and layout of the wind farm resulting in a clearer understanding of the project rather than simply looking over charts and drawings on paper. Engagement with stakeholders was paramount to the successful development of the project.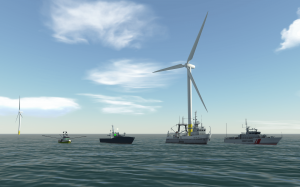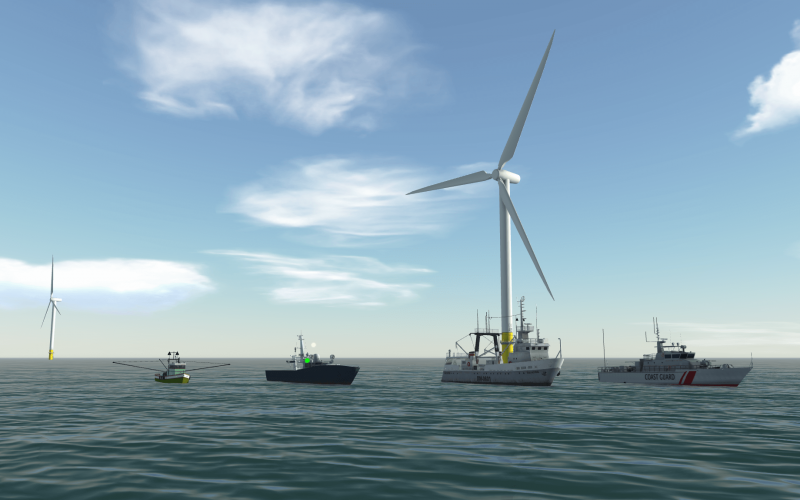 Prior to this programming, the only way to have this level of engagement would be to fly stakeholders to Europe, and embark on a vessel out to view a fully operational wind farm. Not only is this very expensive and time consuming, but the COVID-19 pandemic made it impractical. Additionally, the simulation also allowed for a much larger and broader group of stakeholder engagements prior to construction of U.S. projects. Another important aspect of the work was the development of accurate models of vessels and their operations for realistic shiphandling and maneuvering. The vessel models were created to Ørsted's specifications to ensure stakeholders had as realistic experience as possible.
In the future, Ørsted envisions this capability will be a key component of successfully training mariners on the specific vessels that will be utilized during construction and operations on these offshore wind farms. This innovation in developing both simulated wind farms, and realistic vessel models will significantly contribute to navigation safety and familiarity as the new industry is making its way into the U.S. market.
Description
Early stakeholder buy-in for wind farm projects is critical. This is especially true in the United States where the industry is emerging, and there are numerous stakeholders' needs that have to be addressed before a wind project moves forward.
They include:
County Regulatory Agencies
Multiple State Regulatory Agencies
Multiple Federal Regulator Agencies (BOEM, USCG, etc.)
Maritime Industry Trade Organizations
Commercial Fisherman
Recreational Fisherman
Cities and Towns
General Public
MITAGS created a unique, innovative, cost-effective tool for stakeholder engagement that allowed the user to experience the wind farm in a way that is otherwise unavailable in the United States. The simulation allowed for stakeholders to understand and conceptualize the lay out and amount of available sea room through a holistic experience on a customized vessel in a simulated utility-scale wind farm. This expanded the outreach efforts to more stakeholders, and shortened the time it takes to obtain buy-in. It has proven to be the perfect tool for addressing misconceptions and doubts.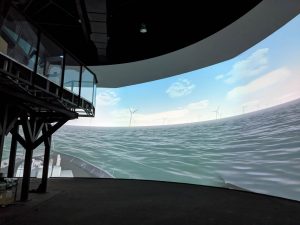 Overview
The MITAGS Simulation Engineering Department used proprietary Wartsila® database modeling software to import the electronic chart display information system (ECDIS) data. This software transfers the information from ECDIS into simulator database elements, and links the visual and radar databases.
The ECDIS data transferred included:
Hydrographic: depth points, depth lines, depth contours, drying areas, three dimensional (3D) channel bottom.
Landmass: 3D terrain, DEM data, coastlines, islands, pier structures, etc.
Navigation Aids: buoys, ranges, and lighthouses
Navigation Signals: color, light timing, light sector, etc.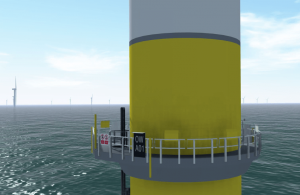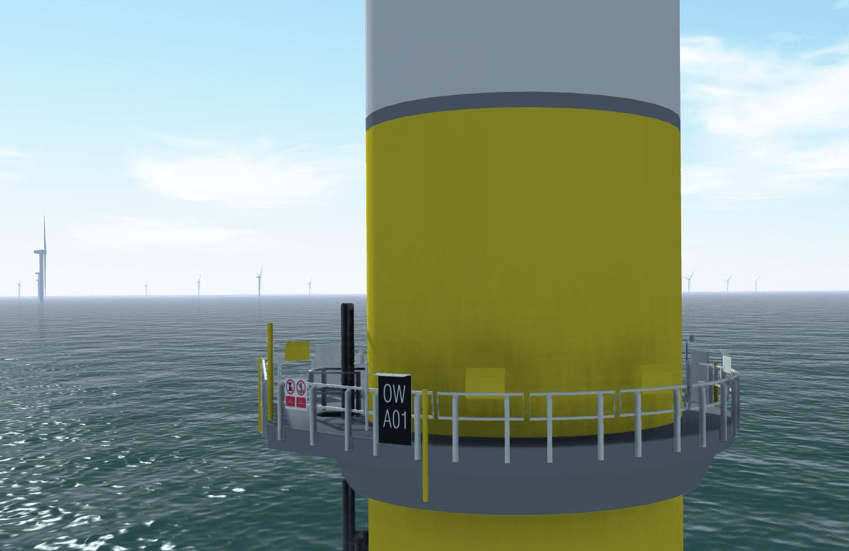 The databases were then overlaid with the proposed wind farm using detailed AutCAD® drawings that identify the exact location of the turbine and power. The visuals were further enhanced using 3D Studio Max to include the color schemes, custom iridescent turbine ID markings, ladders, turbine blades, and lighting for night operations. The RPM was calibrated to the specific turbine and the turbines are out of sync to create the most accurate replica of the farm. The database also included simulated ECDIS and RADAR displays georeferenced with the visual scenes.
In addition to the visual database, high-fidelity hydrodynamic vessel models were programmed. The models replicate vessels expected in encounter wind farms at sea. This included Coast Guard, fishing, tug / barge, and wind farm support vessels.
Data used to develop these realistic vessels included:
Sea Trials
General Arrangement Plans
Stability Curves
Squat Table
Mooring Arrangement Plans
Wheelhouse and Pilot Cards
Profiles and Plan Images
Lighting arrangements
Ørsted arranged several on site demonstrations at MITAGS of these simulations for their various stakeholders. These demonstrations included detailed discussions and question and answer sessions.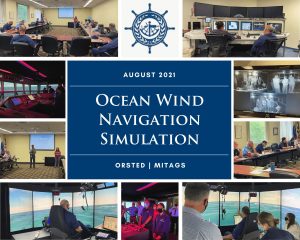 Attendees to the Simulation Demonstrations have included:
USCG Headquarters Staff
USCG Air Station Atlantic City
USCG Sector Delaware
USCG Sector Virginia
USCG Sector Maryland / National Capital Area
BOEM
National Academies of Science, Engineering, and Medicine (NASEM)
Maryland Energy Administration
Maryland Public Service Commission
Commercial Fishermen
And Others
Ørsted Wind Farm Simulation Demonstration Video: https://youtu.be/2W4TKyX5Zwsv
Award Winning Project! In 2021, MITAGS won The Business Network for Offshore Wind's 2021 Ventus Award for Advancement in Project Siting & Development for the stakeholder engagement and simulation work completed on this project with Ørsted.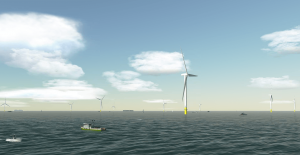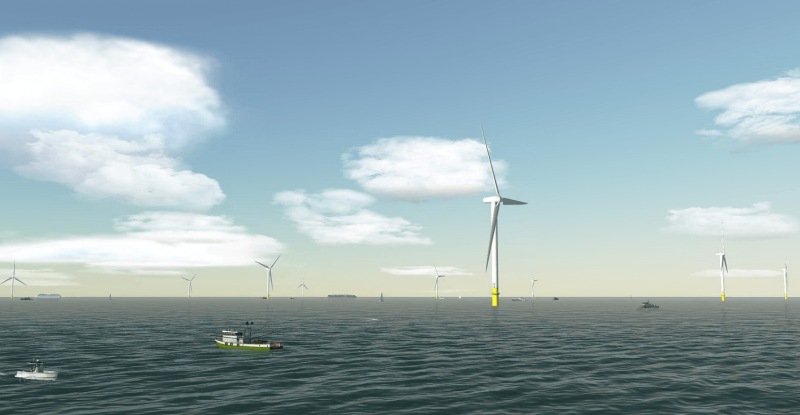 MITAGS East Coast Campus includes two, full-mission ship simulators (FMSS) with 360 degrees of view. The MITAGS FMSS have the large bridges and projection areas that enhance the realism of the simulation. They can be integrated with up to ten other part and full-task simulators.
In addition to the bridge, the simulator control room has ample space for remote client observation.
Environmental inputs into the simulation typically include:
Tidal Parameters (static or dynamic)
Wind Parameters (Multiple wind speeds, directions, squalls, random, etc.)
Water Current Parameters (static or dynamic, speeds, and directions. Two and three dimensional models. Spatially varying current)
Wind Wave Parameters (Spectrums –JONSWAP, Pierson-Moskowitz, Deep / Shallow waters, custom; Beaufort Scale)
Swell Wave Parameters ( regular, multiple directions, periods, and heights)
Sea / Swell Composite Zones
Visibility (full daylight, dusk, evening, rain, snow, fog)
Celestial (specific calendar dates for stars, sunrise / sunset, moon rise / moon set)
Ice (pack, ice bergs)
The simulators are supported by an experienced in-house simulation modeling team and ship handling experts. The on-campus hotel is strategically location near Baltimore Washington International Airport to reduce travel time and costs. We also have another simulation center located in Seattle, Washington within thirty minutes of SEA-TAC International Airport.
In summation, MITAGS is uniquely qualified to provide this service to the Offshore Wind Industry. Our organization has over 40 years of experience with ship simulators and modeling, and is among the leading maritime training and simulation centers. We have successfully completed hundreds of simulation projects for clients from around the world.
For more information on the MITAGS, please visit the following websites:
Offshore Wind Services: www.mitags.org/offshore-wind-research
Videos of Other Projects: www.youtube.com/user/MaritimeInstitute
Remote Viewing: www.youtube.com/watch?v=1l7pdmaNd4U