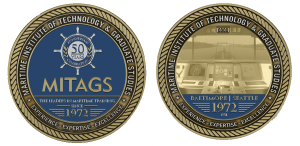 To commemorate our 50th Anniversary year MITAGS is releasing a special limited edition challenge coin. The coin features our 50th Year Anniversary Celebration logo and a view from our full-mission simulator. Only 1,000 coins have been issued, and each coin is uniquely numbered, making this a great collector's item!
The celebratory challenge coin is available for purchase at $15 per coin from the link below. You can also opt to add $15 to a tax-deductible donation of any amount by checking the box on the donation form labelled "Receive a 50th Anniversary
Limited Edition Challenge Coin for $15 and completing your order. Or, you can purchase your coin individually, apart from a donation, by checking the box and entering the amount of $15 into the donation form.
If you happen to be in Baltimore or Seattle, come by and purchase your coin in person. We are always glad to have visitors!
Proceeds from the coin sales will directly support our mission of providing mariners with the highest quality maritime training experience. Thank you for celebrating 50 years with us, and stay tuned for more anniversary events to come.