When you retire from the military, your next career step is not always clear. You desire to build on your service experience with a job that uses your unique talents. However, finding a post-military job that matches your skill level and expertise can be challenging. Even for those who know what career they want to pursue next, the transition from military service to a new job can be long and tedious.
The Military to Mariner program seeks to ease this transition by connecting qualified veterans and active service members with valuable and fulfilling jobs in the maritime industry. Your military sea service may qualify you for a higher position in the U.S. Merchant Marine — and allow you to enter that career more quickly. With the Military to Maritime initiative, you'll be on deck before you know it, serving in a satisfying and rewarding role in the maritime industry.
In this piece, we will cover all you need to know about the Military to Mariner transition and how you can get started with your maritime industry career today.
What Is Military to Mariner?

The U.S. Merchant Marine (USMM) encompasses all U.S. civilian and federally-owned merchant ships and the men and women who pilot and serve on those vessels. The USMM is responsible for the transportation of goods and services for national and international trade, as well as transporting passengers across U.S. waters and around the world. During times of war, the USMM can be called upon to support the U.S. Navy with transportation of military personnel and equipment. Because of this, the USMM serves a critical role in national security.
To join the USMM, civilians and military members must first receive accurate merchant mariner credentials from the U.S. Coast Guard's National Maritime Center (NMC). Aspiring mariners earn these credentials by completing training, courses and examinations. Applicants must also complete the required paperwork and submit credentialing fees before they can be accepted for service in the Merchant Marine.
The U.S. Coast Guard's Military to Mariner program aims to ease these requirements for military members and veterans with relevant experience at sea. Military sea service can be credited towards the sea service requirement for becoming a mariner.
Instead of beginning in an entry-level position, veterans can attain jobs in the USMM that are equivalent to their experience level. The Military to Mariner program allows military personnel to build on their experience and advance in their new maritime career.
Why Military to Mariner?
Military service members have specialized training and experience that makes them uniquely qualified to serve in the USMM after retiring from active duty. By pursuing a career in the Merchant Marine, veterans can continue to use their skills while also serving their country. Maritime industry careers also offer excellent compensation and benefits, making them personally fulfilling and rewarding.
Here are a few reasons to consider a career in the USMM after you retire from service in the military:
1. Ample Job Opportunities
In recent years, the number of qualified mariners has dropped at a concerning rate. According to a statement by Mark H. Buzby, the Maritime Administrator for the U.S. Department of Transportation's Maritime Administration (MARAD), the U.S. has a shortage of about 1,800 mariners. This represents the number of mariners needed for full mobilization and sustainment of the USMM during a time of war or crisis.
While this shortage poses serious concern for U.S. national security, it also represents an opportunity for aspiring mariners. The USMM has ample job openings and opportunities for a variety of different roles. And, as ship captains seek to crew their vessels, military veterans are among the most qualified for the job. By transitioning from military to mariner, you can help fill a crucial national security need while also enjoying a fulfilling career.
The USMM offers a wide range of jobs from engineering or hospitality to cargo handling or piloting. Mariners can serve on deck as officers, captains and general crew, or work behind the scenes in sanitation, food services and maintenance.
Maritime industry careers also include land-based roles that do not require you to work on the open seas. Land-based careers in the USMM include shipbuilding and repair, accounting, public relations and port operations. With a variety of positions to choose from, veterans can find a job that matches both their interests and their expertise.
2. Use Your Service Experience
Although the USMM is not a uniformed service, it shares many similarities to life in the military. USMM members adhere to a strict schedule and serve under a leadership hierarchy. The master of the ship is formally addressed as Captain, and each crew member has a specific title. Vessels in the USMM have legislative backing and operate under specific laws and regulations for merchant mariners.
Your experience serving the military uniquely prepares you for life aboard a commercial merchant vessel. Service members are comfortable living a regimented lifestyle and answering to a chain of command. Veterans with sea service are highly sought after for their hard-working spirit and comfort serving at sea for long periods of time.
Choosing a career in the maritime industry also allows you to make the most of your military sea service. Your sea time is valid for seven years, meaning you may qualify for maritime credentials if you have served on a waterborne vessel with the appropriate horsepower and tonnage for at least 90 days during the past seven years. You can earn these credits by submitting the appropriate documentation based on your military branch to the NMC.
By leveraging your military sea service, you can enter the USMM in a higher position that is equivalent to your service rank. For example, if you served aboard a U.S. Coast Guard cutter as an E-4, you may qualify for credentials as an able seaman. Instead of starting from an entry-level position, you can find a role that matches your skill level.
3. Excellent Career Mobility
Once you enter the USMM, there are ample opportunities for advancement. Qualified veterans can move up quickly to serve in leadership positions on merchant vessels.
Your initial position in the USMM depends upon your previous experience and training. USMM jobs generally fall into two categories that reflect the military's enlisted and commissioned statuses:
Merchant Mariners with unlicensed endorsements: These mariners serve as the hands and feet of the USMM. Mariners with unlicensed endorsements hold certifications and perform a variety of tasks aboard merchant vessels.
Merchant Mariners with licensed endorsements: These officers are given a rank and serve in leadership and training positions on merchant vessels. Officers with licensed endorsements make key decisions and oversee critical ship operations.
Whether you join the USMM as a merchant mariner with unlicensed or licensed endorsements, there is always room for mobility. Just as with the military, those who put in the work can quickly rise through the licensed ranks.
4. Great Compensation and Benefits
The USMM does not have a central hiring agency, so compensation for maritime industry careers varies based on the employer, agency and role. However, USMM careers generally offer excellent compensation and great benefits across the board.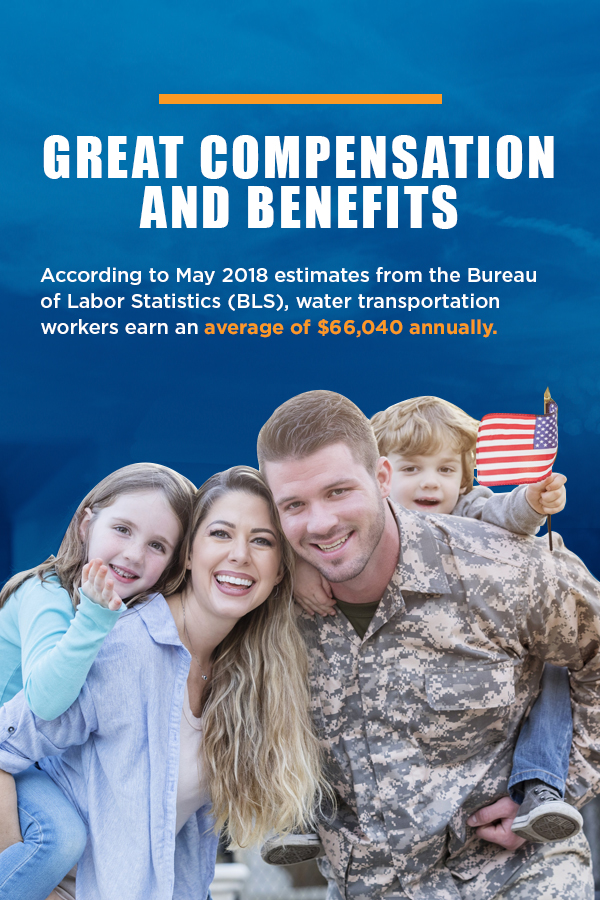 According to May 2018 estimates from the Bureau of Labor Statistics (BLS), water transportation workers earn an average of $66,040 annually. For ship engineers, this average rises to $75,710 annually, and for ship captains, mates and pilots, the average annual wage is $82,380. USMM careers offer generous compensation for working at sea, with the potential to grow both your career and your salary.
When you live and work aboard a ship, you also benefit from covered living expenses and food. Savvy mariners can easily save money while serving in the USMM. Other benefits of working aboard a ship include endless travel, long vacations and excellent career security.
5. Build a Meaningful Career
When you make the transition from military to mariner, you begin building a meaningful post-military career. The USMM serves a vital role in U.S. national security and international commerce. In times of war and crisis, the USMM supports the military and provides disaster relief. When you serve as a merchant mariner, you help support national security efforts and bolster the U.S. economy.
A maritime industry career allows you to build on the logistical, technical and managerial skills you acquired in the military. You can continue to develop these skills and give back to your country through serving in the USMM.
The Military to Mariner Transition

To transition from the military to a maritime industry career, veterans must fulfill a designated amount of sea time, complete examinations and submit various fees. All mariners are also required to get a Transportation Worker Identification Credential (TWIC) card as their first step towards joining the Merchant Marine. With a TWIC in hand, aspiring mariners can then earn their U.S. Merchant Marine Credential (MMC).
The MMC is a single credential that lists domestic or national licenses and endorsements, Standards of Training, Certification and Watchkeeping for Seafarers (STCW) (international endorsements), and other qualifications and certifications. An MMC is required for USMM service on vessels greater than 100 Gross Register Tons and serves as a certification for work in the maritime industry.
Obtaining the necessary certifications for the Merchant Marine can be time-consuming and expensive. In the past, the transition from military to mariner could take several months and require significant out-of-pocket investment. However, a recent executive order has eased this transition by eliminating fees and accelerating the credentialing process for service members.
Executive Order 13860, or Executive Order on Supporting the Transition of Active Duty Service Members and Military Veterans into the Merchant Marines, aims to boost job opportunities for transitioning troops and make it easier for veterans and service members to enter the USMM. Issued on March 4, 2019, this executive order streamlines the military to mariner transition in the following ways:
Applies military experience and training to mariner credentialing: Under the military to mariner executive order, the Department of Defense and Department of Homeland Security must identify all military training and experience that qualifies for merchant mariner credentials within the next year. This list will be submitted to the U.S. Coast Guard for review. The aim is to eliminate redundant and repetitive training for service members pursuing a merchant mariner credential.
Accepts military physical examination: Service members and veterans who have recently completed a military physical examination will no longer be required to complete a mandated maritime-related physical.
Accelerates receipt of sea service certifications or verifications: The military to mariner executive order requires that transitioning troops receive their sea service certifications or verifications within one of month leaving the military. This enables veterans to transition directly into new maritime industry careers after retiring from the military.
Waives credentialing and examination fees: Under the executive order, the NMC is required to waive all credentialing fees and other fees related to examinations and license issuance for qualifying service members and veterans. The fee for acquiring a TWIC may also be waived.
The military to mariner executive order allows transitioning troops to enter the USMM more quickly and easily than ever before. Veterans can find high-paying and rewarding jobs in the Merchant Marine to build their post-military career.
How to Get Started

If you are ready to begin your transition from military to mariner, the Maritime Institute of Technology & Graduate Studies (MITAGS) can help you take the first step. MITAGS enables you to use your veteran benefits to enroll in the maritime courses and STCW training you need to earn a position in the USMM. Our experienced Veteran Support Staff can guide you through the process and help you use your military sea service and experience to your advantage.
As a retired military member, you can use your G.I. Bill Education Benefits to enroll in MITAGS's Able Seaman to Mate Program or Chief Mate to Master Program. Our entry-levelAble Seaman to Mate Program provides all of the STCW training required to serve as an officer in Charge of Navigational Watch (OICNW) at the operational level. Experienced officers can upgrade to management level positions with our Chief Mate to Master Program. By using your G.I. benefits for courses at MITAGS, you can quickly advance to a Chief Mate or Captain position.
If you do not have any previous sea service but are interested in serving in the USMM, you can fast-track your maritime industry career with MITAGS's VA-approved Maritime Apprenticeship Programs. Our all-inclusive apprenticeship programs provide the training you need to obtain your Deck Office rating in just 28 months. Your training includes both classroom training and sea service experience so you'll be ready to excel in your maritime career from the minute you set foot aboard a merchant's vessel.
Serving in the Merchant Marine is a fulfilling and gratifying post-military career. You will enjoy excellent compensation, great benefits and the knowledge that you are serving your country with your valuable skills and experience. To learn more about maritime courses at MITAGS, contact us today.