If you're interested in a career in the maritime industry, you may have considered working aboard a tugboat. It's an interesting career path — you get to work closely with fellow crew members to tow a variety of different vessels and work in an exciting, dynamic environment.
Throughout this article, we'll cover everything you'll want to know about:
Tugboats are an essential part of the maritime industry, as they help enormous ships and barges make their way through challenging waterways. It's a highly skilled profession and offers stable, well-paying employment as you work your way up the ranks.
In this article, we'll take you through how to get your first job on a tugboat, the positions aboard a tug and how to continue training and advance your career.
Types of Tugboat Positions and Job Requirements
Working aboard a tug is a specialized career path within the maritime industry. It takes specialized training and years of learning the tricks of the trade to begin to master all of the operations, and it takes a dedicated team of skilled crew members working together to ensure all on board operations proceed as they should.
There are four main positions available when you work aboard a tugboat — Deckhand, Engineer, Mate and Captain. Depending on the size of the vessel, there may be rankings within these positions and multiple people working as deckhands, engineers or officers. Here's a look at each type of position and their job descriptions.
1. Tugboat Deckhand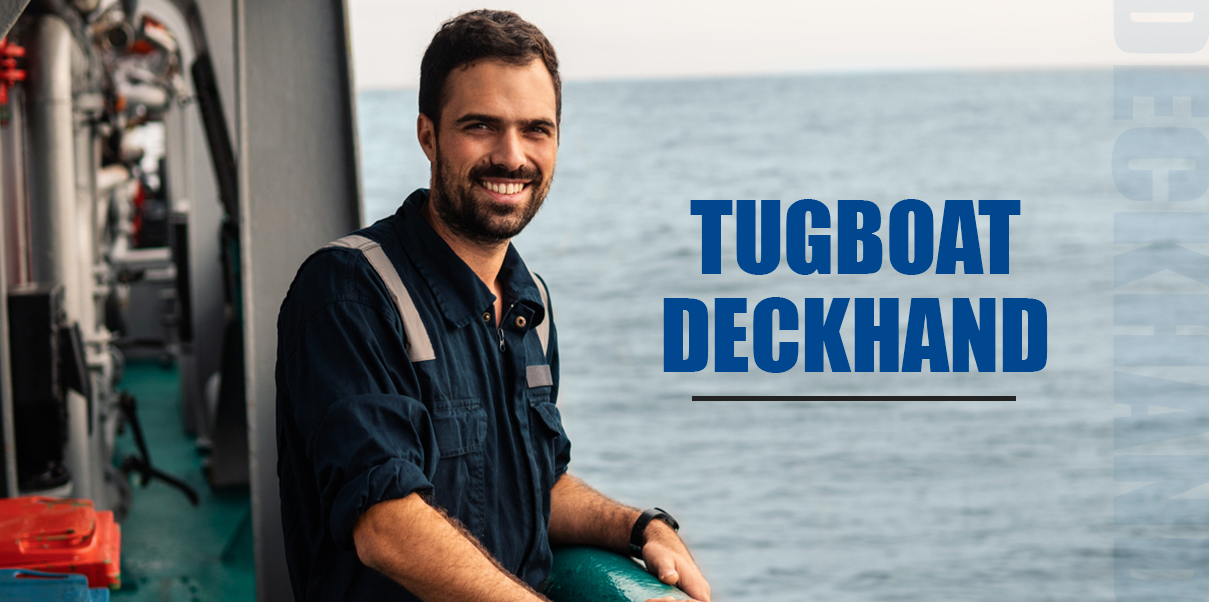 The general crew members aboard a tugboat will do all of the nitty-gritty work on deck and assist the captain or mate with the operation of the vessel. They have several designated duties, but they will also be asked to complete a variety of other tasks as well when officers need them. These are the main responsibilities you can expect as a deckhand of a tugboat:
Help with docking: deckhands are responsible for securing the tug as it berths and unberths from docks and other vessels. When setting up for a tow or to push a barge, it takes some skill and knowledge to do things the right way, and the deckhand will work in conjunction with the more senior officers.
Help set up towing rigs: The deckhand will assist the more senior members of the tugboat in setting up the rigging for tows and barges. There's a lot to learn in terms of the safe way to do this, and it's an essential step in the learning process of a deckhand before they can graduate to a higher rank in the crew.
Maintain and repair machinery and tools on board: While the engines and large machinery are the responsibility of the engineers, the deckhand will be responsible for maintaining and repairing smaller tools and machinery used on deck.
Clean the deck and cabin areas: The deckhand is responsible for keeping the deck orderly and clean so that operations can take place in a safe and professional working environment.
Learn from the mates and Captain: A deckhand should always be learning, especially aboard a tugboat. There's a lot to know in this industry, and you always have to be aware and vigilant to prevent accidents and ensure the safety of the vessel and other crew members.
Stand watch: Deckhands are responsible for maintaining watch for extended periods, and they must be able to remain alert and vigilant for several hours when on the job. When deckhands are not standing watch, they're expected to rest and recover so that they will be alert and ready for their next shift.
Perform physical tasks: As a deckhand, you'll be responsible for lifting heavy equipment, and while there will sometimes be mechanical assistance, you should be comfortable being physically active throughout your shift. Deckhands are expected to be comfortable using stairs and ladders to transport goods in ocean conditions.
Know safety duties: A deckhand needs to know how to use the safety equipment on board and how to act in an emergency without endangering others or the vessel.
Know security duties: Deckhands need to follow the commands of the Vessel Security Officer to protect the vessel, personnel and cargo onboard. These duties include standing watch, screening people and baggage, and monitoring for anything out of the ordinary.
Perform miscellaneous duties: The deckhand will also be required to use power tools, painting equipment and personal protective gear as necessary.
Before you decide to become a deckhand on a tugboat, you should be aware of what the job requires, both physically and time-wise:
Concentrated work schedule: Deckhands and other crew members aboard a tug will often work for several days at a time, before having several days off. This is great for people who like to get all of their work out of the way at once, but you must be willing to work extended hours.
Physically able: It's essential for those looking to work in the maritime industry to have adequate hearing for listening to communications. Also, you can't have color vision problems that prevent you from seeing navigational aides and electronic equipment correctly. To achieve the rank of able seaman or mate — which we'll discuss later — you must be able to pass a physical exam as well.
What about if you work your way up to higher positions on a tugboat? Let's look at some of the duties for the other positions you could eventually reach.
2. Ship's Chief Engineer
The ship's chief engineer is responsible for routine mechanical maintenance of the tugboat. This is what they do:
Maintain and repair mechanical systems and complex machinery: It's the job of a ship's engineer to make sure the engines and large mechanical systems are running well. This means the engineer is responsible for fixing any large mechanical failures and overseeing maintenance operations.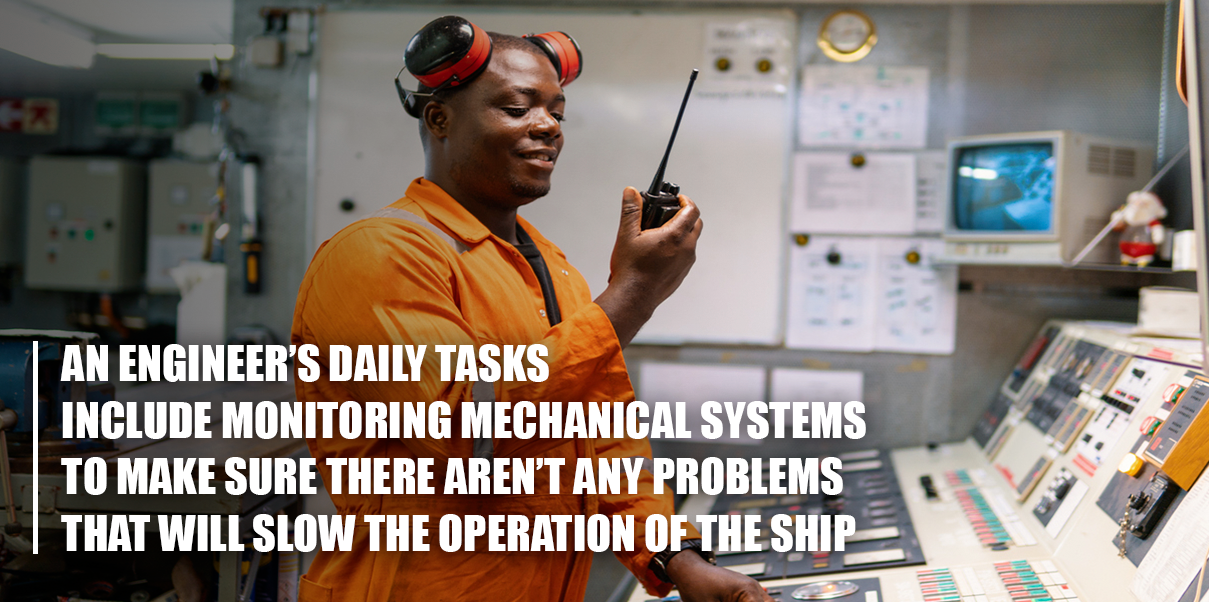 Monitor mechanical systems: An engineer's daily tasks include monitoring mechanical systems to make sure there aren't any problems that will slow the operation of the ship — proper monitoring prevents large failure from happening unexpectedly.
Assist the Captain and Mate: Ship's engineers will assist the Captain and Mate of the vessel — especially on smaller boats — with anything they may need an extra hand with, such as helping with navigation or being at the helm in non-tow operations.
3. Tugboat Mate
The Mate aboard a tugboat is like a second Captain. This is what they do:
Assist the Captain with the operation of the vessel: A mate performs much of the same duties that a Captain does and helps them with most tasks so the Captain can maintain supervision of the entire vessel.
Determine navigation and towing functionalities: It's typically the job of the Mate to plan navigational routes and ensure safe passage when at the helm. They also coordinate towing operations and direct the crew's setup of towing rigs and barge operations.
4. Tugboat Captain
The Captain is the master of a tugboat vessel and is ultimately responsible for all of its operations. Their responsibilities include the following:
Man the helm: The Captain and Mate will switch off steering the tugboat, which is a highly skilled operation. The Captain needs to have mastered towing large ships in restricted waterways as well as how to carefully and safely maneuver a tow.
Manage crew operations: The Captain is responsible for everyone on board their vessel and ultimately all of the vessel's operations. They have the final word over what is to be done in every situation, and they must inspire respect and lead their crew well.
Communicate with other vessels: The Captain and the Mate will both communicate with other vessels like barges, ships and other tugboats to coordinate safe operations. This means knowing proper radio etiquette and communicating clearly and effectively.
Every crew member is responsible for learning their vessel's emergency procedures and being able to perform their role in an emergency.
As any member of the crew, you have to maintain excellent personal relationships with the people on your boat — you'll be working in close quarters with them for several days at a time, and they become like your family.
Questions? Contact a school advisor here.
How to Start Your Career on a Tug Boat
Because working aboard a tugboat is a specialized field. You need to start at the bottom and work your way up so that you know all of the crucial steps it takes to run the boat well. These are the steps to get a job aboard a tugboat and prepare yourself for a successful career:
Get a job as a deckhand: Everyone has to pay their dues, and getting a job as a deckhand aboard a tugboat is a step that nobody gets to skip. Luckily, you don't need any sea time to start your career aboard a tug as a deckhand. But, some companies require you to get your Ordinary Seaman's certification, which is the most basic United States Coast Guard credential.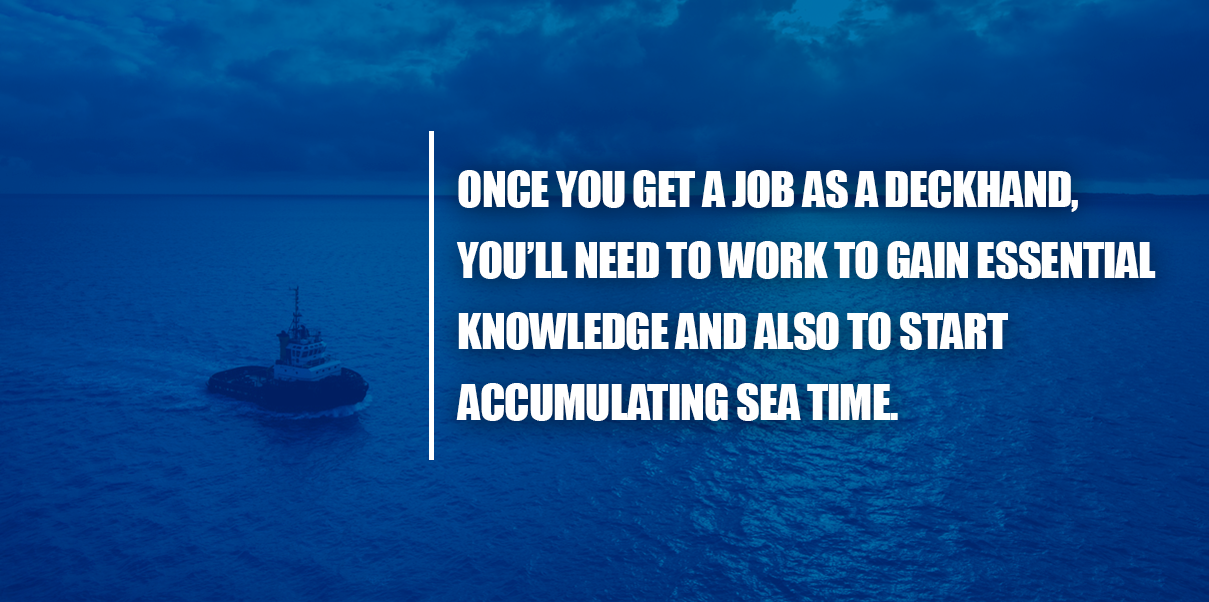 Work to gain sea time and experience: Once you get a job as a deckhand, you'll need to work to gain essential knowledge and also to start accumulating sea time. To rise through the ranks and become eligible to test for higher-level certifications, you need sea time aboard a tugboat of the tonnage and range for which you want to apply.
Get STCW certified: All crew members need to complete STCW training to become eligible to work beyond U.S. territory border lines. Besides being a requirement for some tugboat companies, it's a good idea to learn essential safety and watchkeeping procedures. This training prepares you for emergencies and teaches you preventative practices.
Learn from the Captain and senior crew members: While you're working as a deckhand, you should be learning everything you can about the operations of your senior crew members. The more you learn, the better prepared you'll be once you qualify to test for licenses that raise your position.
What Training You'll Need and How to Advance Your Career
Becoming a deckhand on a tugboat is the first step in a rewarding career. Let's look at a brief overview of tugboat advancement and its requirements.
Some companies require you to apply for an Ordinary Seaman license before you become a deckhand. The OS license is the entry-level certification that doesn't take any sea time to be eligible. To qualify for your OS license, you need the following:
Proof of enrollment in the Transportation Worker Identification Credential — TWIC — program. The TWIC program runs a background check and ensures you're fit to work in the transportation industry.
A complete application to the USCG
Be age 16 or older
Proof of U.S. citizenship
Evidence of a recent drug test and random screening enrollment
Social Security Number
Three letters of recommendation
An Application processing fee
After you have your Ordinary Seaman license, you have to continue to pass drug tests to maintain your license, but you don't have to provide proof of sea time to the U.S. Coast Guard if you don't upgrade.
What about after you get a job on a tugboat working as a deckhand? With training and experience, you can begin to work your way up to higher positions. The more senior positions in the maritime industry require you to accumulate sea time and experience that qualify you to test for license upgrades.
The next step up from Ordinary Seaman is your Able Seaman license, which requires you to be at least 18 years old have and a combination of at least 180 days of sea time and approved training, in addition to Lifeboatman training for emergency procedures.
To further your career aboard a tugboat, you'll likely need STCW training as well.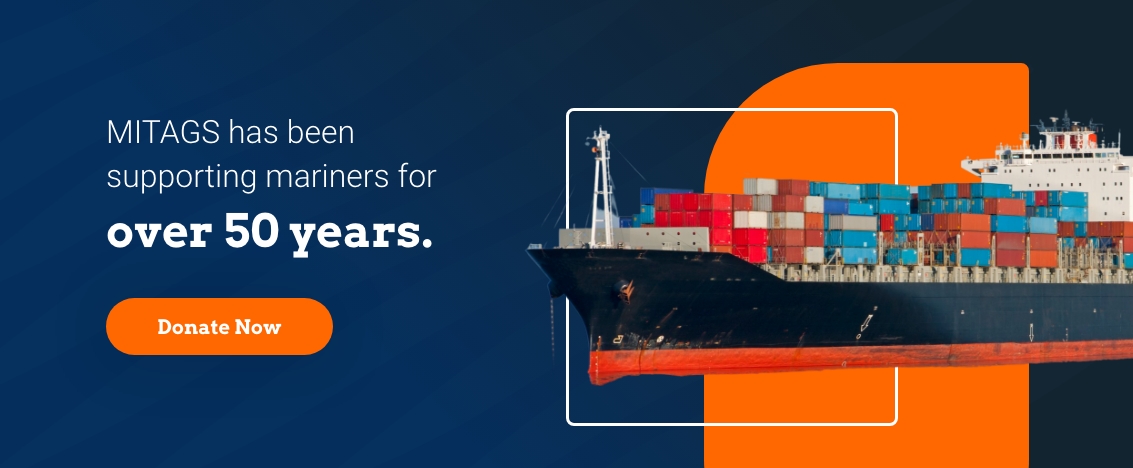 The Standards of Training Certification and Watchkeeping is something that all seafarers who operate in international waters need to be able to work as crew members on industrial vessels legally. Even stewardesses and cooks get STCW certified.
After you work as an able seaman and accumulate experience and sea time, you can apply for the officer position of mate.
A mate of a tugboat needs to test for a U.S. Coast Guard license that corresponds with the tonnage of their boat, as well as certificates in firefighting and emergency procedures, among other requirements.
But, the ultimate goal for many who enter the tugboat field as deckhands is to one day become a captain.
As a deckhand, you can expect to make modest wages, around $14 an hour. However, there's an excellent opportunity for advancement, and captains can earn significantly higher salaries — on average about $101,000 up to $150,000 a year.
To become a captain, you have to put in your time at the lower levels, and keep up with your training to upgrade your license as you accumulate sea time.
If you wish to one day advance to the level of captain, you'll need to be at least 21 years old and have 540 days of documented sea time working as a mate aboard a towing vessel, among other requirements. Once you've accumulated the right experience and sea time, you can enroll in a training academy that will you prepare for the U.S. Coast Guard testing requirements.
Questions? Contact a School Advisor
MITAGS for Maritime Training
If you're looking to start your career aboard a tugboat, there's no better way to jump-start your career than by attending a maritime training academy. The maritime industry is always looking for qualified candidates, and formal training is an excellent way to set yourself apart from the pack.
Here at MITAGS our experienced instructors take students without any experience and ready them to enter a real-world working environment. With a combination of in-class and hands-on training, you'll be able to step aboard a tugboat with confidence to start your career. Our state-of-the-art simulation technology helps you prepare for and practice real on-the-water scenarios.
If you have any questions about working aboard tugboats or would like more information about our courses, please don't hesitate to contact us today.