Eric Friend, appointed by MATES Program trustees, to assume the Executive Director role effective January 17, 2022.
Baltimore, MD – January 18, 2022 – On behalf of the MM&P MATES Program, The Maritime Institute of Technology and Graduate Studies (MITAGS) and Maritime Conference Center (MCC) announce the retirement of long-time Executive Director, Glen Paine.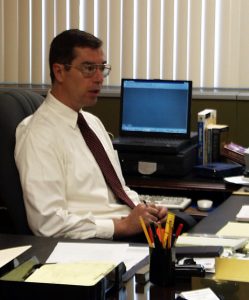 Glen initially began his maritime career sailing for the International Organization of Masters, Mates & Pilots (MM&P) after graduating from the United States Merchant Marine Academy in 1978. Glen had been a MITAGS student for many years, before joining the staff as an instructor in 1986, teaching a variety of classes including Radar, ARPA, Electronic Navigation Systems (EINS), weather, hazardous materials, and occasionally LAP subjects. He also provided curriculum support for the shiphandling department, helping them to implement new BRM courses and custom simulation programs, eventually moving up the ranks to department head.
Glen went on to earn his master's degree in general administration from the University of Maryland, University College (UMUC). A degree he states served him well when he became the Executive Director of the MATES Program in 1998.
"In 1998, we hit the deck running and tackled a multitude of pressing issues including improving academics, infrastructure replacement, and building a first-class conference operation," said Glen. "What I'm truly most proud of, though, is the people working at MITAGS-MCC and the mission they continue to serve!"
"MITAGS was up and running when Glen took over from Captain Pillsbury in 1998, but Glen's tireless work, vision and dedication transformed it from just another union training school, to one of the premier maritime training facilities in the world," said Don Marcus, President of the International Organization of Masters, Mates & Pilots, AFL-CIO (MM&P). "MITAGS is recognized internationally as a leader, and has set the standards for maritime training in the USA, as well as the rest of the planet."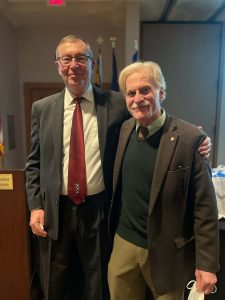 Under Glen's direction and leadership, MITAGS-MCC has become a world-class institution and conference center, winning numerous awards over the years for its Navigation Skills Assessment Program (NSAP)®, Workboat Academy Program, and advancements in simulation technology and research for the maritime and offshore wind industries. MCC has also previously been named "Best Venue for Conferences" by Unique Venues.
"Glen has personally dedicated his years on and off the job to maritime training and to the U.S. flag Merchant Marine and MM&P. He is an expert in his field and has contributed more than his full measure of blood, sweat and tears in protecting and advancing our great institution," continued Don Marcus.
Glen's successor, as selected by the MATES Program trustees, is Director of MITAGS, Eric Friend.
"The trustees' decision to select Eric as the next Executive Director has made the transition much easier.  Eric has been running the Academic Division for several years, and involved in most major decisions," said Glen.  "Eric is smart, dedicated, and respected by the trustees, students, and industry.  He has all the attributes to take the school to the next level."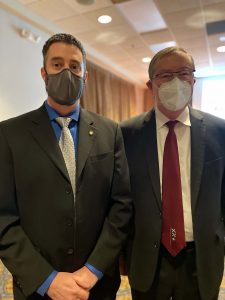 "It's been a true honor serving under Glen and witnessing firsthand the trust and respect he has earned around the industry," said Eric Friend. "His perseverance, tenacity and leadership constantly drove us forward, allowing MITAGS to forge its own path, leaving a trail and a huge legacy for the entire industry to follow. I would never be able to fill Glen's shoes, but intend to stand on his shoulders and reach farther advancing his legacy."
Diane Ford, Glen's executive assistant, has also retired. Diane started her career at MITAGS in 1974 as a receptionist for several years, leaving briefly and returning in 2001 as MITAGS' registrar. She then became an academic coordinator in 2003, before becoming Glen's assistant in 2010.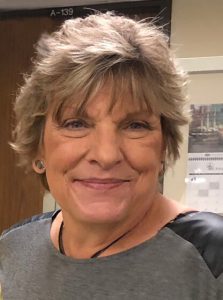 "Diane has been a tremendous executive assistant.  She was heavily involved in a wide range of areas that were crucial to the MATES Program including the trustees, admissions, academic operations/audits, student services, legal, etc.," said Glen. "If I was involved, she was as well.  Her talents and willingness to tackle almost anything, allowed me to successfully deal with the myriad of issues that comes with the Executive Director position.  Additionally, she is just a wonderful person.  She is constantly thinking of others.  I literally could not have done my job without her, and I am deeply grateful that she decided to stay on until I retired.  She is truly one of the unsung "heroes" of the MATES Program."
"Diane has always had a way of keeping what matters most at the forefront of her responsibilities, putting our mariners and MM&P members first," said Eric. "Her steadfastness and desire to take care of everyone around her will truly be missed!"
Due to the on-going pandemic, a private reception was held for Glen at MITAGS-MCC earlier this month. An October Glory Maple Tree and park bench will be dedicated to Glen on the MITAGS campus sometime this spring.
The entire staff at MITAGS-MCC wish both Glen and Diane smooth sailing in their retirements and look forward to new leadership under Eric Friend.
View Photos from the Reception
###
About MM&P MATES Program
The Masters, Mates, and Pilots' Maritime Advancement, Education, Training, and Safety Program (MATES) is a non-profit trusteeship set up in the 1960's by the I.O.M.M.&P. and contracting companies.  Its initial mission was assisting Able Seafarers in becoming Third Mates, Oceans.  This was due to the officer shortage during the Vietnam War.  When the war ended, the Program shifted focused toward continuing education. Employers contributing to the joint labor-management trust (MATES Program) recognized the benefit of having well trained captains and deck officers serving on board their ships.  The concept proved so successful that training was extended to pilots and non-members as well.
About MITAGS
MITAGS is a nonprofit, vocational training center for individuals seeking to enter the maritime profession and for professional mariners seeking to advance their careers. With campuses in Baltimore and Seattle, it is the leader in maritime training, pilot programs, ship simulation and operational research, providing customized solutions for both individual companies and mariners, and members of the International Organization of Masters, Mates & Pilots. To learn more, visit our website at www.mitags.org.
About Maritime Conference Center
Maritime Conference Center (MCC) sits on the beautiful 40-acre campus of the Maritime Institute of Technology and Graduate Studies (MITAGS), and is a 232-room hotel and conference center, offering 100,000 square feet of meeting space, including an auditorium with seating for 350 and a dining room with seating for 500. MCC also offers a fitness room, a recreation room, an indoor swimming pool, a Deck Club Lounge, and an abundance of outdoor space. Conveniently located within minutes of BWI Airport, MCC is a central hub for a variety of gatherings in the Baltimore, Annapolis and Washington, D.C. regions.  Whether it's conference rooms, dining services or lodging that you need, MCC has you covered. For more information, visit us online at www.mccbwi.org.
MITAGS-MCC's Nondiscrimination Policy can be viewed in its entirety at www.mitags.org/about-us  and www.mccbwi.org/policy.html.