If asked to think of what a veteran in the maritime industry looks like, most people would probably conjure up an image of a burly, perhaps overly-sunned man. There's a lingering stigma about working at sea that it's a man's world. And though this may have been the case years ago, the maritime industry isn't a man's world any longer — the integration of women is happening faster than ever.
Throughout this article, we'll cover everything you'll want to know about the Third Mate:
With long overdue progression toward gender equality in the workforce, women have proven that working at sea can be a rewarding career that fits them just a well as their male counterparts. These days, it doesn't take brawn to rise through the ranks in the maritime sector, and women have proved this countless times over.
In this article, we'll dive into some of the impressive histories of women in the maritime industry, what it's like for women working offshore and what the future for women in the field looks like.
History of Women Working at Sea and in the Maritime Industry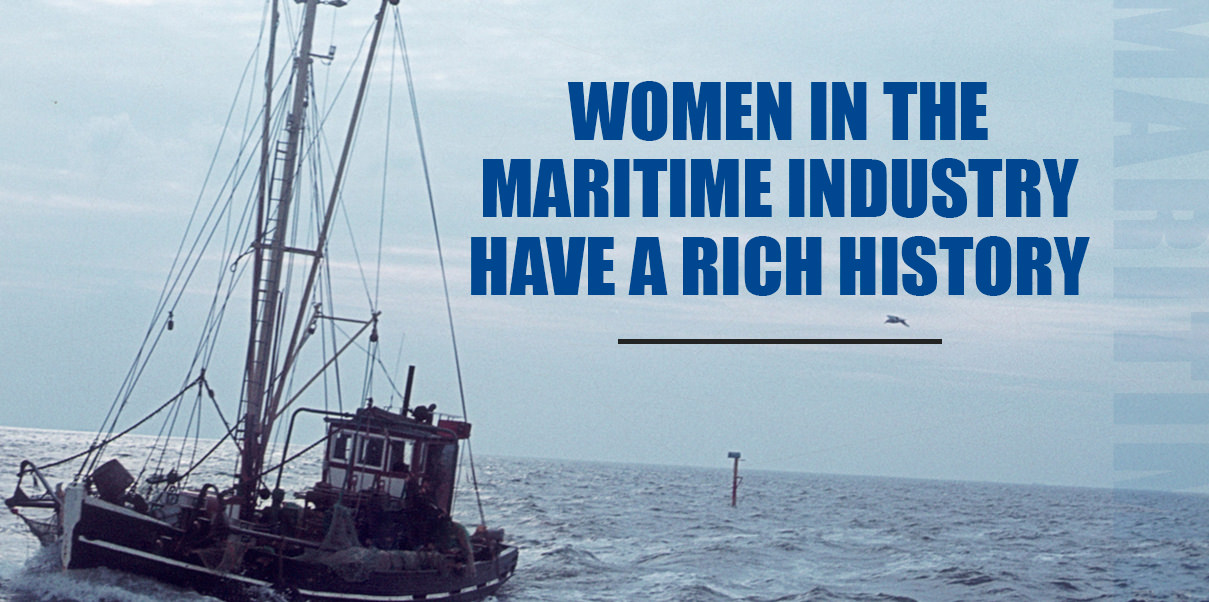 Women in the maritime industry have a rich history that's rarely given the celebration it deserves. While there are several stories about masculine sailors from back in the day, there have been women making a name for themselves on the water for hundreds of years.
Women in history made leaps into the once male-dominated industry for a variety of reasons — such as when emergency called on them to rise to a challenge, wartime duty, to support their families, to find a better life or even just to find adventure and new surroundings.
No matter what the reasons were exactly, though, women have left their mark on the history of the maritime industry.
Women on Sailing Ships
Entering the maritime industry was not easy for women in the age of sailing, as the profession was reserved for men only. Women would try to disguise themselves as men to work aboard a sailing vessel, but if their secret was discovered, their career would come to an untimely end. Women could find a role in running a ship at the time, but it wasn't common. They would usually have to be the wife or daughter of a captain.
By living aboard the ship with their husband or father, many women would learn how to operate the vessel and learn navigational techniques. Historically, if a captain's daughter lived aboard her dad's ship, she may be able to work some of the sailing duties until her teen years, but she would then be expected to assume the traditional role of a woman of the period.
In some British sailing vessels of the 19th century, the captain's daughter or wife would sometimes become a stewardess aboard a ship, where she would keep financial and inventory records, serve meals and clean quarters.
Heroines of the High Seas
Before women were accepted in the marine industry, there were several instances of emergencies on board ships where heroic women stepped up to take command of their vessel. One such case happened in 1846 to Caroline Mayhew. She was the wife of Captain William Mayhew of the whaling vessel Powhaton that sailed from Martha's Vineyard. A smallpox epidemic occurred aboard the ship and disabled her husband and some of the other crew members. Caroline took over as captain and used her experience at sea to save the lives of her entire crew.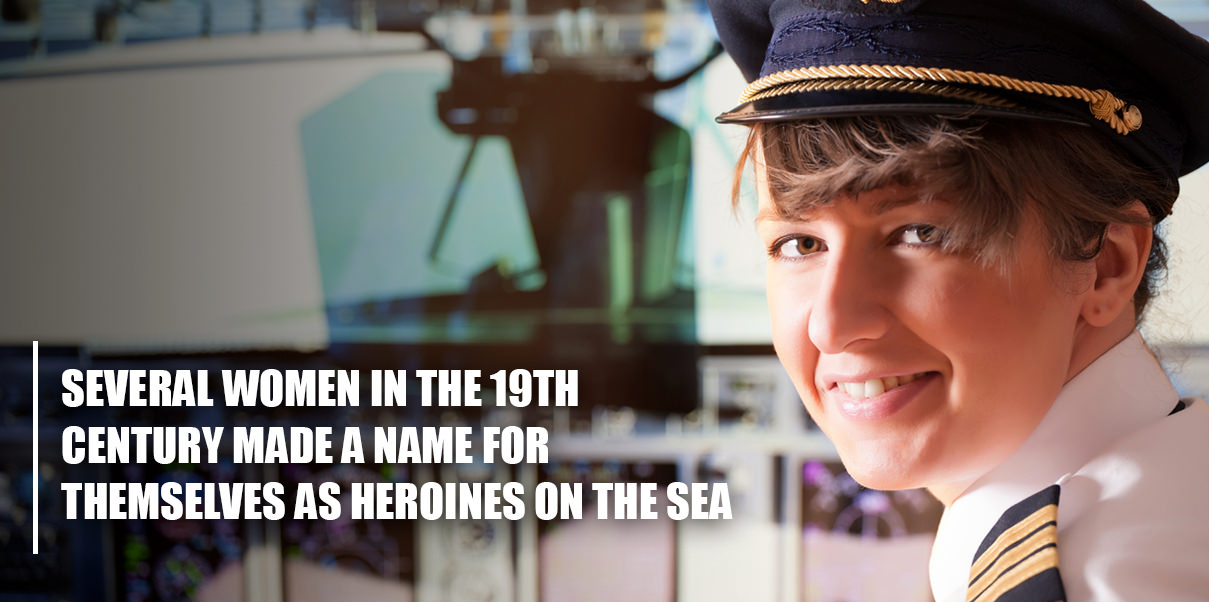 Several women in the 19th century made a name for themselves as heroines on the sea in this way. They gained worldwide attention for their actions and perhaps laid the groundwork for women in future generations to break down social boundaries.
In 1856, Mary Patten set sail with her husband Captain Joshua Patten aboard Neptune's Car, a clipper-ship traveling from New York City to San Francisco. After removing his first mate from his duties, the captain fell ill, and his hearing and eyesight began to fail him. The third mate was next in line to assume command, but he didn't know how to navigate correctly. The then-pregnant, 19-year-old Mary took control of the vessel and used her knowledge from past voyages to safely bring the ship to San Francisco, all while caring for her husband.
The ship arrived safely in San Francisco, and the insurers of the vessel awarded Mary $1,000 for saving the voyage. She and her husband returned safely to New York where she gave birth to a son, but her husband died three years later.
Another instance of female heroism on the water came from Eliza Thorrold, wife of Captain Charles Thorrold. Her husband died from blood poisoning in 1893 and left Eliza alone to support her five little children. She knew how to operate their tug Ethel and Marion, and she officially became licensed as a master to do so, breaking workplace inequality boundaries in the process.
Women in Wartime
During the 20th century in World War I and World War II, many men went overseas and left behind vacancies in the workforce at home. The country couldn't afford to leave the positions they left behind vacant, and women like Rosie the Riveter and others across the country began to prove that they were just as able, if not more able, than men for traditionally male-dominated jobs.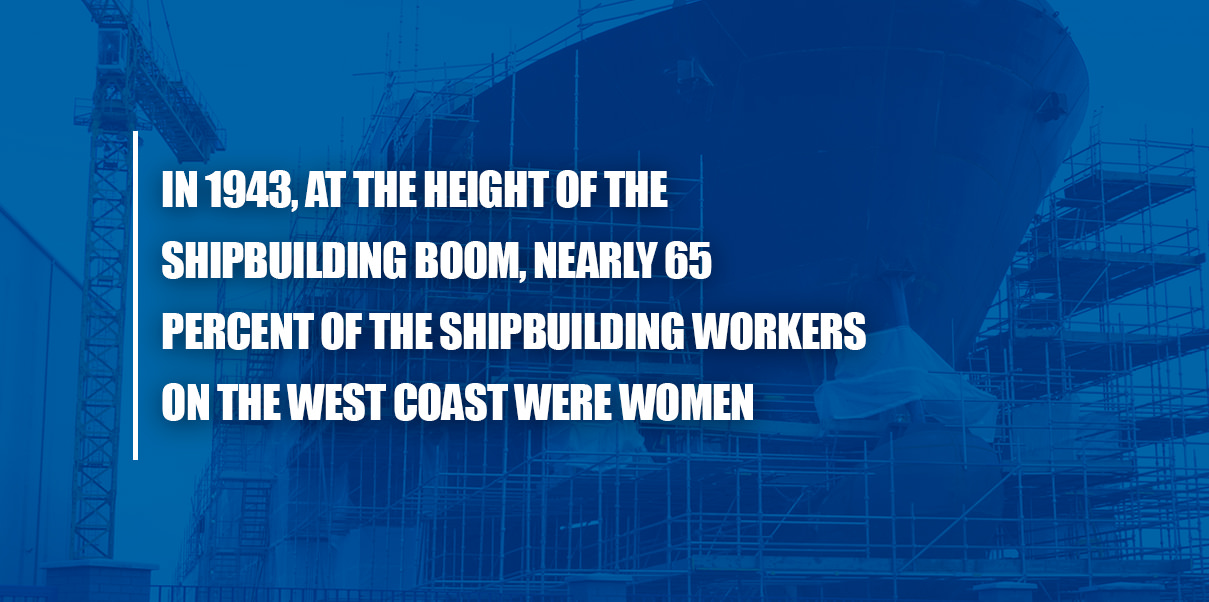 The shipbuilding industry was no exception. In 1943, at the height of the shipbuilding boom, nearly 65 percent of the shipbuilding workers on the West Coast were women. These positions paid well — about 40 percent higher than jobs in the service sector. Many of the women had the position of a welder, and as the war continued, production companies began to test women for a variety of different jobs.
And while this insurgence of women performing excellent work was a significant movement in women's rights, sadly, it was difficult for many of the women to keep their job once men returned home from the war — even though they consistently outperformed men.
Women at the Wheel
As time progressed through the 19th century, women began to establish themselves in the maritime industry — gone were the days of disguises and accidentally happening into command of a ship. Women were choosing life at sea on their terms.
In 1974, the first group of women was admitted to the United States Merchant Marine Academy in Kings Point, New York. One of these women, Captain Wagner, became the first woman to earn her Unlimited Master's License — which meant she could captain any vessel, anywhere across the world's oceans.
She then became a harbor pilot in San Francisco — bringing large vessels into restricted waterways that are challenging to navigate. She remains the one and only female harbor pilot in the bay today.
She is but one of many women who has made a name for themselves in the maritime industry.
Current State of Women in Maritime
We've covered what it used to be like for women entering the maritime industry, but what is the state of the industry today? Thankfully, times have drastically changed. While women still only comprise two percent of the 1.2 million seafarers worldwide, it's no longer virtually impossible for them to enter the industry. Let's get into a few modern-day examples and figures about women in the industry.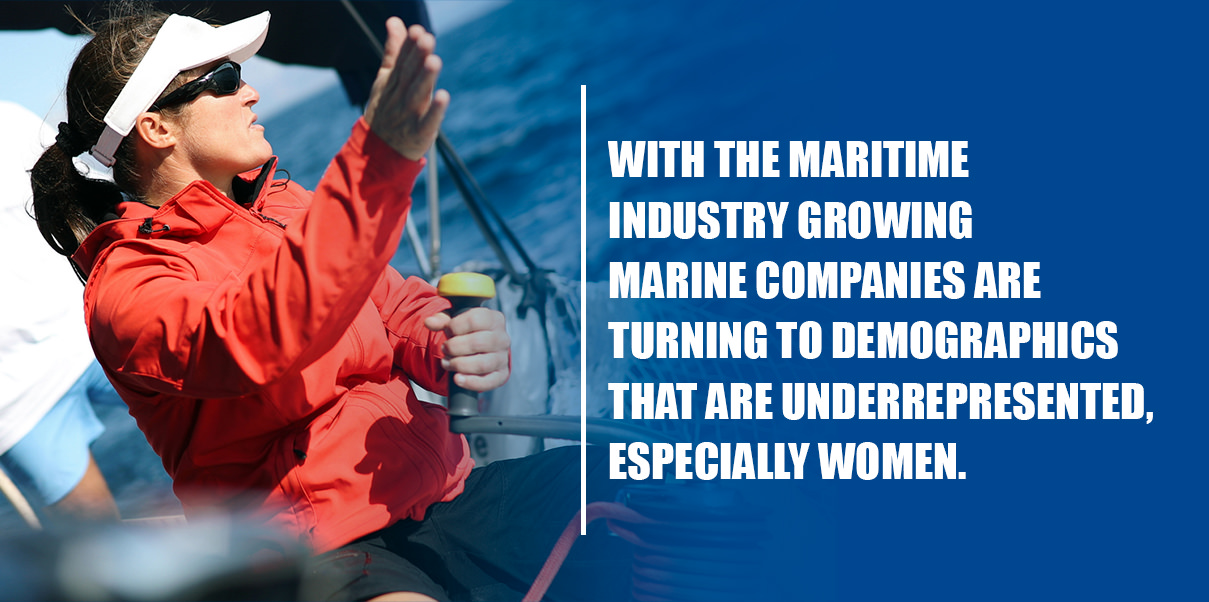 Today, with the maritime industry growing and the number of capable candidates not keeping up, marine companies are turning to demographics that are underrepresented, especially women.
According to the Bureau of Labor Statistics, the 2018 median pay for water transportation workers was $54,400 per year. For captains, officers and mates, the median was $88,380 — with the higher end around $144,000.
The median salary for sailors and marine oilers — names for lower-level crew members — was $45,980, and the median for ship engineers was $69,320. But again, there's significant room for salary advancement as the positions increase in rank.
Traditionally-male industries are looking for women to join. At the meeting of the first National Dialogue focused on Women in Blue Collar Transportation Careers held in 2011, they underlined some of the reasons why women are in demand and underrepresented.
The gathering was from over 25 national transportation organizations at the United States Department of Transportation. They came to discuss the future of women in transportation industries — specifically those traditionally dominated by men. The meeting was populated by women who drove trucks and buses, operated ships, trains and pipelines, built roads and bridges, and repaired aircraft. They had three main goals: to change the image of traditionally-male-dominated careers, recruit more women and retain them within the workforce.
The conclusions they reached mirrored the challenges that women working in the transportation industries face today.
Challenges for Women in Transportation Careers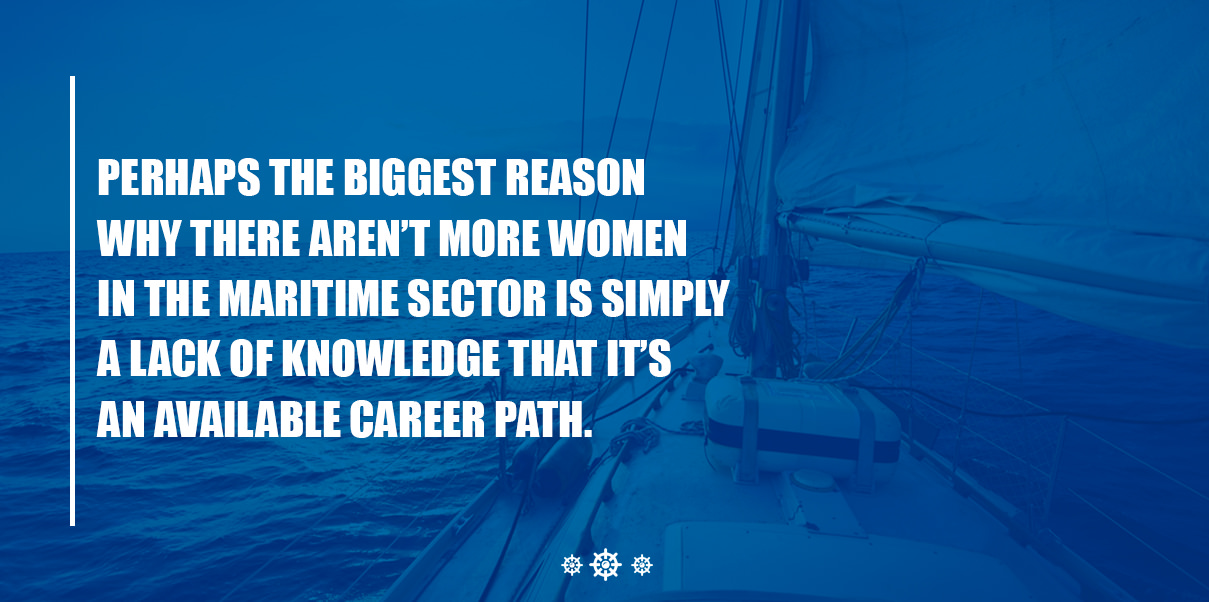 These are arguably the most significant barriers that hinder women from entering non-traditional industries and apprenticeships:
Lack of awareness: Perhaps the biggest reason why there aren't more women in the maritime sector is simply a lack of knowledge that it's an available career path. If women don't have family members already in the industry or know of someone who works at sea, it could easily be an option that passes under the radar. Many people also don't even consider the maritime industry because it doesn't result from the traditional four-year college route.
Traditional gender roles: The lasting stigma that the maritime industry is for men only is likely deterring women from joining the workforce, even though this idea is only a relic from the past. Because women don't know that the industry is becoming more populated by women, they don't consider it as a viable career path or too out of the ordinary.
Opportunities for Women in Transportation Careers
Currently, women only make up about 15 percent of transportation occupations, even though these careers offer numerous benefits and are prime for women to succeed.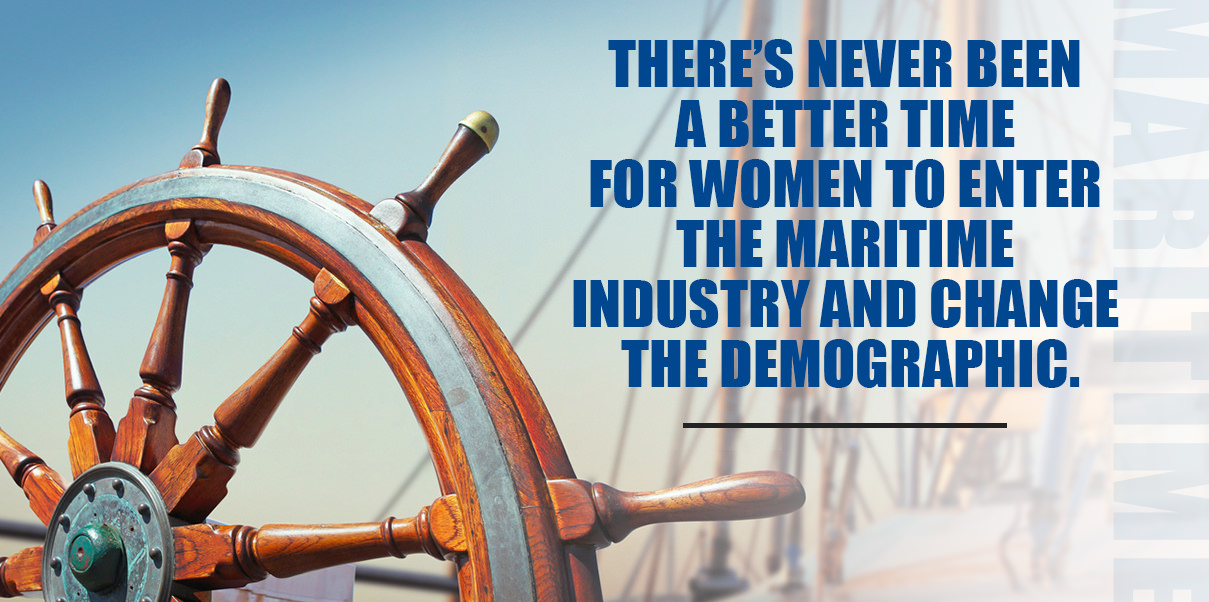 With nearly half of the current workforce being eligible for retirement in the next 10 years, there's never been a better time for women to enter the maritime industry and change the demographic.
The maritime industry is only becoming more advanced, as technology progresses, the industry will need educated and trained employees who are up to date on the most current technology and management practices.
Now, let's debunk some of the most commonly-held myths about women not being right for traditionally male-dominated industries:
Myth: Women are afraid to work in male-dominated industries because they're afraid to do physical work or get dirty.
Fact: Many women enjoy working with their hands just like men do, and they are not afraid at all of getting dirty on the job.
Myth: Women don't belong in male-dominated industries because you need to big, strong and mechanically-minded to succeed.
Fact: Employers are always looking for employees who offer something valuable. Women provide new perspectives and leadership styles that can be very beneficial to a typically male-dominated industry. Success in the maritime field is much more about using your intellect than your muscles, and anyone who's determined can make a career for themselves.
Myth: Women don't want to work in the transportation industries because they think the jobs are just for men.
Fact: More women are joining the maritime industry today than ever before. Since the industry has become well known as an excellent career path for any gender, the workplace demographic is changing, and more women are choosing a life at sea.
Myth: Women don't want to work in the maritime industry because they believe the positions are low-paying and don't offer the potential for career advancement — the profession is blue-collar only.
Fact: Women working in the maritime industry can earn an excellent salary compared to other occupations that require the same or more education, and there are several opportunities for career advancement.
Myth: You need to earn a college degree to be successful in any career.
Fact: The maritime industry doesn't require a college degree for you to rise through the ranks. Maritime training school is much faster and generally much more affordable than four-year colleges.

Future of Women in the Marine Industry
In recent years, the number of women working in the maritime industry has grown, but there's still more work to be done to even their representation in the workforce and make more women in leadership roles.
Looking to the future, an inspiring example for women considering working in the marine industry is Belinda Bennett. Bennett didn't let statistics or naysayers bother her, and she became the world's first black cruise ship captain.
Bennett has worked aboard Windstar Cruises for over 14 years and sails their ships through the Caribbean in the winter and Europe in the summer. She recently received the United Kingdom's prestigious Merchant Navy Medal for Meritorious Service. Examples like this one give us valuable insight into why being a woman in the industry is valuable not only to an individual, but also to future women to come.
The more women there are in the maritime sector who rise through the ranks, the more the industry demographic will change for the better. Women rising to become leaders in their industry is essential to inspire future generations and show that nothing is off limits.
The times have undeniably changed in recent years, but determination as a woman in the maritime industry is essential. Because it's still an industry that is mainly occupied by men, it takes commitment to prove yourself as a woman and rise through the ranks.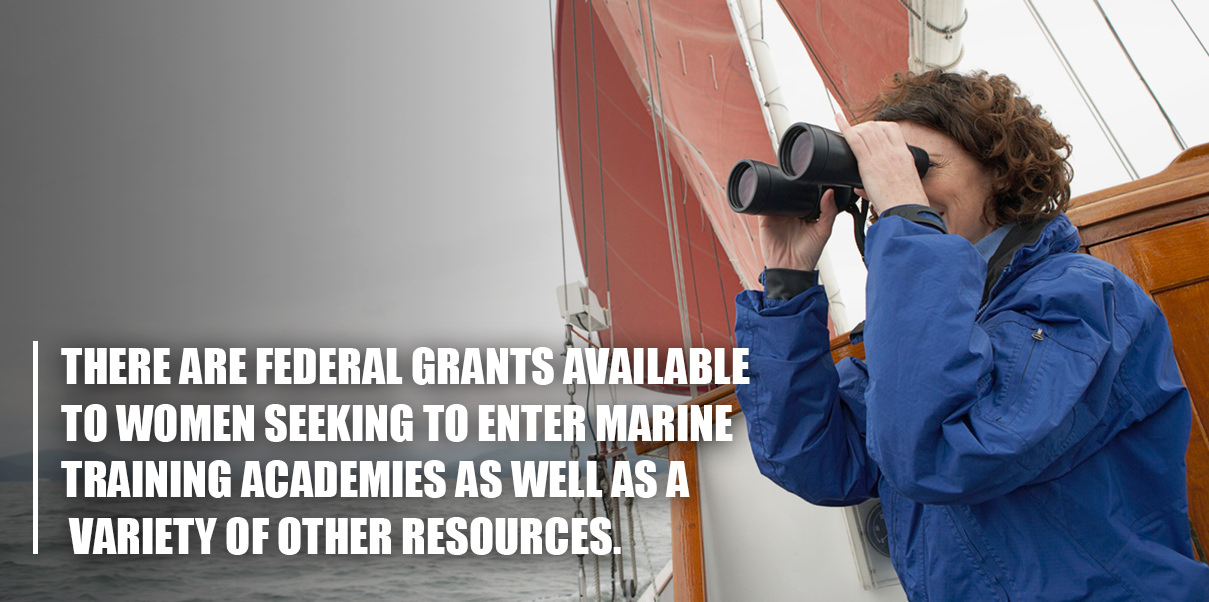 A positive indicator for the future of women in the maritime industry, though, is the amount of available support for women seeking to get their foot in the door. There are federal grants available to women seeking to enter marine training academies as well as a variety of other resources. As the support system and community grows, it will only make it easier for women to enter the industry.
How to Recruit More Women Into the Maritime Industry
There's never been a better time for women to enter the maritime industry, but the most significant challenge may be the lack of awareness the public has about the excellent marine jobs available and what they have to offer. If more women knew about these kinds of career paths, we would likely see a more even representation in the workforce.
Hopefully, as the world evolves and moves toward equality, we will begin to see more women in the marine sector. It would not only be beneficial to the women who enter the workforce, but the industry as a whole would benefit from the more diverse employees and perspectives.
Here at MITAGS, we like to do our best to encourage all people, male or female, interested in working at sea to pursue their goals. And maybe the best way to relate why life at sea may be the right choice is to show how it's different than traditional careers.
These are a few of the unique benefits that working on the water offers:
Competitive pay: Especially as an alternative to college and avoiding student debt, working in the marine industry offers competitive salaries. Also, you save money not paying for meals or accommodations when you're on the job.
Travel: Getting paid to travel the world is a huge draw for many people who work on the water. You get to work all over the world and have the open sea for an office.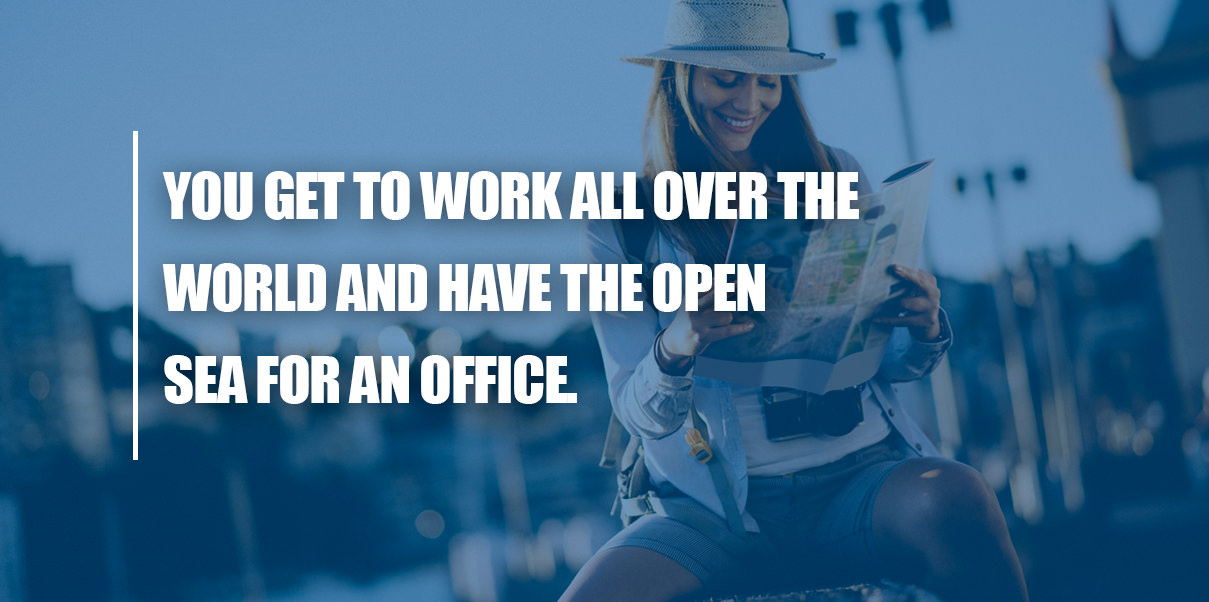 Condensed work schedule: If you like the idea of getting all of your work out of the way at once, then working at sea might be perfect for you. People will often work for long periods at a time, followed by long periods off — which can mean you have months off that you can spend however you like.
An alternative to a typical 9 to 5 job: Many people are trying to avoid spending their professional lives in an office. The maritime world offers alternative schedules and lifestyles for those looking for something a little less traditional.
Respect: Working your way up to become an officer on a large vessel is something that commands respect around the world. The maritime industry offers a non-traditional route for women to find rewarding careers of which they can be proud.
Job Security: With the marine sector only growing, the opportunity to find employment won't be diminishing any time soon — it's an industry you can rely on.
MITAGS for Maritime Training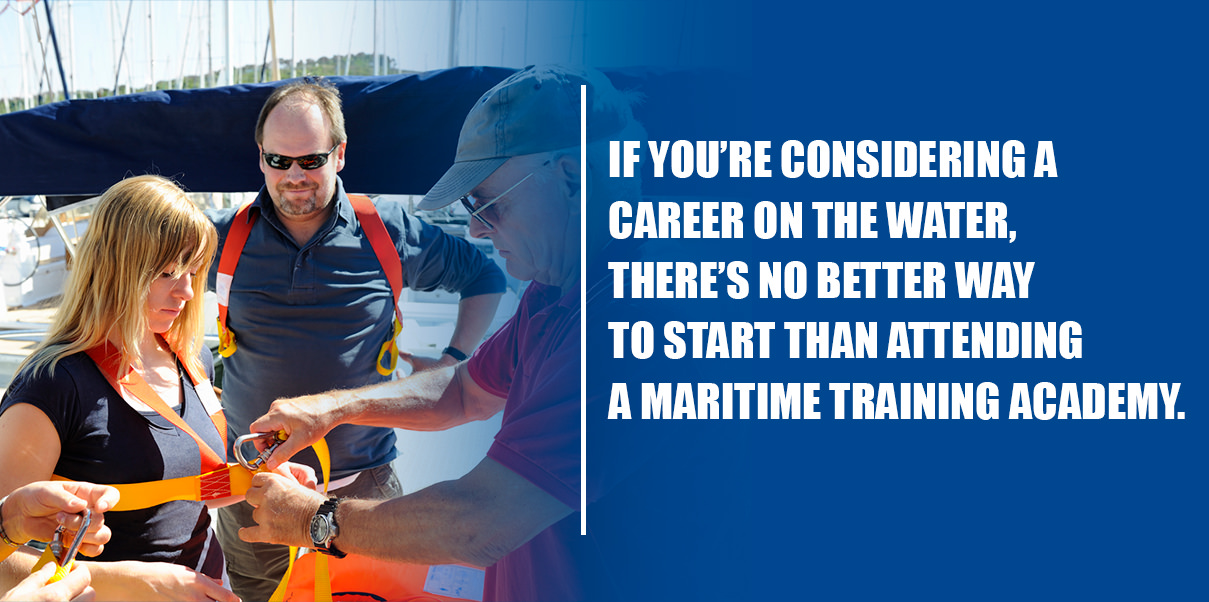 If you're considering a career on the water, there's no better way to start than attending a maritime training academy. At MITAGS, we take people with little-to-no experience and turn them into ready, competent mariners who can enter the workforce with confidence. Our training programs are a mix of in-class and real-world training, and we help you every step of the way.
Our knowledgeable instructors personally ensure you're prepared for the challenges to come. Our state-of-the-art simulation technology helps you practice vital skills that ready you for real-world situations. Check out our Marine Apprenticeship Programs to learn more about the process to find a rewarding career at sea.
If you have any questions about our programs or the marine industry, please don't hesitate to contact us today for more information.