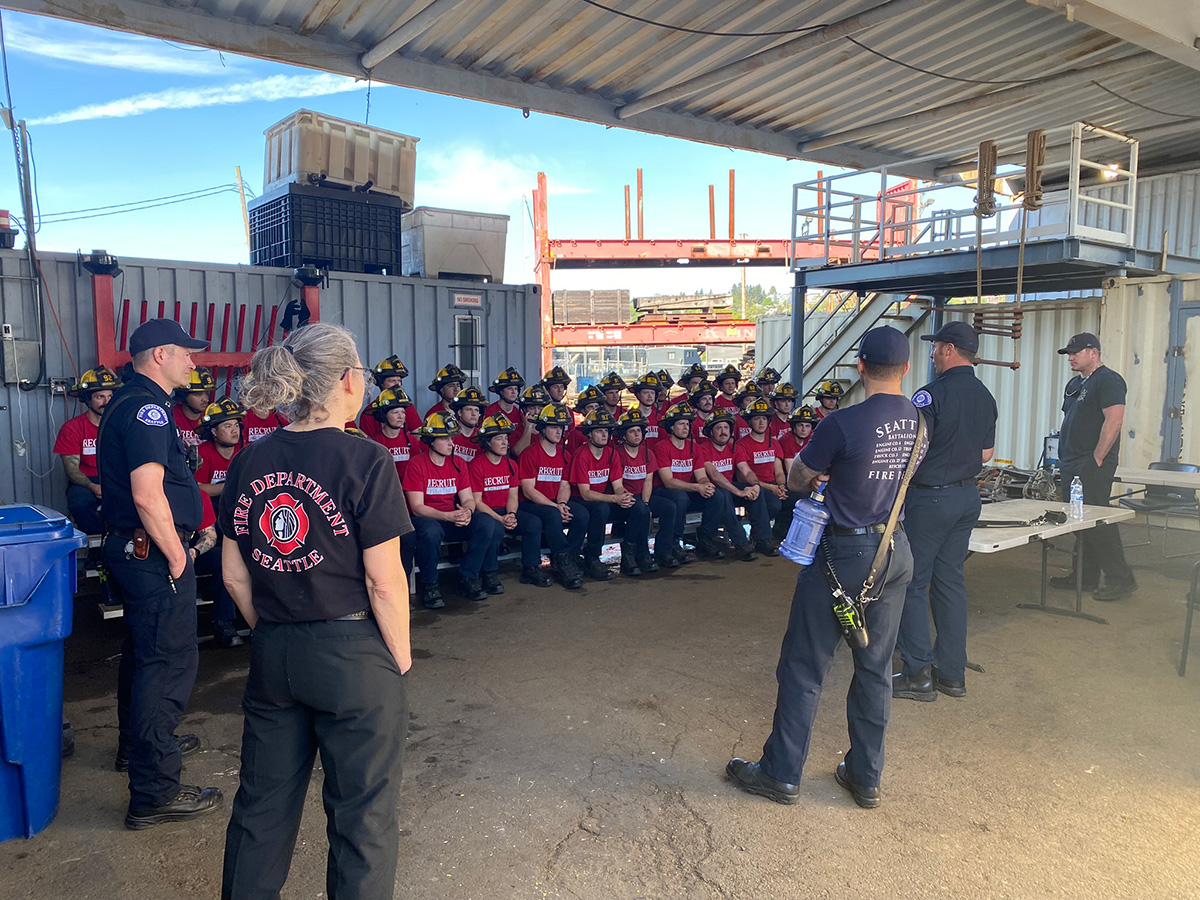 Yesterday MITAGS was honored to host a day of marine firefighting training for the Seattle Fire Department's Recruit Academy.  Organized by Marine Safety Department Chair Ben Sleister, 60 soon-to-graduate trainees spent the day learning how to combat fires aboard ships.  The day's agenda included several live fire evolutions at MITAGS-West's M/v Fire Dragon training facility, and vessel familiarization tours aboard the M/V Courageous, a retired catcher-processor vessel moored at Seattle's Fishermen's Terminal.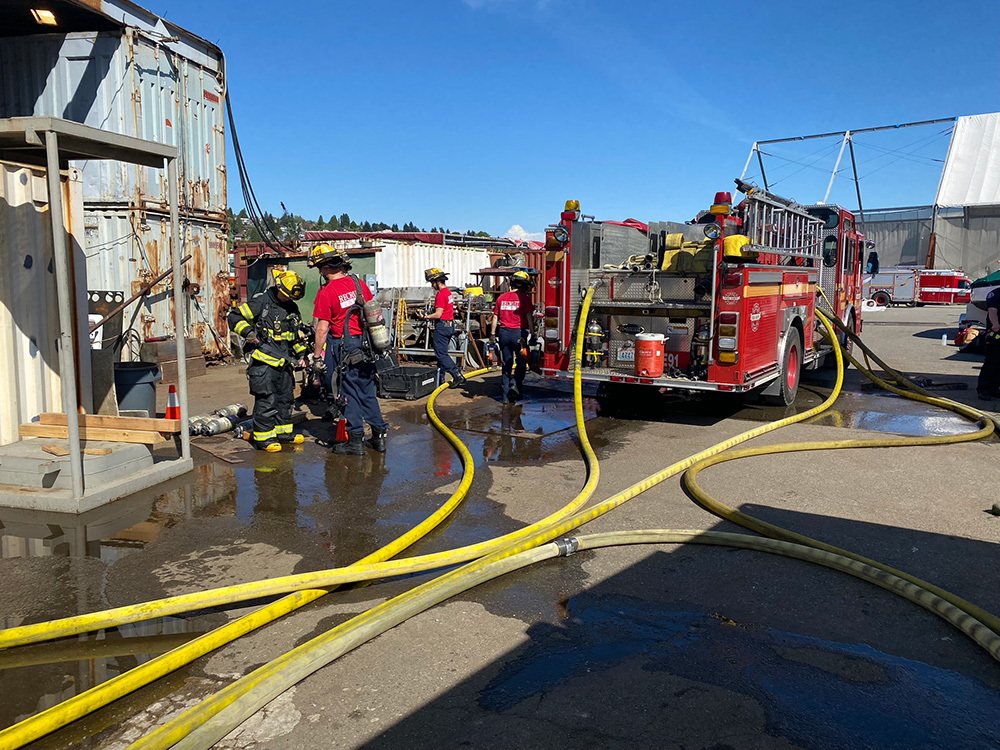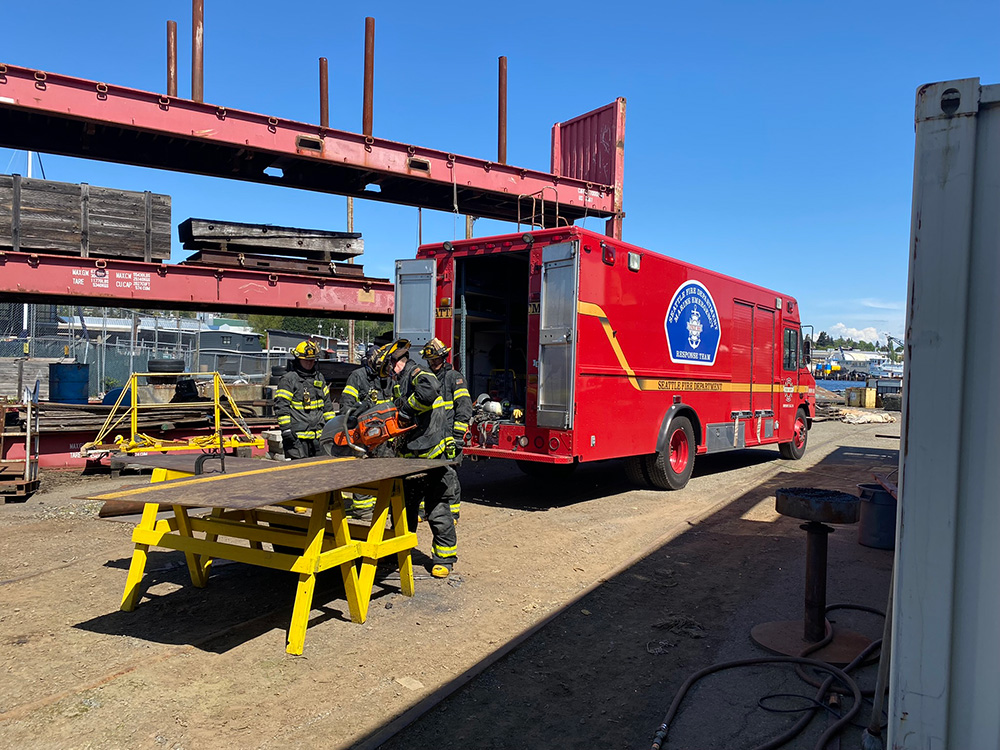 For the live fire exercises, the Seattle Fire Department rolled up at the M/v Fire Dragon training facility as if responding to an actual shipboard fire. Multiple pumper units and specialty vehicles, including a dedicated marine fire response truck arrived in rapid succession, and multiple hoselines were deployed.  Under guidance of their instructors, the recruits practiced accessing the vessel and making entry, then proceeded to fight multiple interior fires both directly and indirectly.
In one of the more challenging scenarios, the firefighters entered the vessel from the foredeck, then made their way down a long, dark passage to the fully involved Pumproom. After extinguishing that fire, they continued aft encountering blazes in the Engine Room and After Machinery Space.  Simultaneously, a second team worked their way to the upper deck of the Fire Dragon, where they were faced with a fire in the Chart Room behind the bridge.  After extinguishing that fire and securing the space, they were required to descend a steep ladder into the dining area, where a large conflagration had engulfed the Galley area.
The training exercise provided recruits to practice using specialty tools under realistic conditions.   In the video below, firefighters on the upper deck lower a Bresnan Distributor Cellar Nozzle to indirectly fight a fire in a stateroom,
The training was supervised by Melissa Kennedy, Seattle's Deputy Chief of Training, Battalion Chief Brian Maier and Captain John Williams, the officer in charge of the Recruit Academy. Both officers were very enthusiastic about the training opportunity and the chance to provide this type of experience to the new firefighters just beginning their careers.
To learn more about MITAGS fire training programs, contact Ben Sleister at [email protected]