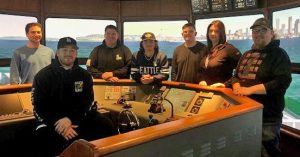 Left to Right – New MAP Apprentices: Ben Hoffman (Centerline Logistics), Dan Lorenz (Foss Maritime), Will Feeback (Centerline Logistics), Noah Lawson (Centerline Logistics), Jack Stoen (Western Towboat), Nichole Townsend (Crowley Marine Services), and Zach Elfstrom (Sause Brothers).
On Monday, March 6th, seven new apprentices walked into MITAGS-West in Seattle to begin their two-year journey to become licensed deck officers. After spending the next two months in class receiving essential orientation and safety training, they will head out to sea for the first of a series of two-month underway periods. There, on vessels operated by their sponsor companies, the lessons they have learned in class will be reinforced by observation of actual underway operations.
Over the next 24-28 months, each apprentice will cycle between classroom sessions in Seattle and time underway. They will acquire the 52 weeks of sea time necessary to meet Coast Guard requirements for sea time, and when their training is complete, they will take the exam for a Mate's License.
Now in its 16th year, the MITAGS' Maritime Apprenticeship Program (MAP) provides a fast track to the wheelhouse for motivated men and women interested in careers aboard workboats, ferries and merchant ships. Unlike the four to five years it typically takes to acquire sea time and complete required courses one at a time, MAP participants, most of whom have never been to sea, can obtain a deck officer license and be ready to go to work in just two years.
For many companies having a hard time finding quality deck officers, MAP is a cost-effective way to recruit and qualify new talent. Companies choose the apprentices the wish to have on their vessels, and while there is no commitment to hire them once they complete the program, in actual practice many MAP graduates have stayed with their sponsors throughout their careers and today are sailing as Master, or are serving in senior management positions ashore.
MITAGS is currently recruiting for apprentice cohorts which will start this Fall (Washington State Ferries) and next Spring (Towing Vessels and Workboats). If you are interested in learning more about this program, or would like to sponsor an apprentice, please visit the MAP web page or contact us at [email protected].