Washington State Ferries is the largest car and passenger ferry service in the United States, providing critical transportation links to commercial and urban hubs across the state and beyond.  Generating suitably qualified crews, including the Mates who navigate the ferries is a key task, especially in the face of the shortages of people coming into the Maritime Industry.  
The Maritime Institute of Technology and Graduate Studies (MITAGS) has been working closely with Washington State Ferries to support training, including the Able Seafarer to Mate program and Maritime Apprenticeship Program. These programs meet U.S. Coast Guard and IMO standards by providing approved courses to enable license advancement for Washington State Ferry employees. This important pathway to career advancement keeps people in the organization, while also creating new opportunities for those looking to join the maritime industry.   
 Washington State Governor Jay Inslee, supported by Roger Millar, Secretary of Transportation, recently visited the MITAGS West Coast Campus in Seattle to meet and thank the cohort of 12 Washington State Ferries employees graduating from the Able Seafarer to Mate program. This included two newly qualified Mates, who recently completed the WSF Pilotage Program in March and are now serving as watch officers.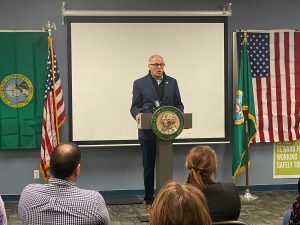 As Governor Inslee said, "Creating a system like the one that we are creating is filling the spots that are needed in our ferry systems today. If we did not have this program, people would not be able to work, go to school, and raise a family at the same time." 
Washington State Ferries have been working closely with the state government to ensure they remain able to deliver their important mission. Steve Nevey, Director of Marine Operations for Washington State Ferries commented about the frequent discussions of,  
"…how to make it work, what programs we can do to get this all to work. This is where the Piloting program came about. After that came the AB to Mate program. And now the apprenticeship program and AB to Mate are all being funded."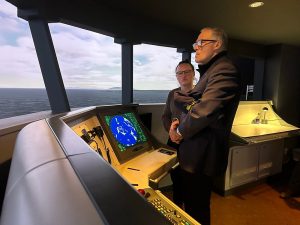 MITAGS is not only honored to be a part of enabling students' success and license advancement, but to also be supporting nationally important programs such as these, through vocational training. As the training entity of the International Organization of Masters, Mates and Pilots (IOMMP), MITAGS has over 50 years of experience in teaching and training maritime courses. Daniel Twohig, MM&P Vice President for the United Inland Membership, took the opportunity to present MITAGS challenge coins to the Governor, Steve Nevey and to recognize "the Ferry God Mother", Assistant Secretary of Transportation, Ms. Amy Scarton who has been a strong advocate for Washington State Ferries. 
 MITAGS looks forward to continuing its support of Washington State Ferries, individual mariners, and the industry as a whole, to create opportunities for vocational maritime training through programs such as the Maritime Apprenticeship Program and Able Seafarer to Mate program.