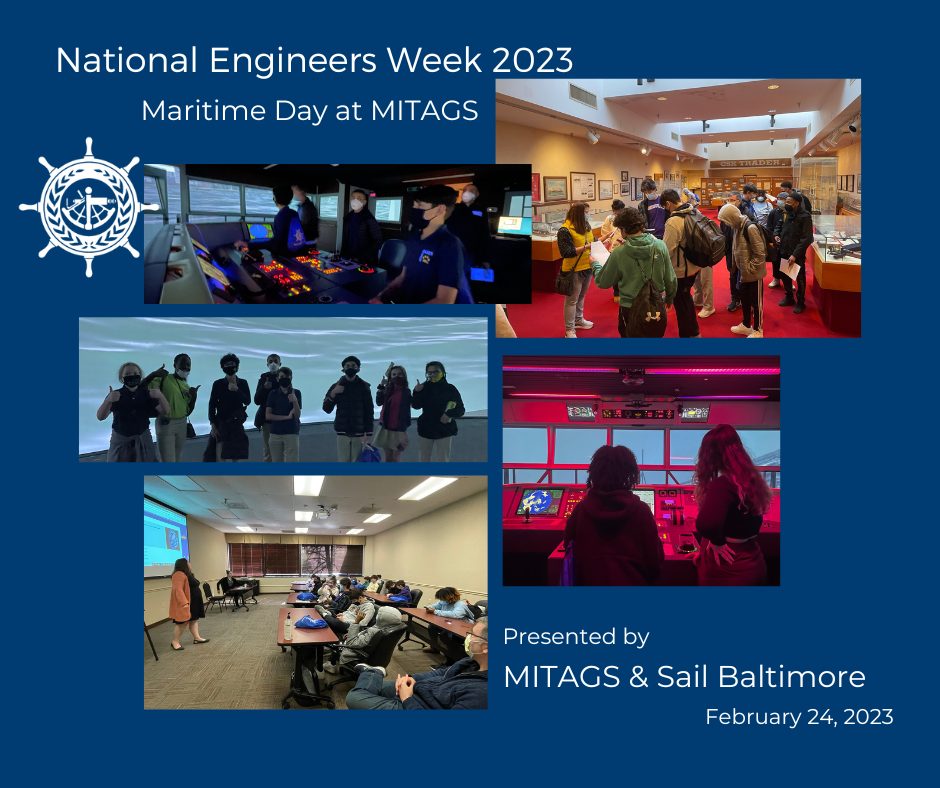 The Maritime Institute of Technology and Graduate Studies (MITAGS), in partnership with Sail Baltimore, FLIK and Vane Brothers is pleased to be supporting the Baltimore Engineers Week Council, hosting the Maritime and Engineering educational event at MITAGS on February 24, 2023.
Since 1951, National Engineers Week has helped to increase public awareness and appreciation of the engineering profession and to celebrate the accomplishments of engineers. Founded by The National Society of Professional Engineers, it is celebrated annually at the time of George Washington's birthday. Our first president was a military engineer and a land surveyor. Like our first president, today's engineers are problem solvers.
Nothing could be truer than across the Maritime Industry, to which the design, manufacture and construction of products, machines and infrastructure is critical.
MITAGS will host over 100 Middle and High School students, exposing then to the maritime world. They will have the opportunity to speak to a number of seafarers, while learning more about key topics such as Fire Fighting, First Aid and ship operations at sea. There are enormous opportunities in the maritime industry right now, with sectors such as sustainable energy quickly expanding under authorities such as the Global Wind Organization. These opportunities will create thousands of jobs, not just in Maryland, but across the country.
As a maritime city, Baltimore itself has huge opportunities for maritime employment, whether at the Port of Baltimore or with the numerous shipping and towing companies that operate across the Chesapeake. Organizations such as MITAGS provide maritime training and qualification in careers, including Engineering, with vocational and apprentice opportunities.
Engineers Week is a time to recognize the contributions engineers have made to our way of life and to encourage students to pursue engineering careers to perpetuate advancements for future generations. MITAGS is proud to host this event on behalf of the Baltimore Engineers Council.
If you would like to support this event, please visit the MITAGS donations website and select Engineers Week on the dropdown menu. Your contribution will enable the provision of educational materials, such as scientific calculators for students. And should we meet our target, any additional money will be donated back to the Engineers Council, in support of future events.