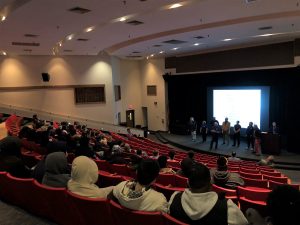 On February 24, 2023, the Maritime Institute of Technology and Graduate Studies (MITAGS), in partnership with Sail Baltimore, FLIK, Wartsila, Vane Brothers and Moran Towing, hosted over 90 Maryland Middle and High School students from around the state as part of National Engineers Week.
Presented by the Baltimore Engineers Week Council, students from the Thread Foundation, Old Mill High, Pikesville High, Central Middle STEM and Chesapeake Bay Middle visited the site and took part in a variety of exciting events.
With Sail Baltimore leading with classes on knot tying and navigation, students had the opportunity to talk to mariners from Vane Brothers and Moran, to find out more about how the Maritime Industry supports Baltimore as well as the careers and opportunities available.
With presentations on Firefighting, First Aid and Sea Survival, students got to see firsthand the spectrum of training that goes in to making a qualified sailor! Klaus Luhta, a MITAGS Business Development Leader and MM&P 3rd Mate commented, "It was great to see so many students here at MITAGS. I loved my time at sea, and getting kids to see the opportunities available to them is so important to rebuilding the US's maritime industry."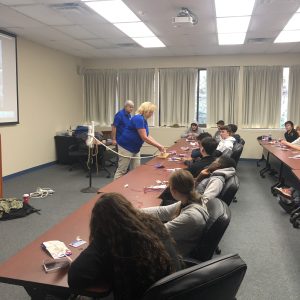 As a maritime city, Baltimore itself has huge opportunities for maritime employment, whether at the Port of Baltimore or with the numerous shipping and towing companies that operate across the Chesapeake. Organizations such as MITAGS provide maritime training and qualification in careers, including Engineering, with vocational and apprentice opportunities.
And of course, no visit to MITAGS would be complete without the students getting some hands-on experience at sea, in the Full Mission Capable simulators. The largest in the northern US, these simulators not only support career training, but are also an essential tool used in a variety of Operational Research projects, from ship to port modelling, all of which is completed in-house by our Database and Naval Architect team.
MITAGS Director, Mark Heward said, "The fidelity of our simulation is some of the best in the industry. We can train individuals, teams and can connect both our Full Mission and Tug simulators into a single scenario. From an engineering and training perspective, that is an awesome capability and fortunately, none of the students were sick at sea!"
Engineers Week is a time to recognize the contributions engineers have made to our way of life and to encourage students to pursue engineering careers to perpetuate advancements for future generations. MITAGS was proud to host this event on behalf of the Baltimore Engineers Club and Engineers Week Council, and we look forward to seeing more students next year!