https://www.mitags.org/MITAGS' new website sees the transition from a non-responsive website with a static layout and inefficient functionality, to a user friendly, vibrant and modern website.
It has streamlined the account creation and registration process.  The navigation menu has been reorganized to be more user friendly. The search functionality has been enhanced, making it much easier for users to find the information they need quickly and efficiently. The site also provides additional information resources, including a blog and FAQs.  The design is vibrant and fresh, and features more use of interactive imagery, such as videos. In addition, it's now responsive, and, internally, MITAGS has more flexibility and creative control in how content is managed and created, further enhancing the users' experience and expanding MITAGS' marketing capabilities.
Click through the slider below to see the before photos!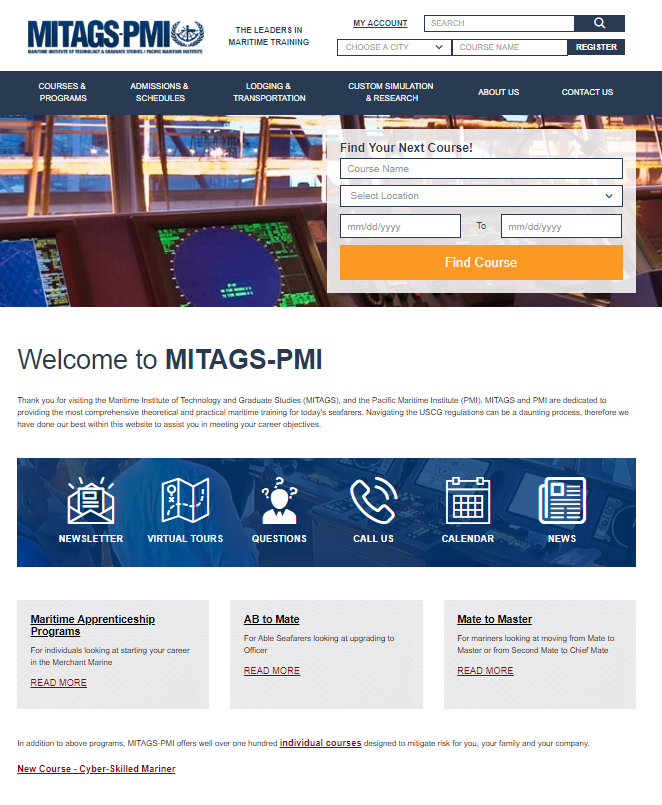 What's New:
The new homepage features a quite a first impression with a large, hero video. As you scroll through the page, we've enhanced the site's search functionality and added Featured Courses, New and Announcements, and more!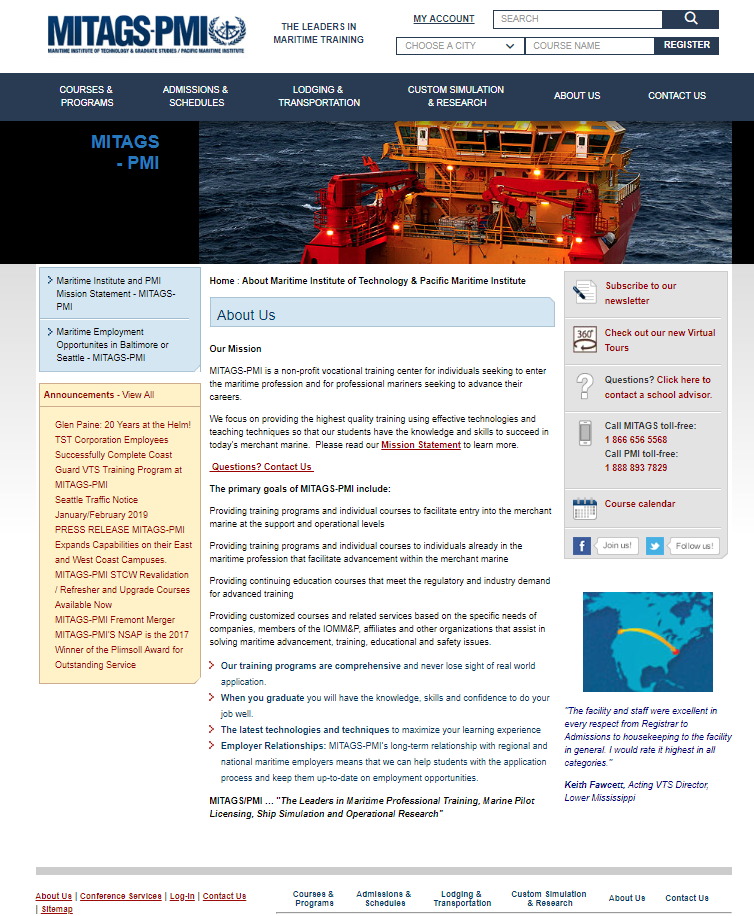 What's New:
The new About Us page and menu take a deeper dive into who we are and what we do here at MITAGS at both our east and west coasts campuses. Learn more about our history and mission, and meet our dynamic (and dedicated) crew!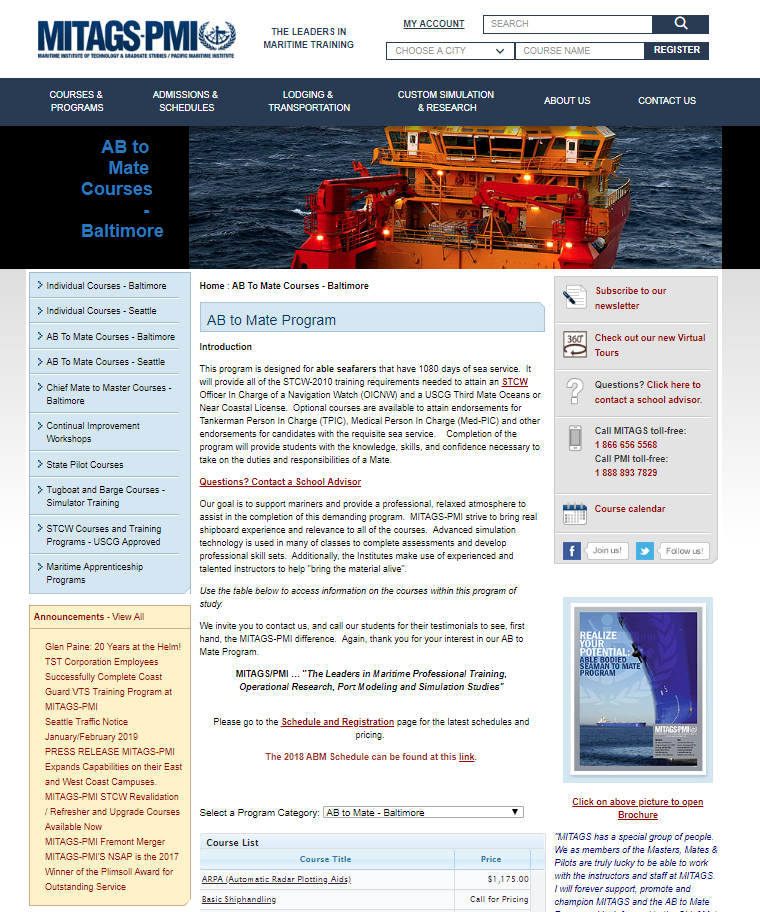 Before: AB to Mate Program Page
What's new:
The previous MITAGS website was designed in a three-column layout, with limited flexibility and static content. Now we can create various layouts, include a variety of media, and share relevant information on the appropriate pages.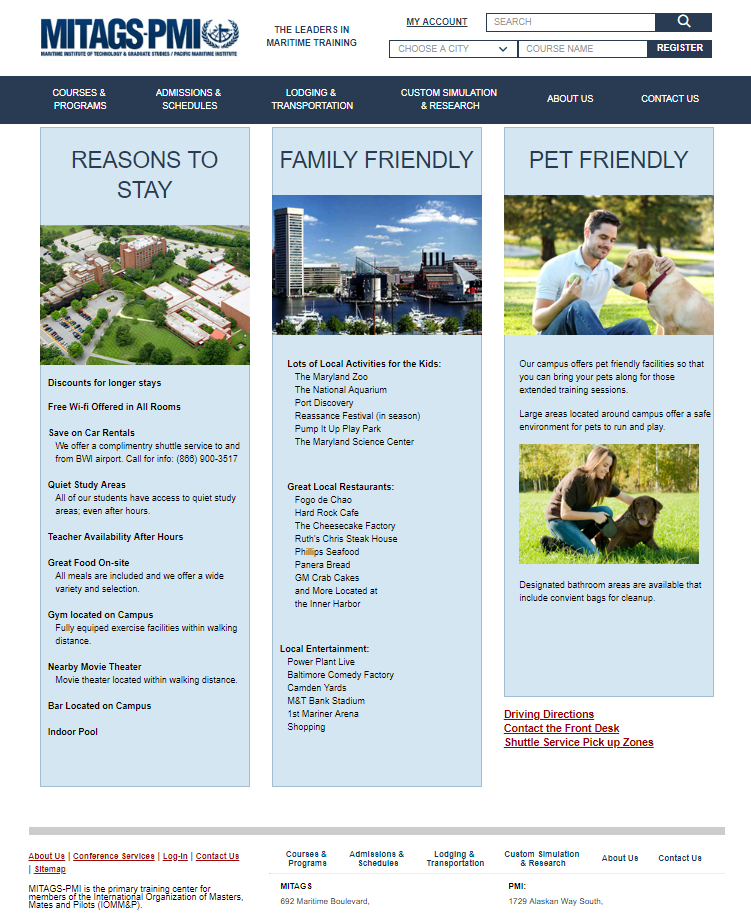 Before: Baltimore Accommodations
What's New:
New, clean layout that better promotes the onsite accommodations available to students at MITAGS' East Coast Campus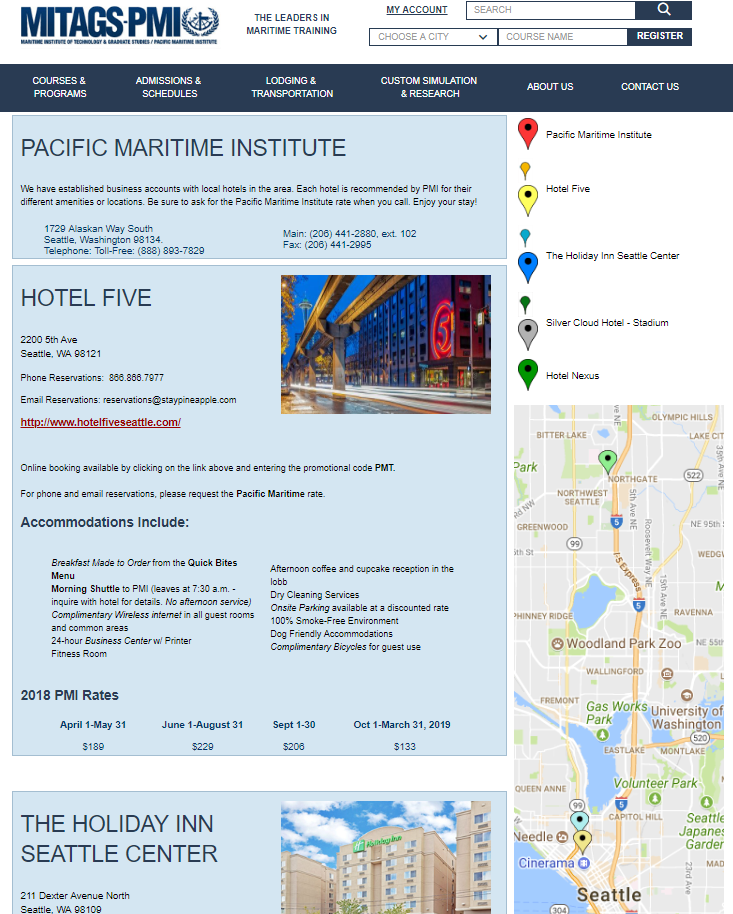 Before: Seattle Accommodations
What's New:
New layout that better promotes the relationships that MITAGS' West Coast Campus with Seattle area hotels.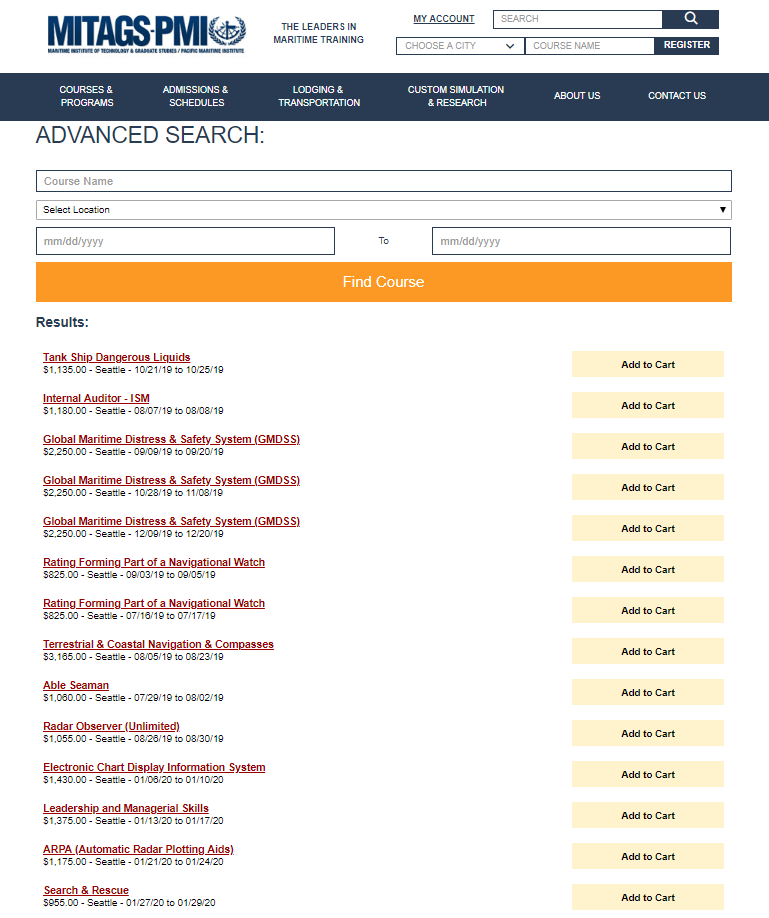 What's New:
The new courses page has a full list of MITAGS' course offerings at both campuses (from A to Z) OR refine results by location, preferred dates and times, training method, and even preferred day of the week! Searching from the homepage is much easier now too!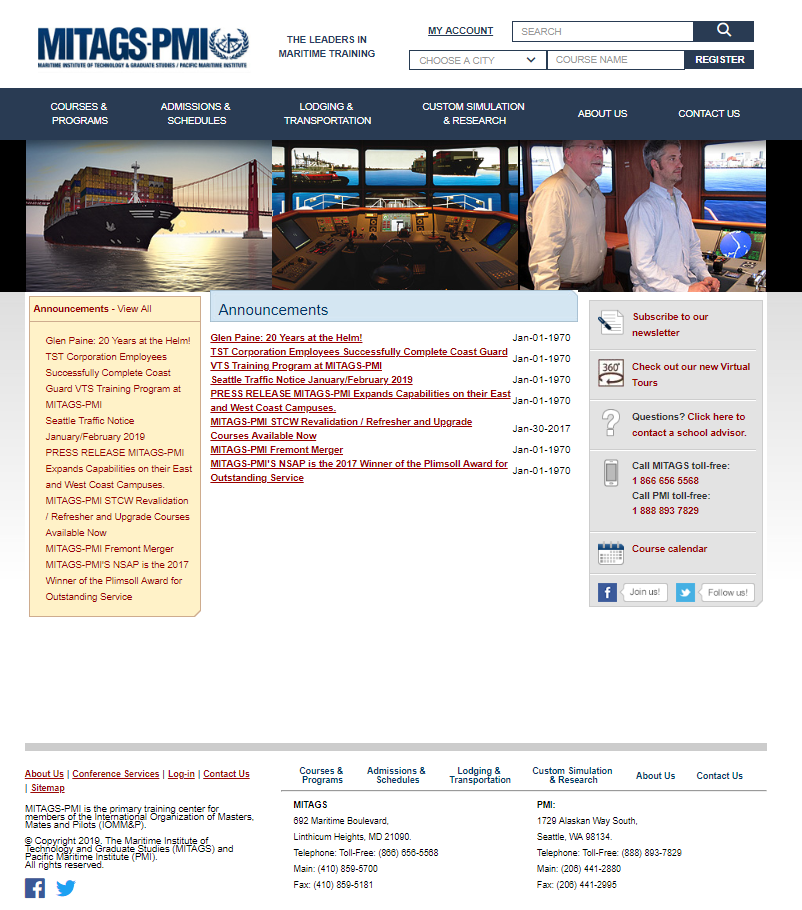 What's New:
MITAGS' previous website lacked a newsroom,and the announcements that were shared had limited capabilities for embedding media. The new site features a newsroom that is organized by category and allows for embedded video and images, easy sharing, comments and related posts!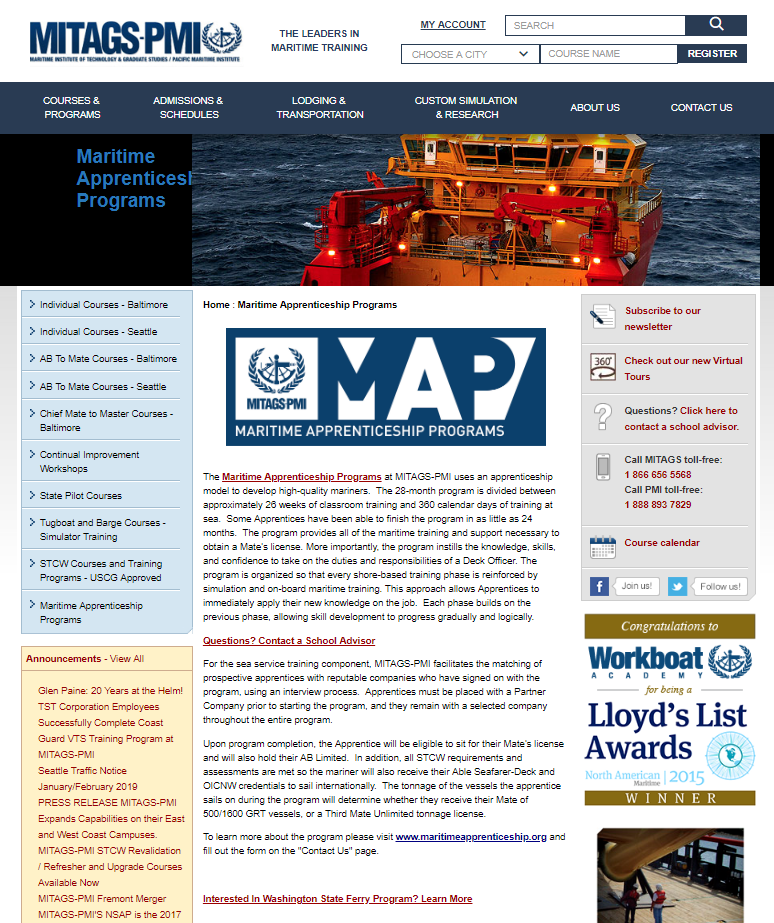 What's New:
The new MITAGS website features a whole menu of pages dedicated to our Maritime Apprenticeship Programs!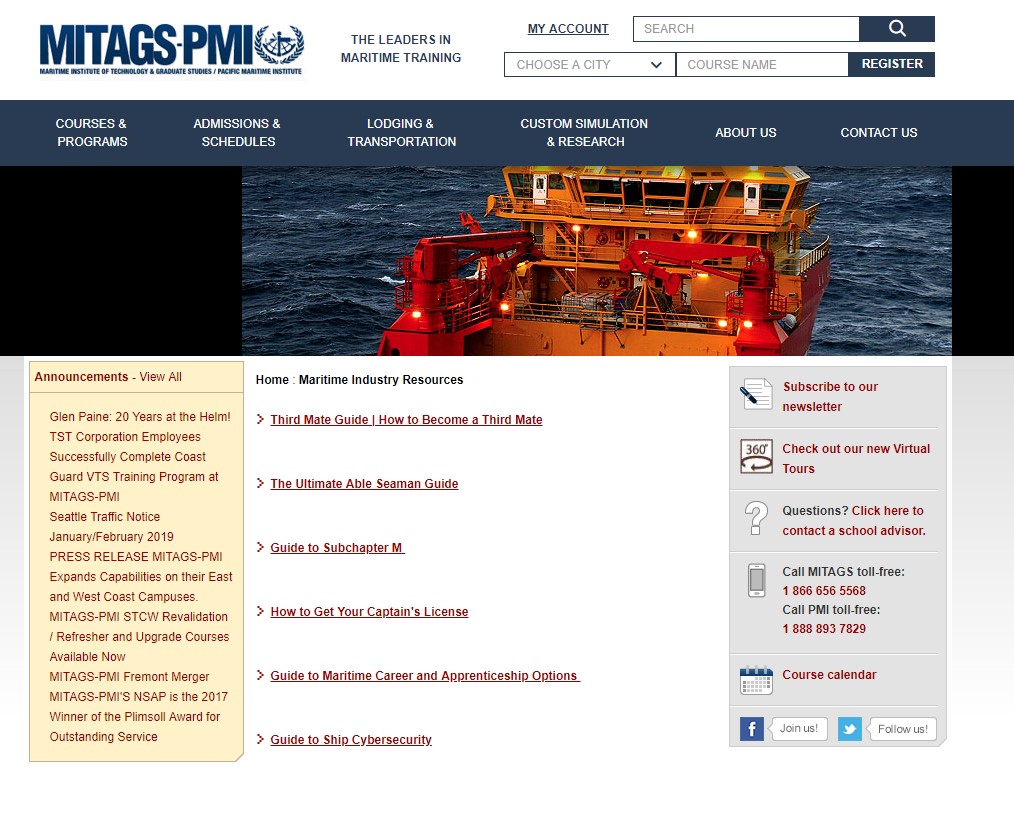 What's New:
MITAGS new site now features a full menu of maritime industry and MITAGS resources including FAQs, a Blog, and Helpful Links!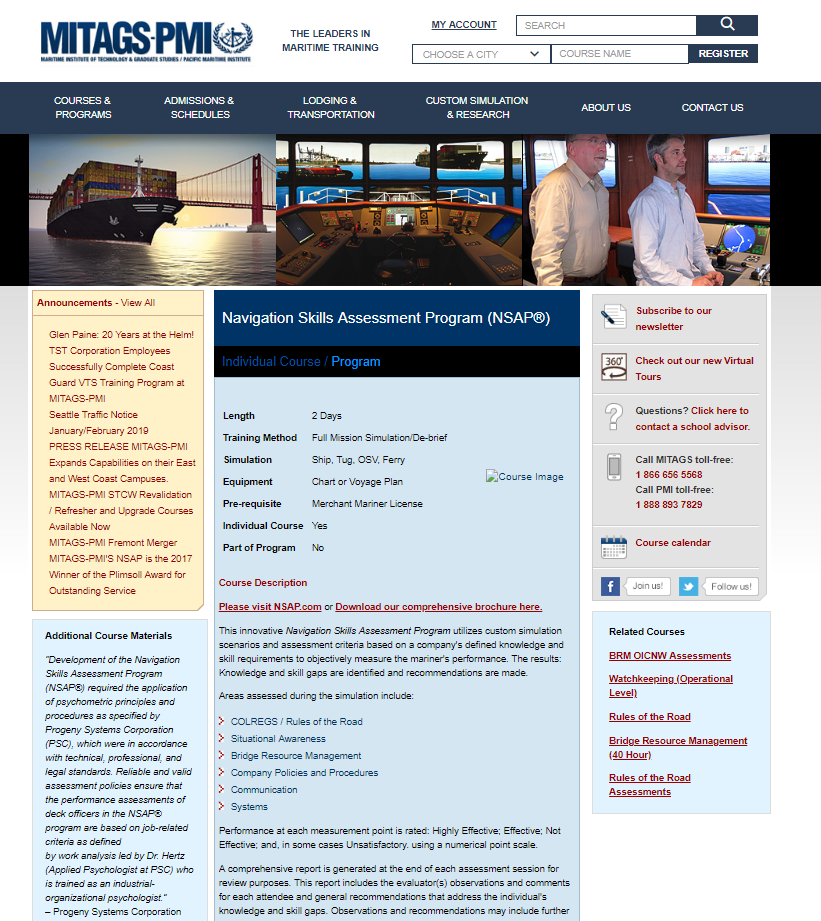 What's New:
MITAGS' Navigational Skills Assessment Program (NSAP)® now has a full, dedicated page, accessible from the main menu navigation. Scroll further into the page and check out the new interactive brochure!
With the transition from MITAGS-PMI to MITAGS, a new logo was in order. The new logo stays true to MITAGS' roots and tradition with the continued use of the laurel wreath and sextant.  The addition of the ship wheel highlights MITAGS' connection to the International Organization of Masters, Mates and Pilots (MM&P).  The wheel also reflects that MITAGS' training programs have expanded over the years to include courses for unlicensed mariners and officers in the deck and engine departments.  Finally, it serves as a graphic depiction of MITAGS' identity as an organization that serves many different segments of the maritime industry.
Click through the slider below to see MITAGS' logo evolution!

MITAGS-PMI Most Recent Logo

New MITAGS Logo (reversed)