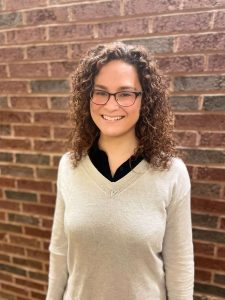 It is with great pleasure that we announce the promotion of Elisabeth Hoover, Academic Services Representative to MATES Program Executive Administrator, reporting directly to Executive Director, Eric Friend.
As we move towards the future under new leadership with Executive Director, Eric Friend, we are excited to have formulated a succession plan that recognizes the skills and tenure of our dedicated staff to the MITAGS mission.
Elisabeth came onboard in June 2014, in a temporary part-time position. As we tested a career path to grow the Academic Admissions staff, she helped MITAGS determine the need for an Admissions Representative. Soon after that time, Elisabeth was offered a full-time position and has demonstrated her commitment to the school and students ever since.
On February 1, 2022, Elisabeth started to assume her new management role and will eventually be relocated to a new office space. Learn more about Elisabeth below!
---
We asked Elisabeth to answer a few questions about her background and her time here at MITAGS – we threw in a little bit of fun while we were at it!
How long have you worked at MITAGS?
7.5 years
How has your career grown since working here?
My title has been 'Admissions Representative' from June 2014 through January 2022, but I feel that I have grown in many professional skills in this role and I have been cross-trained on many of our Registrar duties as well over the years. I am very excited to step up into the role of Executive Administrator now and continue learning and growing as an office administrator and project manager.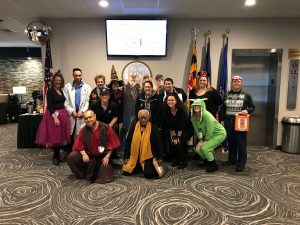 Favorite memory from work?
The Halloween that everyone went all out and really dressed up! I think it was Halloween 2019. Also, the staff training day at historic Gettysburg – it was so fascinating!
What is the most unique part about working here?
Getting to build relationships with amazing co-workers, and hearing interesting life-at-sea stories from our incredible instructors and students. We also have several contracted vendors on our campus who provide our hospitality and dining services, and their employees really are part of our MITAGS family and are all so friendly and lovely, which contributes to a homey-atmosphere here.
Best Memory on the water (ocean, lake, fishing, on a boat, etc.)
Touring the USS Intrepid in NYC
If a boat/ship was named in your honor, what would it be called?
The SS Izzy
If you were deserted on an island, what three items would you hope to have with you?
A music player, a stack of good books, and a lighter for a fire – got to find a way to survive!
What's your favorite movie quote?
'I wish the ring had never come to me – I wish none of this had happened!'…..'So do all who live to see such times, but that is not for them to decide. All you have to decide is what to do with the time that is given to you.' – Gandalf to Frodo, The Fellowship of the Ring
If given the chance, who would you like to be for the day?
Not a particular person, but I would love to be a famous opera singer or Broadway performer for a day!
What was your favorite vacation?
Colonial Williamsburg – I went with my family growing up and returned with my husband a couple of times as an adult. If it involves history and museums, count me in!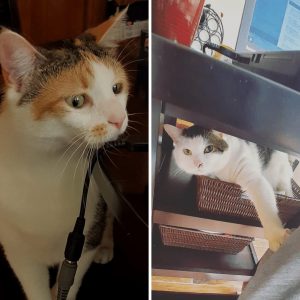 What is one thing, place, attraction, restaurant, etc. that you would recommend someone go to or do when traveling to our campuses (in MD or WA)?
Check out the Mobtown Ballroom in Baltimore for some old-fashioned swing dancing and lindy hop!
Do you have any hidden talents or hobbies?I love to sing! I minored in voice in college and try always to have some outlet for that.
What is your favorite food?
It's very hard to pick a favorite, but if I had to, probably just a good mac and cheese. Or sushi!
Do you have any pets? What kind? Names?
I have two sweet cats, Olive and Hobbs, who are brother and sister. Hobbs is a big lazy cat, and Olive is a little princess. She has to be the most beautiful calico kitty I know!