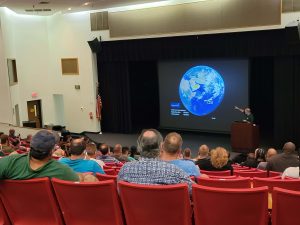 As most are aware, the COVID-19 Pandemic greatly impacted our hospitality community.  Maritime Conference Center (MCC), on the campus of MITAGS, produces revenue for the 501c3 non-profit school by hosting conferences, meetings and other training events.  This revenue stream quickly came to a halt and the campus closed for a couple of months in March 2020.  Like most organizations, we quickly migrated to remote and hybrid solutions to keep our business moving and, by the end of May 2020, we safely reopened the campus to host maritime training students.
As Chris Fertig explains in an article he wrote regarding Operation DGAR, "By the spring of 2020, COVID-19 restrictions on travel had stranded hundreds of mariners on 13 commercial and U.S. government-owned ships based on and around the remote island of Diego Garcia in the Indian Ocean.  The pandemic had shut down the normal military flights between Bahrain, Singapore and Diego Garcia, leaving the mariners and the island's land-based personnel with no way on or of the atoll."  MITAGS-Maritime Conference Center learned that the team with Maersk Line, Limited was attempting to create a solution to solve the crew relief challenge, and that they were utilizing a hotel in Virginia to provide a 14-day quarantine.  They were testing the mariners, transporting them to a private air terminal and then providing a private aircraft to Diego Garcia, then to their ship for job assignment.  The team at MITAGS-MCC knew it could assist and provide everything needed to make the operation a success for as long as necessary.
Maritime Conference Center's team quickly began working through logistical planning, to include securing clean transportation services, ensuring a chartered aircraft would be able to depart from BWI Airport to the island, creating relationships with a testing company, etc.  In conjunction with Patriot Contracting Services, Maersk Line, Limited and others, we developed an ongoing ROM (Restriction of Movement) event for mariners for "Operation DGAR" and began housing mariners at the end of September 2020.  The ROM event included accommodations, COVID-19 testing, meals, and clean transportation to/from BWI Airport to meet their chartered aircraft.  We also housed returning mariners needing accommodations before catching their flights home.  In addition, there were times that MITAGS was able to provide mariner training during the mariners' time in quarantine.
MCC also created an orientation video, provided welcome and departure briefings, and created a "ROM Manager" position to provide operational oversight of the reservations process, on-site event, and billing.   The landing page for the ROM event and video can be found here:  https://www.mccbwi.org/rom.html
According to Chris Fertig of Maersk Line, Limited, "Between May 2020 and July 31, 2021, Operation DGAR completed eight airlift missions from the U.S. East Coast to Diego Garcia, moving 1,849 commercial and civilian mariners, regulatory personnel, contractors, and active-duty military personnel from the U.S. Navy, Army, Air Force and Space Force.  Additionally, those flights carried over 10,000 pounds of critical spare parts and supplies needed to sustain more than 13 different ships supporting government operations in the Indian Ocean region."  Operation DGAR continues today, and a new group of mariners arrived for ROM/Quarantine mid-September 2021.
The full article written by Chris Fertig can be read here:  https://gcaptain.com/operation-dgar-a-collective-effort-to-repatriate-stranded-mariners-during-a-global-pandemic/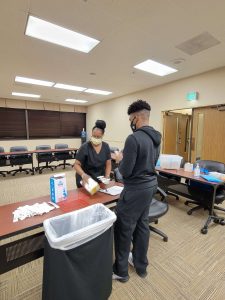 Once we developed the ROM/Quarantine capabilities, MITAGS-Maritime Conference Center worked to spread the word to other shipping companies, military organizations, and anyone else that might be able to utilize the service.  In November 2020 the U.S. Air force began working with us on a need to quarantine as well, but since it conflicted with the mariner ROM we worked with one of our off-site partner hotels, Holiday Inn Express & Suites Baltimore-BWI Airport North (a Baywood property) to assist them in landing the much needed business.  Roxanne Rivera, General Manager, stated that the group was with them December 2020 through May 2021 and brought in approximately $276K in revenue.  This business was helpful in maintaining employment for many staff members.
In conclusion, Maritime Conference Center worked with multiple maritime organizations and vendor partners to ensure safe quarantine of hundreds of mariners throughout the pandemic.  These efforts also generated much needed revenue to ensure employment for MCC's front desk, dining room and housekeeping staff during the exceptionally difficult pandemic time period.  It also allowed MCC to bring some staff members back from furlough to support the mission.  As part of the mission we also moved the charter flight to fly through BWI Airport instead of Virginia and provided Superior Tours out of Baltimore, MD with approximately $24,000 in revenue through end of July 2021.  While Covid-19 testing kits and lab processing was initially handled through Future Care and our own staff administrators, we ultimately switched to local Maryland vendor Avalon Lab Solutions and provided approximately $44,000 in revenue to that vendor so far.  And in our efforts to spread the word about safe quarantine/ROM capabilities, we were also able to assist a partner property with landing much-needed business during the pandemic.
Photo credits: gCaptain and MITAGS-MCC