Last week MITAGS and Maritime Conference Center were thrilled to host several student groups on site as part of the 2022 Engineers Week Program. The week long program, coordinated locally by the Engineers Club of Baltimore and Engineers Week Council, hosts hundreds of middle school and high school students from around the state of Maryland at various locations.
Throughout the week students learn about Engineering, STEM, and this year Maritime, from organizations like the American Council of Engineering Companies Maryland, American Concrete Institute, American Society of Plumbing Engineers, ASHRAE, Maryland Department of Transportation, and many others. Topics included green building technology, considering a career in engineering, plumbing system design and public health, and engineering/technology in transportation.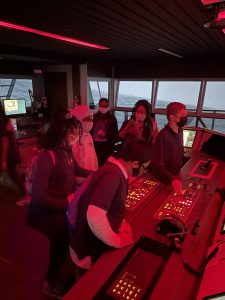 The week culminated with an introduction to maritime training and simulation at MITAGS-MCC's location in Linthicum Heights, Maryland. MITAGS-MCC teamed up with Sail Baltimore to host a full day of activities that included the following sessions:
Session #1 – Experience the Largest Ship Simulator in North America.
Description: Students took a virtual tour of the Baltimore Inner Harbor, taking turns navigating at the helm and asking any questions they had about the maritime world. The session included a tour of the simulator "bowl."
Session #2 – Seven Essential Knots for Sailors
Description: Students had hands-on experience learning how to tie sailing knots, including: Bowline, Stopper Knot (Figure-8), Reef Knot (Square Knot), Clove Hitch, Two Half Hitches, Cleat Hitch, and Sheet Bend.
Session #3 – Historical Navigation in Space and Time
Description: Students learned more about Sail Baltimore and their role in managing the logistics of bringing historic and naval ships to Baltimore. They also learned more about the basic manual tools of navigation and their use over the last 400 years to map and navigate the world via a hands-on compass navigation exercise and demonstration.
Session #4 – Life at Sea & How the Maritime Industry Affects You and Me!
Description: Students heard from Second Officer, Catie Gianelloni about what it's like to live on board a ship and how STEM is applied in shipboard operations. They also discussed how the maritime industry affects everyday life and various career paths.
Session #5 – Scavenger Hunt
Description: Students had the opportunity to explore the maritime industry and artifacts in the MITAGS-MCC Memorabilia Room.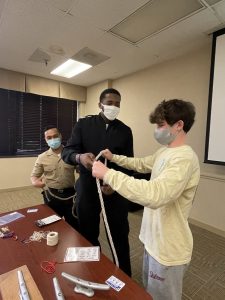 Students from Lindale Middle School, Pikesville High School & Wheaton High School attended the event.
MITAGS-MCC wishes to thank all sponsors of the 2022 Engineers Week, including our friends at Masters, Mates & Pilots (MM&P), Wartsila, McAllister Towing, Crowley and Visit Howard County.
About Engineers Week
National Engineers Week was founded in 1951 by The National Society of Professional Engineers and is celebrated annually at the time of George Washington's Birthday. Our first president was a military engineer and a land surveyor. Like our first president, today's engineers are problem solvers. They design, develop and oversee the design, manufacture and construction of products, machines and structures. Engineers Week is a time to recognize the contributions engineers have made to our way of life and to encourage students to pursue engineering careers to perpetuate advancements for future generations.
The Engineers Club and its affiliated Associate Societies encourage everyone to come out and support these activities now, and in years to come, at The Garrett-Jacobs Mansion, 11 West Mount Vernon Place, The Baltimore Museum of Industry, 1415 Key Highway, and, this year, MITAGS-MCC, 692 Maritime Blvd.