The world of maritime shipping can be dangerous and unpredictable. Mariners face many dangers such as bad weather or negotiating tough navigational hazards. Over the past 20 years, the offshore wind industry has rapidly expanded around Europe, providing clean, sustainable energy. Fields like Gode 1 and 2 were built in 2012 and have been well established and charted since their installation.
Yet a cargo ship named Petra L, which was on transit from Poland to Antwerp, sustained hull damage on her voyage, apparently from running into a wind turbine with some significant damage to the ship, including water ingress as reported by a number of new agencies, including RechargeNews. Flagged to Antigua, the ship arrived in Emden, Germany three days after departing Szczecin, Poland on April 22nd when officials noticed the gaping hole in the side of the ship and reported it.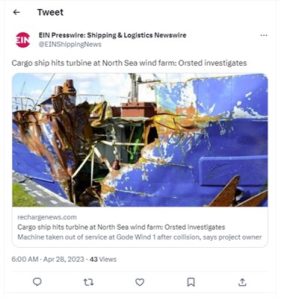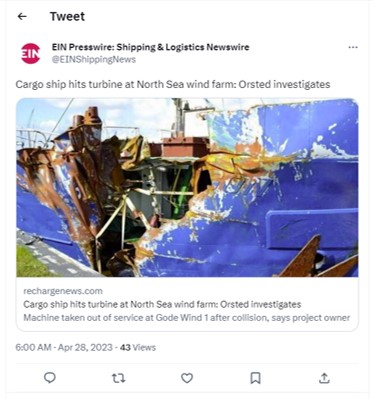 Tweets from numerous news sources highlighted the incident.
The incident occurred off the coast of the German island of Borkum. Ørsted, which operates the Gode Wind site, reported its sensors did not indicate any abnormalities but upon physical inspection of the turbines, officials confirmed a small amount of damage to one of the turbines which has subsequently been taken off-line until repairs can be made.
The Gode 1 wind field itself is part of a wider network of offshore wind farms. Well charted, traffic separation schemes have been established around the fields to provide safe routing around these potential navigation hazards and wind turbines themselves are robustly marked for navigational awareness with lighting, markings, and signaling.
A formal investigation into the incident is ongoing but after an initial examination of the vessel's Automated Identification System (AIS) data, German authorities speculate the vessel was on autopilot and drifted or deviated from its intended course. Data indicates the vessel's speed slowed dramatically before deviating course. The vessel's Master, a Russian Captain intends to release a statement following consultation with lawyers.
Ships such as the Petra L are required to be fitted with Electronic Chart Display Information Systems (ECDIS) to meet International Maritime Organization (IMO) Safety of Life At Sea (SOLAS) carriage requirements, in addition to radar systems. Recording for such systems, in addition to the ship's log, should make reconstruction of the events leading to the incident possible.
But what are the potential contributing factors that might lead to an incident such as this? Historical data shows vessel allisions with turbines are extremely rare with only one other reported incident in over three decades of utility-scale offshore wind farms in Europe.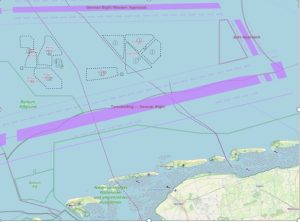 The Gode 1 Wind Farm And Adjacent Traffic Separation Schemes
What are the Potential Impacts of such Incidents?
Shipping accidents carry a number of associated risks. Fortunately, in this incident, there were no reported injuries or loss of life. However, the potential impact of such accidents can affect the environment and the economy.
Environmental impact is always a concern, and while this first-of-a-kind incident does not seem to pose any environmental threats currently, similar incidents could happen in the future. The North Sea is home to a diverse range of marine life, and any spillage or leakage of cargo or fuel from the damaged ship could have serious consequences for the local ecosystem.
The shipping industry has made significant progress in recent years in terms of safety and environmental standards. The International Maritime Organization (IMO), which is the United Nations agency responsible for regulating shipping, has implemented several measures to improve safety and reduce the environmental impact of shipping.
Contributing Factors to Accidents At Sea.
There are many factors that may contribute to a collision or grounding at sea. A loss of propulsion or rudder may affect engine control or steerage, causing a ship to veer off its planned course. Equipment may fail, such as ECDIS or even GPS, causing the ship's position and navigation to become confused. But there are nearly always redundancies in place to mitigate such risks, in addition to training and procedures in the event of an emergency.
One of the primary responsibilities of a ship's Master or Captain and Deck Officers is to ensure the maintenance of a proper look out, in compliance with the International Regulations For the Prevention of Collisions at Sea (IRPCS), more commonly known by Mariners as the Rules of the Road. Rule 5 clearly states that;
"Every vessel shall at all times maintain a proper look-out by sight and hearing as well as by all available means appropriate in the prevailing circumstances and conditions so as to make a full appraisal of the situation and of the risk of collision."
But situations such as deteriorating weather can become a factor. Poor weather, including fog or mist, reduces visibility making it difficult to see other vessels or dangers in sufficient time to take proper action. Large swells and heavy rain can also have an impact on radar performance and detection. That is why maintaining a proper lookout means using all means available, including equipment such as ECDIS, AIS and Radar.
Areas such as the North Sea, are well surveyed and charted, with safety often enhanced by the provision or additional aids to navigation such as lights, buoyage or RACONS.
If a situation is developing however, where a risk of collision or grounding exists, what can be done?
In many situations, the best solution is to slow down. This increases the time to respond and allows other actions to be considered, such as anchoring in an emergency or contacting other vessels by VHF radio to highlight and deconflict a developing situation. But of all these factors, one of the biggest to consider is the Human factor.
Human factors include considerations such as fatigue, which can reduce performance. And then, of course, there is training. While the maritime industry is heavily licensed, even onboard continuation training is an important tool to help avoid collisions and groundings.
The Importance of Standards and Training
With over 200,000, US registered mariners, training and credentialling is critical to delivering safety within the industry.
The Maritime Institute of Technology and Graduate Studies (MITAGS) provides a range of courses designed to provide the education and training mariners need to be able to avoid situations such as this.
For example, ECDIS training is an IMO Standards of Training, Certification and Watchkeeping (STCW) licensing requirement that provides individuals with the fundamental knowledge necessary to properly configure and use an ECDIS system.
Radar Observer Unlimited and Automatic Radar Plotting Aids (ARPA) courses provide mariners with the skills necessary to use this important equipment, understanding both their advantages and limitations.
Our range of Watchkeeping Courses allow mariners to combine what they have learned, and to then practice applying it in the safety of a simulated environment, using our suite of Full Mission Capable simulators.
Bringing all this training together in the maritime environment is challenging. As technology advances, mariners are required to manage more information to safely deliver their role. Understanding the causes of accidents is one of the primary means of learning and avoiding them in the future. Courses such as Bridge Resource Management enable individuals and teams to better understand the factors that lead to accidents, something that should openly and routinely be discusses.
While MITAGS certified Navigational Skills Assessment Program (NSAP®) provides the opportunity for mariners to prove their abilities against industry standard benchmarks.
The Future of Offshore Wind
Offshore wind offers a significant path to sources of sustainable energy, that are of critical benefit to the environment. But in addition to this, as an industry, it creates huge opportunities for job growth across the US, with over 90,000 jobs expected to be created.
As wind farms proliferate around the world, this incident serves as a reminder of the risks associated with maritime shipping, and the importance of the safety measures surrounding training and ship operations that seek to prevent accidents and minimize their impact.
It also highlights the need for continued innovation and development in the shipping industry to ensure that navigation, training, safety, and environmental standards are adhered to by all vessel operators and their crews.
While it will be sometime before this incident is fully investigated and the root causes understood, educating ourselves when such incidents occur, and taking the time to think how they might be avoided are key to reducing the risk of such incidents in the future.